Accolades
Bittersweet Win for The Oyster Box at 2019 Lilizela Awards
DURBAN, 15 November 2019 – Last week's Lilizela Tourism Awards' win as the Best 5-star Hotel in South Africa, is a bittersweet one for Wayne Coetzer, General Manager of The Oyster Box.  Coetzer, who has been at the helm of the multi-award-winning hotel for the past 18 years, is leaving in November to pursue a new challenge in the Cape.
"This is the 5th year in a row that The Oyster Box has achieved this accolade," says Coetzer, "and I feel honoured to have been heading up a team, so committed to excellence, that we have been recognised in this way for five years in a row."
"The Oyster Box is an institution in South Africa, and the awards and status are recognition of our wonderful staff who go out of their way, day in and day out, to create incredible memories for all our guests.  In my many years of working in hotels, I have learnt that people are your business and the key to a successful business, is looking after its people.  Red Carnation Hotels really walk their talk, investing heavily in their people, with continuous training and opportunities to grow."
During Coetzer's tenure, The Oyster Box and Spa have picked up scores of accolades, including being voted South Africa's Best 5-star Hotel by Trip Advisor (eight years), Voted No. 8 in the Top 30 Hotels in Africa in 2019 in the Condé Nast Traveler Readers' Choice Awards and as the Best 5-star Service Hotel in South Africa.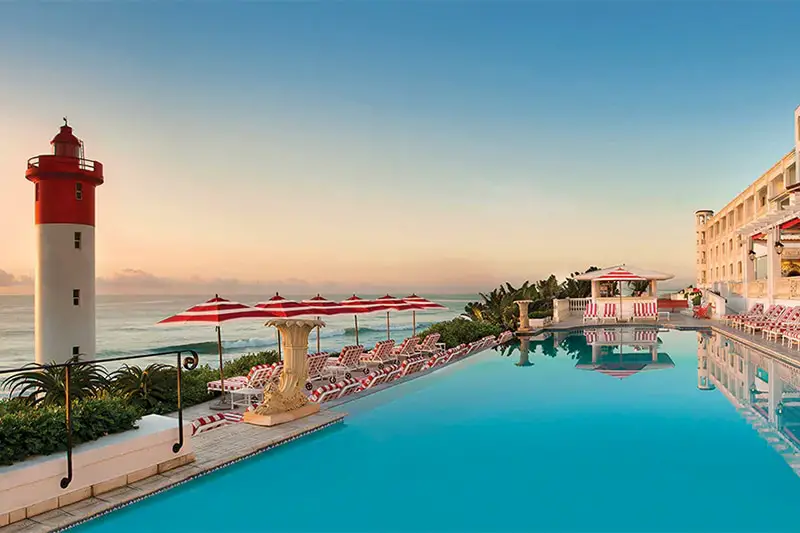 "We feel that we carry the expectations of KwaZulu-Natal (KZN) and South Africa on our shoulders when we enter these awards and we want to do the best for the people of our province and of our country.  We recognise the important role tourism plays in the economy and we're proud to do our part towards this effort."
Coetzer leaves The Oyster Box at the end of November to join Vergelegen Wine Estate as Managing Director.  Vergelegen is a flagship property of Anglo American.  "I always said I would only leave for something incredibly special, and that I would have to fall in love with a property to move. This has been the case with Vergelegen; not only is it a 'national treasure', but it was recently awarded National Heritage status. The Winery has won numerous international awards and 'Camphors at Vergelegen' is recognised as one of the best restaurants in the country.  Whilst I leave KZN and The Oyster Box with a heavy heart, I look forward to the new challenges that await me," Coetzer concludes.  
For more information visit www.oysterboxhotel.com