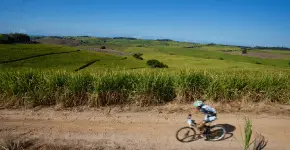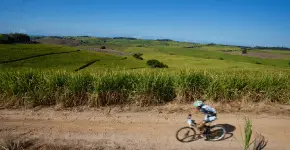 For tourists seeking an active outdoor experience, Holla Trails in KwaZulu-Natal's Dolphin Coast region offers heaven on earth with well marked mountain bike trails to suit all experience levels. By  Storm Ferguson.
The clear blues seas of the Dolphin Coast may lie just a kilometre behind you or over your left shoulder, as the crow flies, when you depart the Holla Trails trailhead for a true mountain biking experience of the coastal KwaZulu-Natal environment, but the rolling green sugar-cane covered hills stretching inland will capture your attention.
Holla Trails is the vision of Nic Jordan with the cooperation of his farming neighbours that affords mountain bikers, of all skill and fitness levels, 340 kilometres of differing custom trail to ride.
The trails rise and fall both gently and sharply, providing challenges to the routes. They course along the cane field contours, but avoid no section of riverine bush or coastal forest available, in pursuit of custom made purist single-track. Not a note of the orchestra of nature is missed by the riders for the trails flow alongside the banks of gurgling streams and rushing rapids under the arching shade of the overhanging coastal forests' trees.
An abundance of different bird species, troops of Vervet monkeys and small wildlife such as the ubiquitous Red Duiker abound for the local Farm Watch not only protect the entire trail area from intruders of evil intent, but the wildlife from poachers.
There are nine different routes, the gentlest being the Green of fourteen kilometres to the long distance Black at eighty-five kilometres.
The routes, their fun, skill and fitness levels rated, are well described on the Holla Trails web page available at: www.hollatrails.co.za and an interface with members is on Facebook at: Holla Trails Riders. Costs of riding are R55.00 for adults while pensioners and youths 12 to 18 are half price and children under 12 are free.
Annual memberships and reduced rate multi-session cards are also available. The trailhead offers cooldrinks and coffee for riders après ride at benches and tables situated under an ancient Natal Fig tree.
So many trails require more time for exploration and nearby Ballito offers a plethora of Bed and Breakfast abodes, as well as upmarket hotels sited above the white sand beaches where sundowners can be enjoyed watching the dolphin frolic or an occasional Humpback whale sounding.
Holla Trails is a mountain biking experience designed for mountain bikers and one shared happily with Trail Runners too.