Following the launch of the KwaNzimakwe Multi-Trail Park in KwaZulu-Natal's South Coast region, Tourism Tattler put an Isuzu B-Max through its paces along the 4×4 trail. Here's what we found.
It's a perfect day for bundu bashing on this overcast November Sunday afternoon. As rain threatens to breach the low-hanging clouds, tourist guide Louis Boshoff and I drive along a grassy track to meet up with Victor Jaca, tour facilitator at this newly launched Multi-Trail Park.
We find Victor waiting patiently on the crest of a boulder-strewn koppie. This meeting site had clearly been chosen for its awesome views over the KwaNzimakwe tribal community homesteads that stretch haphazardly over undulating hills and verdant grasslands towards the milkwood forests bordering the Indian Ocean coastline in the distance.
Well-groomed and appropriately dressed wearing safari cargo pants, tan veldskoene, and matching designer sweatshirt, Victor greets us with a customary double-handshake. His passion and enthusiasm are infectious as he recounts, in perfect colloquial English, his vision for this multi-trails project and the multitude of benefits that its fruition will bring to the local community.
"I was born and bred here, in KwaNzimakwe," says Victor. "As a child, I herded cattle in these hills and explored every nook and cranny while getting up to mischief with my friends. I know this place like the back of my hand."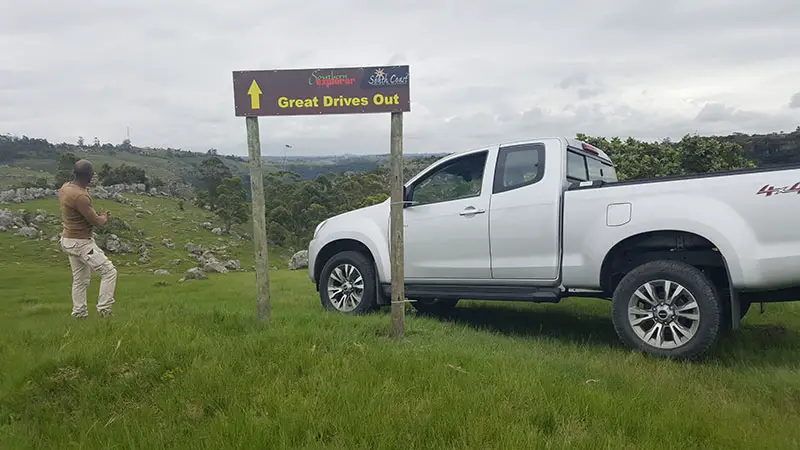 "This project will create much-needed jobs for the local community. With the help of Ugu South Coast Tourism, and the tourists who will come to enjoy the 4×4 trail, the walking, running and nature trails, the Enduro, motorbike, motocross and mountain bike closed circuit tracks, as well as cultural activities that we plan to offer, we will all prosper."
Victors' vision and sentiments were echoed by the CEO of UGU South Coast Tourism, Phelisa Mangcu, when I met her for an informal interview later in the week; "When we launched the KwaNzimakwe Multi-Trail Park on Sunday, 3rd November 2019, it was to introduce the concept and vision of the park to the public and to the media. With the understanding that this is a fledgeling project, it is my hope that the private sector will embrace the opportunity by investing in the development of amenities, such as a clubhouse, a restaurant, a cycle repair shop, an arts and crafts centre, and the many other facilities that an outdoor theme park of this nature is comprised of."
"We also need the local travel trade to assist us, by mentoring the local community in the art of home-stay hospitality and tourism service excellence. We then need to source government funding for infrastructures, such as water and sanitation, and the building of ablution facilities, a tourism information centre, and administrative offices," concluded Mangcu.
After delivering a short orientation briefing, Victor hopped onto the back of the Isuzu bakkie, and we proceeded along a barely defined track as he guided us along the 4×4 route with instructions hollered through the rear window; "Turn here. Go there. Whoa, not that rock, this one!"
Some of the sharp track angles, rock-strewn paths, extreme cambers, descents and assents were hair raising, but the Isuzu handled them all with effortless ease.
The Isuzu's fuel-injected 3-litre engine, delivering 130kW of power with 380Nm of torque, proved its prowess as third gear often had to be selected while in low range 4×4 mode to lower the r/pm to around 3600 while ascending muddy river crossings.
Overall, this 4×4 trail route offers several challenges for off-road enthusiasts and there are a number of idyllic spots that would be perfect for over-night club camp-outs.
"I would love it if 4×4 clubs came here for group camp-outs," says Victor with his characteristic enthusiasm. "It is very safe here, and our community would welcome them in sharing the beauty of our land."
Talking of land, I asked Victor who actually owns the KwaNzimakwe property. "The Zulu king, of course! The land is administered by our chief, Inkosi B.S. Nzimakwe, who is appointed by King Goodwill Zwelethini," says Victor.
As a matter of interest, Goodwill Zwelithini kaBhekuzulu is the reigning King of the Zulu nation under the Traditional Leadership clause of South Africa's republican constitution. He became king on the death of his father, King Cyprian Bhekuzulu kaSolomon, in 1968.
As if on cue, the clouds released their pent-up load as we reached the trails' end. Being an extended single-cab, the Isuzu has a small space behind the seats and we managed to cram Victor's athletic frame into it as the rain poured down. With Louis sitting in the passenger seat while navigating on his phone's GPS, and Victor offering directions from the rear, we drove along muddy rural roads to find a cave hidden in the neighbouring KwaXolo tribal lands.
KwaXolo Caves
KwaNzimakwe and KwaXolo both form part of the 'Great Drives Out' collection of authentic rural experiences launched by Ugu South Coast Tourism.
The newly discovered range of caves lays hidden in a deep gorge within the KwaXolo region. Here, registered guides take visitors on a 5-minute hike to view San paintings that are more than 100 000 years old.
These paintings tell the story of a thriving community that existed years before the San inhabited the desert and serve as a reminder of the rich heritage that the South Coast region has to offer tourists.
When our trio arrived at the site parking, the rain had developed into a downpour and we decided to stay dry by skipping the hike to view the caves. Apparently, a walkway is currently being constructed to improve access to the caves.
After dropping Victor off at his home in KwaNzimakwe, Louis and I headed off to Southbroom for check-in at San Lameer Resort Hotel & Spa. But that's another story.
Directions to the KwaNzimakwe Multi-Trail Park: Located approximately 18 kilometres from the Southbroom traffic lights, KwaNzimakwe is easily accessible for visitors via the main road, with only 200 metres of a dirt road leading to the parking area.
For more information visit www.visitkznsouthcoast.co.za