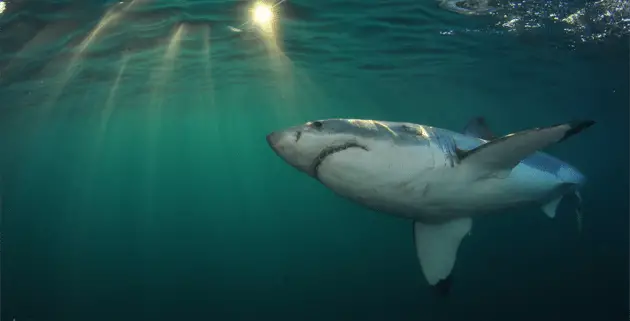 For the adventurous traveller, there is no greater adrenaline rush than interacting with a great white shark in its own territory.
In South Africa, both tourists and locals are privileged to have access to great white sharks in abundance − if one knows where to go, when and with whom.
Booking with a professional and credible shark excursion service provider is essential to ensure that this once-in-a-lifetime experience is a safe and memorable one.
One such service provider is White Shark Projects, located in Ganbaai, who have set a bench mark for responsible tourism in the industry. White Shark Projects have a philosophy that involves sharing the country's natural and cultural riches, whilst contributing positively to the preservation and growth of the local community and environment.
The company was founded in 1990 purely for research and conservation; out of this the commercial arm was born. Today the commercial arm is still funding various research and conservation projects. White Shark Project are the financial partner to the South African Shark Conservancy, whose research not only focuses on great whites, but also on other shark species. Their conservation and educational departments are enhanced by a volunteer programme.
White Shark Projects supports sustainable job creation and upliftment projects and fosters ecological awareness among surrounding communities. The company is Fair Trade in Tourism accredited as well as bonded by the Southern Africa Tourism Services Association (SATSA), thus ensuring peace of mind that your clients are in capable, accredited hands. In addition, White Shark Projects are covered by comprehensive public liability insurance, underwritten by Lloyds of London.
Their primary focus at White Shark Projects is to educate and to address misconceptions which in turn will help lead to protection of the species.
The best season for Shark viewing
Dyer Island is a good place to see sharks all year round. So, weather permitting, White Shark Projects tours run daily, however prime viewing time is in the South African winter months when the sharks have a particularly active feeding pattern. The following guide is based on observations over the past eight years. Allow for an overlap between seasons.
Peak season: April to October (99% success rate) Recommended.
High season: November to December (90 – 99% success rate).
Intermediate season: January to March (80 – 90% success rate).
Water temperatures vary between 12 and 20 degrees Celsius during peak and high season and between 10 and 16 degrees Celsius during intermediate season.
For more information visit www.whitesharkprojects.co.za
READ MORE: www.tourismtattler.com/great-white-shark-behavior