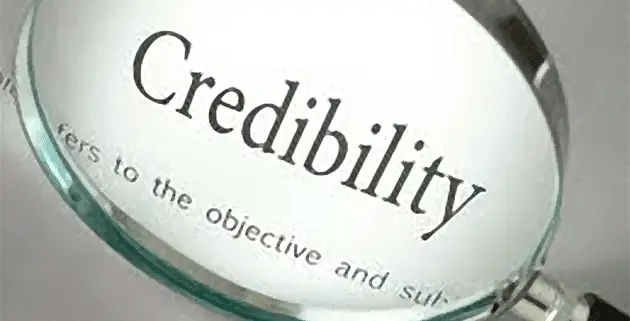 Travellers want to deal with tourism service providers that they can trust to provide not only value and an experience of a lifetime, but also reassurance that their hard-earned holiday savings will be protected. But how does one provide such reassurances? It's all about credibility, writes Des Langkilde.
By definition, the word Credibility relates to the quality of being believable or worthy of trust. The wise words of Lord Alfred Tennyson (Poet Laureate of Great Britain and Ireland) "Trust me not at all, or all in all," may have been acceptable reassurance back in the 1800s, but against the backdrop of tourist scams, free vacation email solicitations and dubious business ethics that have blighted the 21st century, such platitudes provide scant reassurance to wary travellers.
So how does one attain the elusive quality of being worthy of trust?
WORD-OF-MOUTH REFERRALS
Clearly, the longer that a tourism service provider stays in business and provides quality services to satisfied clients, the more likelihood there is that these past clients will refer them to friends and family. It's not that easy for new start-up companies though, who still have to prove their integrity and attain critical mass for referrals.
According to Tripadvisor, an astounding 90% of travellers trust trust people they know, while only 60% trust traditional advertising, according to Pomegranate.
TRADE REFERRALS
For start-up companies, getting trade referrals is even harder. Anyone who has exhibited at a trade show for the first time will have experienced the hosted, but somewhat elusive, buyers flashing past their stand as they make a bee line for a competitors stand, with whom they have probably done business over many years, and consequently tested their credentials and trust at the coal face.
Of course, the 'Speed Marketing Session' initiatives launched by trade show organisers like South African Tourism's Indaba in Durban over the past few years has afforded an opportunity for SMME's to showcase their product and services to hosted buyers, but it still comes down to the question of trust. As the old adage goes "Better the devil you know, than the devil you don't know."
TESTIMONIALS
Letters of thanks and gratitude from past clients are always a marketable asset and are often used on tourism service provider's websites as testimony to the company's product or service.
As with reviews however, what is lacking is the readers relationship to, and hence level of trust with, the person providing the testimonial. For obvious reasons of privacy, few, if any of these testimonials give the clients email address or contact numbers for ratification.
REVIEWS
In her article '4 Reasons to Use Online Marketing in the Tourism Industry' Chevaun Herholdt of digital marketing agency 'red & yellow' points to Tripadvisor research, which indicates that 87% of travellers in Europe, the Middle East, and Africa say that reviews influence them in choosing where to book.
On the other side, even more hoteliers (96%) say that reviews influence how many bookings they get. People trust their peers much more than they trust companies themselves (90% trust people they know, while only 60% trust traditional advertising, according to Pomegranate).
With the growing inter connectedness of the world and advances in transportation and communication, more and more people are travelling as independent tourists, putting together their own itineraries and activities from information researched from social media. However, many reviewers post reviews without validation, leading to the explosive growth of reviews and the proliferation of uninformative, biased or even false information. This makes it very challenging for travellers to find credible reviews.
In a research paper titled 'Quantifying Reviewer Credibility in Online Tourism', prepared by the Hong Kong Polytechnic University in China, the authors presents a method that quantifies the credibility of reviewers in TripAdvisor, by proposing an Impact Index to measure reviewer credibility through evaluating the expertise and trustworthiness based on the number of reviews posted by the reviewer and the number of helpful votes received by the reviews. Of course some TripAdvisor reviewers are more credible than others. For example, look at Tourism Tattler's review contributions here.
Looking at repeat business from clients whose trust has been earned, TripAdvisor's 'TripBarometer September 2014 South Africa: The Psychology of Travel' info-graphic reveals that only 48% of properties with a 74%+ repeat guest rate tend to build lasting post stay relationships.
SOCIAL MEDIA & BLOGS
According to study on the Credibility of Blogs in Tourism by the School of Business Economics at the College of Charleston in the USA, blogs (whether personal or corporate) were perceived to be significantly less trustworthy than traditional word of mouth among survey participants across the board.
Interestingly though, the findings also indicated that participants attributed levels of authoritativeness to corporate blogs as they do traditional word of mouth. So, while traditional word of mouth may have the biggest impact on consumers due its high overall credibility, there may be room to promote one's product effectively using corporate blogs as well. One instance in which the use of corporate blogs might be particularly useful to marketers is when complaints in the form of travel blogs make their way into the blogosphere.
AWARDS
Travel awards abound in the tourism trade. From the Oscars of the travel industry, the World Travel Awards to the coveted Safari Awards (now in its eighth year), and South Africa's home grown Lilizela Tourism Awards, which includes the 'Emerging Tourism Entrepreneur of the Year' (ETEYA) and Welcome Awards, being listed as a finalist and ultimately as a winner in a specific tourism category does add to the recipient's credibility.
GRADING
The Tourism Grading Council of South Africa (TGCSA) operates as a business unit of South African Tourism. Over the past 15 years, the TGCSA has created a globally recognised and credible quality assurance body for tourism products throughout South Africa.
Of the nine main types of establishments that travellers can choose from – namely Hotels, Lodges, Bed & Breakfasts, Country Houses, Guest Houses, Self Catering Units, Caravan & Camping Parks, Backpackers & Hostelling facilities as well as Meetings, Exhibitions and Special Events (MESE) venues – those establishments that have been graded by one of TGCSA's Accredited Grading Assessors are entitled to clearly display the Star Graded insignia.
Simply put, if a hospitality establishment bears a TGCSA star plaque and certificate, tourists can expect outstanding quality and service excellence, appropriate to the star level displayed.
FORMAL ACCREDITATION
Getting down to the crux of the matter, true business credibility can only really be assured by having a trusted third party certify to the fact that:
• your company is a legally registered business entity in its country of operation;
• your trading name is unique and trade-mark registered as such;
• your financial and tax affairs are in order;
• you have appropriate, and adequate, insurance cover in place;
• you have a financial guarantee in place to reimburse your clients deposits in event of the involuntary liquidation of your company;
• you have agreed to abide by a code of conduct relating to best business practices.
The Southern African Tourism Services Association (SATSA) has been doing exactly that since 1969. To find out more visit www.satsa.com