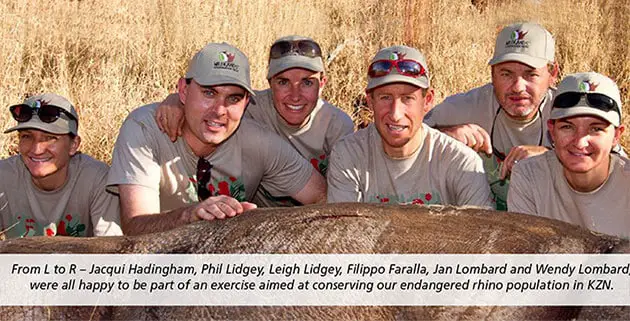 During June 2012, a team of some of the most well respected professionals in conservation, made their way to Somkhanda Game Reserve to embark on a rhino darting experience, aimed at improving security and surveillance measures around our threatened rhino population.
This was made possible by Jacqui Hadingham and Filippo Faralla, a Durban couple with an overflowing passion for conservation, who bid on the package at a fundraising auction held at Christies in London last year, giving them an experience of a lifetime in witnessing the conservation efforts of Wildlands up close and personal with live rhino, as well as the opportunity to share it with 4 of their friends.
Trackers, from Wildlife ACT Fund, set out on foot first thing in the morning to find the rhino. Once located the helicopter was dispatched, flown by pilot Vere Van Heerden (Helicon) and accompanied by Veterinary specialist Dave Cooper (KZN Wildlife). Dave darted the rhino from the air and a race to the animal then ensued.
"The rhino needs to be 'under' for as short a time as possible while the teamwork on fitting satellite tracking devices, to either its horn or by means of a foot collar," mentions Dave Cooper, who keeps a watchful eye on the rhino at all times and ensures the process is as quick and comfortable for the animal as possible.
The aim of this experience was to contribute to the conservation of our rhino populations in KZN and forms part of Wildlands' Project Rhino KZN endorsed Tracker project. The fitting of tracking devices to as many rhinos as possible is to allow them to be monitored in real-time by field rangers and anti-poaching units. It also builds a better understanding of the rhino's movement patterns and ensures rangers can pick up any irregularities in their behaviour and ultimately respond more efficiently to any threats.
On this specific trip, the rhino had tracking devices fitted, which contain the latest GPS technology allowing for real-time tracking of the rhino. The rhino were also ear notched, to better identify individual animals within the population.
DNA samples are also taken from each of the rhino captured, contributing to a national database of unique DNA signatures of rhino around the country. Wildlands' Strategic Manager Kevin McCann, who is currently overseeing this entire project, explains why this is important. "This, together with the micro-chipping of the rhino horn, has recently become a legal requirement and ensures that in the event that a rhino horn is confiscated, it can be matched to the DNA sample in the database so we know where and which rhino it originated from. This knowledge will enable authorities to be more successful in clamping down on poaching syndicates."
Filippo commented on the three-day adventure: "It's difficult to describe this experience in a way that truly encapsulates what it meant to me and my friends. It's sad that we have to go to these lengths in order to ensure the safety of our rhino, but it was amazing to be that close to these incredible creatures in such a beautiful part of the world, and be directly involved in
the very process that aims to conserve them."
"Wildlands would like to thank Filippo and Jacqui for their amazing support and contribution to the conservation of KZN's rhino population. With the unfailing support from activists like Filippo and Jacqui we can really make a difference in curbing rhino poaching statistics," states McCann.
For more information visit www.wildlands.co.za.