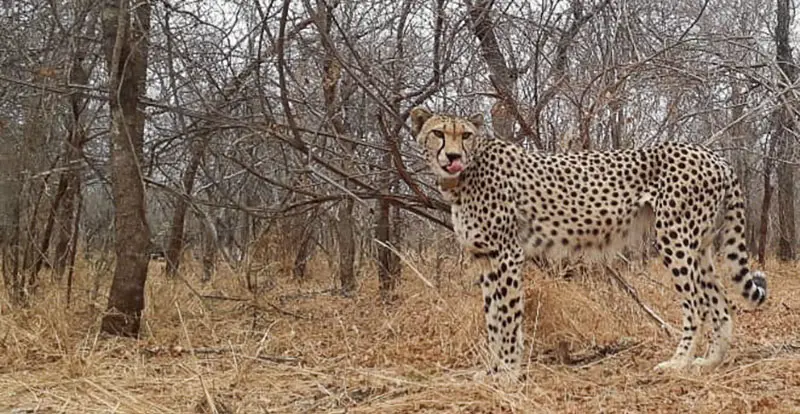 The first successfully wilded female cheetah makes her way to Makutsi, Limpopo
Makutsi Safari Springs, Limpopo – October 2019: In the last week of October 2019 Jasmin, the successfully wilded five-year-old female cheetah who was the very first to have entered the Breeding, Wilding and Release Project, was translocated from Legacy Hotels & Resorts' Kuzuko Lodge in the Eastern Cape to Makutsi Safari Springs near Hoedspruit, Limpopo.
The project was originally set up in late 2018 on Kuzuko's main reserve as a joint initiative by Ashia Cheetah Conservation in Paarl, Western Cape and Kuzuko Lodge in the Greater Addo Area, Eastern Cape.
After her initial time in the boma at Kuzuko, Jasmin was released onto one of the vast 'wilding' sections where it took her a mere ten days to successfully catch her first prey. Although Jasmin was raised in human care before entering the Wilding Project, supplement feeding was soon no longer necessary as she clearly proved to the team that she can sustain and fend for herself.
"Jasmin is not the first wilded cat to leave our Wilding Project, but as she was the first one to enter it, we waited for a perfect home for her. This opportunity came up when Makutsi, a privately owned game reserve near the Kruger National Park, needed a female cheetah for their wild male Mavara. After visiting Makutsi and talking to the owner, Heike Weber, as well as to guide Daniel Brandao, who has extensive experience with cheetah, we were convinced that we couldn't find a better place for Jasmin on a reserve that forms part of South Africa's Cheetah Metapopulation Project. Makutsi's whole approach to wildlife is conservation oriented and their motto, 'Animals always come first!', beautifully reflects ours at Ashia," says Chantal Rischard, Founder of Ashia.
Commenting on Jasmin's move, Legacy Hotels & Resorts' Marketing Manager, Robert Hodson reiterated how Jasmin's story is reflected in the Legacy story. "Our mission at Legacy is to create spaces and experiences for the generations of today and tomorrow to enjoy, and this project is no exception. Being part of Jasmin's rewilding to help with the conservation of cheetahs is something we are extremely proud of and look forward to more successes in the future."
Once at Makutsi and after a short boma period, Jasmin will meet the resident wild male on a separate 1,300 ha area on the reserve. Apart from an occasional leopard and some crocodiles on this part of the Makutsi reserve, it is otherwise predator-free and supports a high number, as well as a variety, of prey. Both cheetahs have been fitted with collars and will be tracked and monitored regularly.
"The wild male arrived at Makutsi a couple of months ago. He had been poached in the wild but was lucky to be confiscated by official authorities. Both his front and hind legs had been tied together with wire, causing severe damage to his lower legs. Wildlife veterinarian Dr Peter Caldwell saved this beautiful male, having performed three several-hour long surgeries to restore nerves, tendons and blood vessels in all four legs, followed by skin grafting. Mavara spent about six months at Old Chapel Veterinary Clinic and miraculously recovered fully due to the skilled care of Dr Caldwell. Despite his traumatic injuries, the approximately five-year-old male was successfully hunting again soon after his arrival, and the presence of a female was the only missing part for a happy life," explains Heike Weber, owner of Makutsi.
Following the rescue and successful veterinary treatments of Mavara, the Endangered Wildlife Trust's Cheetah Metapopulation Coordinator, Vincent Van Der Merwe found a new home for him on Makutsi and organised his translocation to this stunning game reserve that has been welcoming guests for over thirty years. Surrounded by thousands of hectares of private bushveld, Jasmin and Mavara face a promising future and will hopefully be the founders of many cheetah dynasties.
"As Jasmin was the first cheetah to enter the programme, we are extremely excited to see her go off into her new home. She was our first successfully wilded animal and many more have consequently followed in her footsteps with our unique and pioneering hands-off Wilding Project. This programme is designed for cheetahs and to limit human contact with them as much as possible. So far it has yielded fantastic results, and very fast too, with seven cheetahs already having been wilded successfully through this unique approach," states Gerhard de Lange, Kuzuko Reserve General Manager.
ABOUT MAKUTSI: Makutsi Safari Springs is a privately owned game reserve located in South Africa, one hour west of the Kruger National Park and about 60km north-west of Hoedspruit. Surrounded by nature and wildlife, mineral spring water and tranquillity, Makutsi shares with its guests a little African paradise away from home. For more information visit www.makutsi.com.
ABOUT KUZUKO LODGE: Kuzuko Lodge is built high up on a hill in a 15 000ha private game reserve situated in the Malaria free greater Addo area which is situated in the Eastern Cape Province of South Africa. This reserve is perfectly situated to start or complete a trip along the Garden Route with. Guests are housed in 24 chalets of which three are wheelchair accessible. Kuzuko is part of the Legacy Hotels & Resorts Group and is a member of the Inqo Investments Social Impact Investment Group, which combines job creation, conservation and social transformation. For more information visit www.kuzuko.com.
ABOUT ASHIA: Ashia is a world-class cheetah sanctuary outside Paarl in South Africa's Western Cape, a mere 45-minute drive from Cape Town. Founded in 2016, Ashia lies nestled at the foot of the dramatic Drakenstein mountains and has been certified by Fair Trade Tourism. A visit or volunteer stay at Ashia offers in-depth educational experiences about small and big cats in human care and cheetah conservation in action. Ashia it is a not-for-profit undertaking all surplus is used to fund Ashia Cheetah Conservation NPC which is financing the Breeding, Wilding and Release Project, linking Wildlife Conservation and Human Welfare. Ashia's goal is to help prevent the further decline of cheetah populations and strengthen their genetics through captive breeding programs. Captive born and wilded cheetahs are released on selected Game Reserves in South Africa. The relatedness of the reserve populations has become an issue and preventing inbreeding without supplementation from outside populations will be practically impossible. Ashia does not support any cheetah trade. All releases take place at own costs. For more information visit www.ashia.co.za.
Read more on this topic: