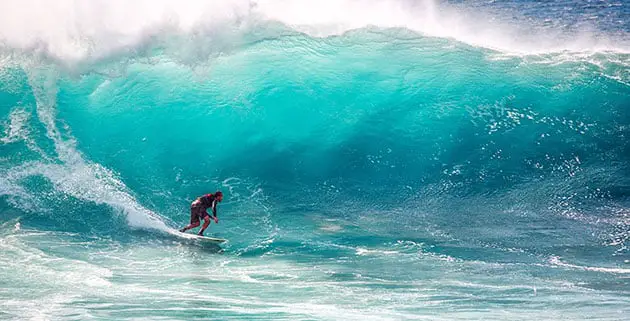 When searching for an ideal surfing destination, the 26,000 km (16,100 miles) coastline of Africa has a lot to offer, whether you're a novice surfer or a seasoned pro. Arguably the best surfing spots can be found along the desert dunes of Namibia, stretching down to the tip of South Africa, up the East Coast into Mozambique, and across to Madagascar. All you have to do is purchase your wetsuits for the trip, sort out your visas and get on the plane to visit one of these incredible surfing destinations.
Jeffreys Bay, South Africa
Despite being well-known for its abundance of great white sharks, South Africa has long been a popular surfing destination with Jeffreys Bay often being dubbed as the best surfing destination in all of Africa. While Australian surfing star Mick Fanning fought off a shark attack back in 2015, many surfing fans still flock to the destination to enjoy the area's Supertubes. However, visiting surfers should be aware that the location is often very busy and tends to be protected by a lot of the locals who head out here on a daily basis, meaning it's not the best location for those looking for a quiet surf. Head here between June and September to enjoy the location's best surf.
Praia do Tofo, Mozambique
As one of the best beaches in the whole of Mozambique, Praia do Tofo is well-known for its excellent surfing atmosphere. Perfect for backpackers and locals alike, visitors can benefit from the cheap and welcoming atmosphere as well as pristine reefs. Further to this, you can enjoy the incredible Tofinho Point – a right-hand reef break which can be found to the east of Tofo, although this can be challenging even to some of the most experienced surfers. If you want to catch a glimpse of some underwater giants, head to the area between June and August in order to see the humpback whale migration with your own eyes.
Anakao, Madagascar
If you are willing to surf on the other side of the reef, further away from shore then head to Anakao, Madagascar. While reaching the waves can be difficult as you will need to arrange a tow, once you get there, you can enjoy the Flameballs break – an 8-footer which is certainly not for the faint-hearted. There are a great number of options for both experienced and beginner surfers but watch out for fins. Madagascar is well-known for the sharks in the water, however, there isn't much to fear as there have only been 3 attacks since 1828.
Skeleton Bay, Namibia
This area was discovered on Google Maps and remained relatively unknown until 2008. It is important to note that this particular surfing destination should be reserved only for the most skilful and experienced surfers of all time, who must be fearless in order to tackle these waves. Corey Lopez was the first pro to ride the left-hand wave in the bay, and the bay is said to boast one of the longest barrel rides ever. The water is cold and the current is fierce, so you will need to ensure that you are fully prepared at all times. The bay is also extremely remote so be certain to ensure that people are aware of your location before hitting the water.