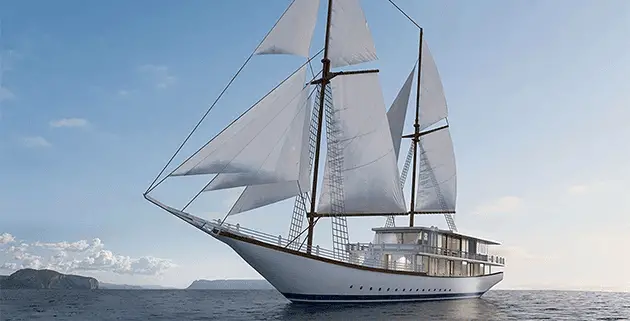 Cruising the calm Indonesian seas aboard an elegant 54-meter yacht is one of the best ways to explore Komodo Island to the fullest. A well-planned cruise around Komodo Island will enable you to experience all that this awesome destination has to offer, both on land and at sea. You'll be able to appreciate the beauty of the Island, the surrounding ocean and the colourful reefs that lie below. To tourists, cruising is the best way to see Komodo Island and its surrounds for an experience beyond imagination.
Ayana Komodo Cruise offers a well-designed program that is tailored towards making your experience in Komodo Island a memorable one. Some of the activities to expect on an Ayana Komodo Cruise are;
Search for the famous Komodo Dragons in the Komodo National Park. It may interest you to know that the Komodo dragons are the largest lizard on earth and Komodo Island is their natural habitat. However, you will be led by rangers throughout the search for these dragons.
Visit the local island village where you will have the opportunity to learn a few things about their culture and tradition. Interesting right? Keep reading, this is just the beginning.
An opportunity to snorkel the colourful reefs around padar while having an awesome multicoloured view of the underwater world.
Furthermore, Ayana Komodo Cruise will give you the experience of cruising on paddle boats and sea kayaks, thus adding more experience to your quest to explore nature.
Beach BBQs, stunning sunsets and general relaxation.
What Makes Ayana Komodo Cruise Unique?
Unlike most other cruises around Komodo Island, Ayana cruise is one of a kind. It's both unique and exceptional. To put it differently, it's worth every penny you spend, as your experience will be memorable.
#1. Experience
Travellers always attest to their experience with Ayana Komodo cruise. You will definitely get an adventure of a lifetime with Komodo cruise. Also, their 5-star resort creates lasting memories by exposing tourists to exceptional ocean views and sunsets.
#2. Facilities
Ayana has top-notch facilities that make Komodo cruising unique. To start with, its 5-star resort is located in the most beautiful islands in Indonesia's archipelago (Pulau Komodo is one of the 17,508 islands that compose the Republic of Indonesia). Also, tourists can decide to cruise on the elegant 54-meter Phinisi yacht. This is a wonderful moment only a few tourists experience in Komodo Island, which you too can experience. Ayana yacht offers the comfort you can't get anywhere else in Komodo.
#3. Glass Bottom Boat Rides
Glass bottom boat rides are an activity most travellers look forward to in Komodo Island. During a glass bottom boat ride, you observe the underwater environment and marine creatures in their natural habitat.
#4. Night Diving
Night diving in Komodo is something you wouldn't want to miss. Ayana provides a perfect night diving experience that you may not have anywhere else in Komodo Island. If you really want to see the wonders of diving the Komodo, try Ayana night diving.

#5. Kayaking & Paddleboarding
Kayaking is one of the activities you will also enjoy on an Ayana komodo cruise. Kayaking and stand up paddleboarding around the waters surrounding Komodo Island is something you should try.
So, when you plan to visit Komodo Island, consider Ayana Komodo cruise for a lifetime experience. Every moment with Ayana komodo cruise is worth sharing. Your worries, stresses and other challenges you are currently facing will disappear. In fact, Komodo Island is a place to refresh your mind and rejuvenate creativity.
Every landmark, tourist site and feature in Komodo Island has its own history. At Ayana, expert guides will share their knowledge on what every landmark stands for and the history associated with them. So, you will not just have a wonderful experience, but will also learn about Indonesia's history.
For further information about Ayana Komodo cruise, contact us, you will definitely get the answer to all your questions regarding Komodo cruise. There is so much more to Komodo Island than what you've just read in this article.
Plan Komodo Island as your next holiday destination and see the true wonder of nature. Ayana will make your fantasies about stunning ocean sunsets, glass bottom boat rides and kayaking a reality. Indeed, Ayana is your partner of choice for cruising the Komodo. We hope to see you here soon!