Congratulations to Onne Vegter of Wild Wings Safaris in South Africa, whose comment has been chosen as the prize winner for August. Onne's  prize of Two Stainless Steel Wine Goblets has been delivered to him with the compliments of Livingstones Supply Co – suppliers of the finest products to the hospitality Industry.
Onne's winning comment was:
BUSINESS
 South Africa's Traffic Officers Damaging Tourism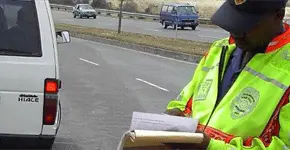 Submitted on 2013/08/12 at 8:39 pm
Very relevant article. The question is, what can be done about it? What recourse do drivers and tour operators have?
I can share many more such stories. Fines paid but not processed, and the cops wanting to arrest my driver for unpaid fines which were in fact paid. Driver without any passengers fined for driving 114 km/h in a 120 zone. Driver physically assaulted (punched) and arrested for unpaid fine of R300 which we never received, and then the vehicle full of valuables left right there by the side of the highway. When we finally got back to it, hours later, the roadblock had been packed up and the vehicle just left there along a deserted highway.
It is very true that such behaviour is hurting tourism and our global reputation. Would be helpful to have some kind of task team and helpline set up that drivers and tour operators can call if they are pulled over and dealing with a corrupt or uninformed cop. A number of them are outright criminals who love to bully and intimidate, and enrich themselves from bribes or spot fines because a tour operator cannot afford the delays or embarrassment in front of guests to deal with idiots like these. Less hassle to just pay and get out of there.
This has been going on for years and it is getting worse. My view is that the minister of tourism needs to have a meeting with the minister of transport to discuss ways to educate cops, prevent abuse and empower drivers with on-the-spot recourse. A list of cell numbers of regional heads of traffic will also be handy. Phone the boss, report the problem. A naive suggestion, I know. But mere words will not solve this. We need action.
Onne Vegter – Wild Wings Safaris – South Africa
Submitted on 2013/08/14 at 7:38 am
Just wanted to comment on above. Over the last two years I have had reports of clients of ours, mostly from the Netherlands that they have been stopped and received a fine for something they did not do. The officers all offered them a less higher fine if they where to pay them in cash (bribe). I advise all our clients now to tell the officers that they have no cash and that if there is a problem they would like to have his name and want to speak to his/her superior.
A specific area around the Hazyview / Panorama Route is bad. What a pity because clients feel intimidated and they will get back to their countries and spread the news!  South Africa's has a "bad"reputation overseas as it is, I think action is due.
Leony Hoogland – Afrika Online – Netherlands
Submitted on 2013/08/28 at 12:03 pm
The inconsistencies in procedures and the incredible delays by transport board almost forces one to operate illegally.
For instance I am an accredited operator of many years standing yet whilst waiting for the Mpumalanga transport board to sit and approve my transport permit, I and several others who bought new vehicles are forced to obtain an emergency transport permit every 14 days, a huge waste of time and money. No traffic officials seems to have any idea about tourism. W e also have traffic official corruption and harassment in Mpumalanga.
Greg Meaker – African Safari Adventures – South Africa
Submitted on 2013/08/15 at 12:28 pm
Can't we go public with this article (newspapers or Carte Blanche). I have been harassed 3 times already – does it take more cases where tourists are inconvenienced and we as guides arrested before action is taken? Well done!
Peter Zangerle – Tour Guide – South Africa
Submitted on 2013/08/15 at 9:06 pm
My concern is that the public media will simply sensationalize the issue, thus creating unnecessary concern among consumers (tourists) and perhaps even impact negatively on Tour and Transport Operator bookings.
Far better to lobby government to take remedial action and educate traffic officers. SATSA has already brought the issues highlighted in this article to the Minister of Tourism's attention and SATSA have in fact been working with the DoT for many years to have the yet-to-be-formed National Public Transport Regulator process implemented correctly.
I hope to write a follow-up article on exactly what and how Government are planning to address these issues soon.
Des Langkilde – Tourism Tattler – South Africa
GUIDING
Tourist Guides in South Africa
Submitted on 2013/08/03 at 10:17 pm
I have completed a level 1 field guide course. Why is it so difficult to get work? And so expensive to continue studying. Is there a learnership/ apprenticeship programme for us that cannot afford the fees, but are passionate about getting into this field of work?
Cezanne Stevens – South Africa
Submitted on 2013/08/26 at 12:18 pm
We are looking for Tourist Guiding Trainers and Assessors. If you are interested please call ProServ SA for details on 011 700 0400.
Sarah – ProServ SA – South Africa
TRADE NEWS
Staff awarded for long service at 10 2nd Ave Houghton Estate hotel 
Submitted on 2013/08/15 at 8:30 am
This is a great example for the small hotel industry – well done, Anita!
Tilly Smith-Dix – Tilly Smith PR – South Africa
Tsogo Sun's Hotel Complex brings new cullinary hotspot to Durban 
Submitted on 2013/07/28 at 12:34 pm
This is another reason why you should be able to visit South Africa, new culinary hotspot in Durban, it's something you would love to discover while you are enjoying your travel get away to South Africa.
Michael Rodrigues – Ubuntu Stay – South Africa
TRANSPORT
Luxury Ground Transport gets a raw deal 
Submitted on 2013/08/13 at 1:51 pm
Fanie, there are many of your comments that are certainly applicable to the small vehicle operators as well (up to 7 seats). It is astounding what some people think private transfers in the 1 – 7 pax bracket should cost, without having a clue of the costs involved in operating the vehicle profitably! While the cost ratios may differ, many of the principles you mention remain the same.
Eugene Armer – Wilro Tours – South Africa
WIN! The winning comment posted on the Tattler website during the month of September 2013 will receive two Isobecher Stainless Steel Double Wall Mugs with the compliments of Livingstones Supply Co – Suppliers of the Finest Products to the Hospitality Industry.
Isobecher Stainless Steel Double Wall Mug with Lid.
Price: R127.27
Design mug 0,4L. – Firmly closing plastic cover with drinking lid – Plastic handle – insulating, non-slip rubber base – Foam insulated to increase performance
For more information visit:
www.livingstonessupplyco.co.za