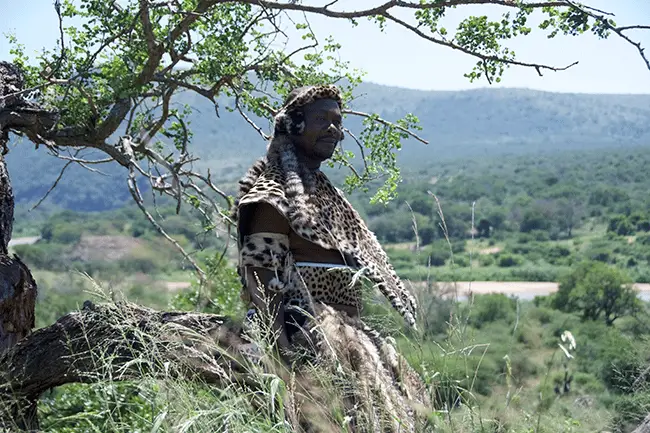 The uMfolozi Big Five Reserve is a special conservation story – the story of how Dr Ian Player started a global effort to save the rhino from extinction, and how years later five tribal chiefs contributed their land to conserve this part of South Africa's natural heritage.
The reserve is positioned on the south-western border of the Hluhluwe-iMfolozi Park – the oldest proclaimed protected game reserve area in South Africa, dating back to 1895. Stretching over 96,000 hectares, it is located approximately 190km (2.5 hours) north of Durban, in central Zululand, KwaZulu- Natal, South Africa. The reserve is known for its rich wildlife and conservation efforts.
The uMfolozi Big Five Game Reserve represents the future of forward-thinking sustainability as it blends past and present conservation models.
Here, in the uMfolozi Wilderness area, is where 5 descendants of King Shaka's Chiefs have given tribal land to increase the capacity of Hluhluwe iMfolozi. uMfolozi's "Big Five" conservation pioneers include the iNkosis Mthembu, Biyela, Zulu, Mthembu and Mthethwa. Their forward-thinking will result in land usage that benefits their people for generations to come and allows species within the reserve to reproduce in a much larger protected area.
When Shaka settled in the foothills of what would become uMfolozi, he brought with him a culture of conservation, of hunting only what one needs, long before the term was coined in any language. While Shaka may have revolutionised how man interacts with the wild, he could not have fathomed the impact that his outlook would have on conservationists to come.
Here, amidst these timeless, undulating hills, visitors are able to walk in the footsteps of giants, past and present.
The DNA of all white rhinos alive in Africa today can be traced back to the Hluhluwe iMfolozi Park. This is where the first steps with Operation Rhino were taken almost seventy years ago under the guidance of revered conservationist, the late Dr Ian Player.
A 1953 aerial survey counted no more than 437 of these pre-historic creatures left in the wilderness. Here, at 25 years old, Player fell under the spell of these magical creatures and conceived Operation Rhino, a serious attempt to translocate the dwindling numbers of remaining rhinos to reserves and parks across the globe in order to give them a better chance of survival.
Dr Player advocated that the uMfolozi reserve should retain its pristine wilderness character, and for years, reshaped the relationship between humans and nature with his Wilderness Leadership courses conducted in this area. At last count, more than 50,000 people trekked through this wilderness area with Dr Player to get a better understanding of nature and their own relationship within the greater scheme of things. Through his multiple efforts, the genetic base of the white rhino grew and diversified. To many, Dr Player became the figurehead of eco-tourism and of rhino conservation, even as he spread his ethos to protect many other endangered species across the globe.
Through his sixty plus years at the forefront of conservation and eco-tourism, Dr Ian Player shaped an ethos towards nature and wildlife that forms the DNA of the industry and many of its most successful operators. When you visit the uMfolozi Big Five Reserve, the footprints of this giant of conservation can be seen, figuratively, all over.
Operated by Mantis Hotels And Eco Escapes, Mthembu is the first lodge built at the uMfolozi Big Five Game Reserve. It has an earthy character, yet is just as luxurious as the second lodge, Biyela. Situated somewhat higher off the river, it provides guests with panoramic views over the waters and riverine bush.
Comprised of 7 luxurious 1-bedroom Private Villas and two 2-bedroom Family Villas, Mthembu Lodge sleeps a total of just 22 guests. The spot, where Mthembu Lodge stands, is the exact place where Dr Ian Player stabled his horses which were first used on patrols and later on wilderness leadership training in this area.
Mthembu Lodge opened its doors in October 2018, while Biyela Lodge will be ready to welcome its first guests in March 2019.
For more information visit umfolozibig5.com
About Mantis: A world-leading collection of hotels and eco-escapes scattered across the planet, Mantis provides the traveller with experiences that stir the soul, defy expectation, and live in the heart forever. Mantis has unearthed uniquely authentic lifestyle experiences in far-flung corners, vibrant cityscapes, across vast African plains, and in most places in between. Each with a unique spirit, yet all are linked by a collective obsession to be extraordinary. To be rare in a world that mass produces sameness. Every Mantis destination is truly an exceptional place to find yourself.