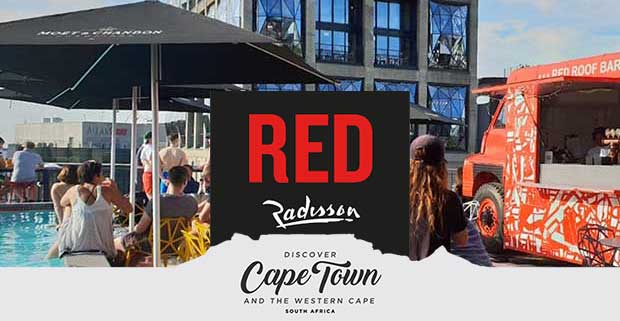 Radisson RED Hotel V&A Waterfront recently launched Chilli Bang Bang; an urban massage area where you can indulge in a quick mid-afternoon rubdown between meetings and deadlines.
Tourism Tattlers' Bev Langkilde and Michelle Perch found the Chilli Bang Bang outdoor massage area discreetly tucked away next to the popular RED Roof Bar and swimming pool.
"The 45 minute full body massage is incredibly relaxing, although I found my masseuses' technique of kneading muscle tissue in a downward motion, away from the head, to be unconventional," says Bev. "Never the less, it's a great stress reliever," quips Michelle. "Especially with a G&T in hand."
Gin Blending Session
Radisson RED Hotel, Cape Town also recently launched its own botanical gin blending bar. Located in the OUIBar + KTCHN on the ground floor of the hotel, guests can formulate their own distinct gin flavour with a step-by-step guide.
Here, you are provided with various botanical gin flavour profiles including juniper, citrus, naartjie, grapefruit, nutmeg and clove, cardamom, cinnamon, fynbos, honeybush, sage and thyme, rose pelargonium and lavender.
Each gin flavour profile has been distilled and blended with water to be 43% alcohol proof (the legal minimum bottling strength in South Africa). All you have to do is measure and pour.
"It's like being an alchemist, except you create your very own brand of gin," says Bev.
Of course, you don't need to be an alchemist. For R250 a person, gin lovers are offered tasters of their house-brands: Khoi Cloud and Skinny Dip.
To top it all off, the Radisson RED, Cape Town has also crafted its own tonic water – Atonic Blonde, which is completely natural and finely balanced to ensure the taste of the gin it accompanies isn't masked. Combining lime and grapefruit for a citrus aroma, Atonic Blonde is also lower in sugar than commercial tonic water, resulting in a zingy and mildly fruity tonic water.
Burgers to die for
"You won't (die) of course unless you've downed too many of your own G&T concoctions at the botanical gin blending bar, but after enjoying one of the OUIBar + KTCHN's sumptuous burgers, I'd be ready to pass through the pearly gates with a smile on my face," says Bev.
"I thought we'd already died and gone to heaven during the massage session at Chilli Bang Bang," concludes Michelle.
For more information visit radissonred.com/cape-town/