Lifestyle
Things to know when Relocating to Australia's Gold Coast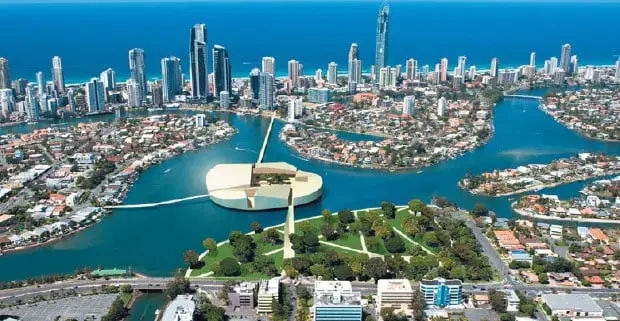 The Australian Gold Coast offers an excellent quality of life with a wide variety of flora and fauna, an abundance of restaurants and public amenities, and plenty of outdoor spaces. Expats moving to the Gold Coast will find its young, vibrant atmosphere and international culture to be invigorating in its diversity.
Located in Queensland, approximately 66 kilometres (41 mi) south of the state capital Brisbane, the Gold Coast is Australia's sixth-largest city. The Gold Coast region only gained its name in the 1940s as it was once popularly known as the Australian South Coast – a popular vacation spot for returning World War II soldiers at the time.
The Gold Coast covers around 414 square km (160.0 sq mi) with a 70 kilometre (43 mi) coastline that stretches from Rainbow Bay to South Stradbroke Island, and with 35% of its residents being immigrants, it is also Australia's most culturally diverse city.
The Climate
The Gold Coast, Australia has earned glowing recommendations because of its almost perfect climate. Moving to the Gold coast means having more than enough sunshine for pleasant outdoor activities and a first-class view of the most beautiful thunderstorm displays you'll ever see. Although things can get scorching during the December to January summer cycle, the temperature rarely reaches uncomfortable levels, and rainfall is regular.
The Education
The Gold Coast offers wide-ranging options for schooling, ranging from prestigious private schools to public ones. While public schools are free and open to everyone, public schools charge annual fees and are often more exclusive and prestigious. Bond University, Griffith University, Southern Cross University, and Central Queensland University are the four universities domiciled on the Gold Coast. There are also several Private Colleges, TAFE's, and English Language Institutions.
The Job Market
The most popular job opportunities available for people relocating to the Gold coast are hospitality, sales, and retail jobs. This is because of the massive tourism and hospitality industry there. Another popular option is working in building and construction, especially with the new housing trend of building estates that are appearing all over the region to cater to baby boomers.
The Suburbs
Within the regions of southeast Queensland, the Gold Coast comprises of several towns, suburbs, and rural districts.
Here's a quick summary of Gold Coast suburbs from North to South:
Paradise Point, Labrador, and Runaway Bay are famous residential Northern suburbs.
Southport contains an array of reputable industries, businesses, hospitals, shops, and offices that make it an incredible commercial hub.
Main Beach is one for the elite and classy, with several resorts and high-rise buildings.
Surfers Paradise is rightly one of the most popular commercial centres on the Gold Coast, with many accommodations and sights.
Broadbeach is a popular tourist suburb with a casino, two shopping complexes, and several restaurants and high-rise buildings.
Mermaid Beach and Miami have a few low-rises local restaurants and motels beside the highway.
Palm Beach is primarily a residential suburb.
Bilinga, Currumbin, and Tugun are relatively close to the airport and motorway.
Coolangatta, Kirra, and Tweed Heads can be considered an important part of the southern end with a numerous high-rise apartment, a small entertainment area, and a shopping area.
Burleigh Heads has beaches in this suburb that are relatively popular among local families and surfers.
Things to consider when relocating to the Gold Coast
Affordability: For Australia the cost of living is average.
Safety: The crime rate is not significantly higher than the Australian average, so it is a safe place to live.
Healthcare: Health care is usually provided by public and private organizations or insurance providers.
Traffic: It has light traffic and only gets busy at peak periods (7 am to 9 am, 4:30 pm to 6:00 pm) and on Friday afternoons.
Property: Because of its continually rising population figures, properties can be expensive. You should contact your real estate agent or experts before you move for this reason.
Environment quality: It has one of the highest biodiversities in Australia, and has a variety of native vegetation, rainforests, and natural landscapes.