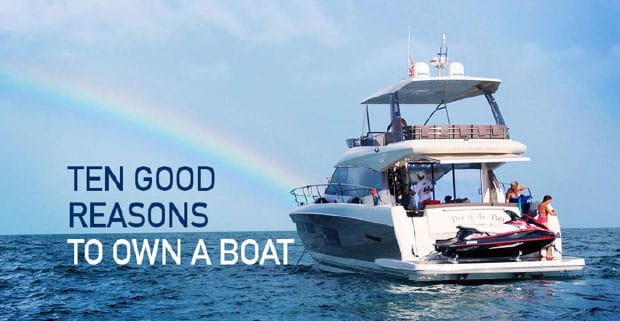 Listing a boat among the properties you own has a certain ring to it. If you have the money, enough not to put it all in your wallet, then it's all possible. However, a boat takes more than buying one, and you can liken it to a bottomless pit because the spending never ends. You'll have to purchase enough oil or fix up blown engines.
Again, after the initial payment is made, you still have to factor in insurance, pay for a slip, pay for cover from winter, have enough gas to last a couple of trips and paying for polishing. That's not all; towing subscriptions need paying too! Don't fret. All the above make things difficult but owning a boat is great.
With all the clouds gone, you're more at ease with the reduction in your wallet, and the feeling you get is money well spent. Consequently, you have an awesome time standing in your boat, hands on the wheel and throttle, and headed wherever you please at your leisure. Everyone would want a ride by then.
There are many valid reasons why you should give owning a boat a thought. Here are a few to consider:
It gives you living space.
You have a cheap alternative to travel the globe.
You can go to warmer places during winter.
No real estate taxes involved.
There's no restriction on your movement.
You have more than enough options to live anywhere
Varieties of pricing options.
A breathtaking view from your home every day.
A carefree life.
You can sail to any destination.
These are some reasons why people own boats. However, if you need something small for a breather once in a while, would the good benefits still remain?
Yes. There are small, inflatable, and reasonably inexpensive fishing boats, about eight feet in size. They are fantastic if you're not packing much gear and room for two people. For some that love the occasional fishing trip, but want to avoid costs for actual boats, this is a great choice.
You can easily pack most of the inflatable boats in a truck or trunk of your vehicle. Also, at forty pounds and under, they are light enough to convey to close waterways, if you can't use a boat dock.
Inflatable boats also have the distinction of being versatile. They can be useful for diving purposes, fishing, or a pleasure cruise on a lake or river. Whichever inflatable boat you choose, expect to pay about thirty to forty hundred dollars. Of course, a conventional boat would cost more, but with all the benefits. To that end, if you need a boat for occasional outdoor movements, think about inflatable boats rather than spending on pricey conventional boats.
Whatever boat type you decide to go for, there are many benefits to be had in owning one. Also, it goes beyond the top ten reasons listed at the beginning of the article. Other top reasons include for relaxation purposes, spending quality time with family and friends, and having a dating cruise. Owning a boat is just as cool and one of the simple ways to improve the quality of your life, not to mention that it's also an investment.
You'll be hard-pressed to find anything just as relaxing as sailing on the wide-open water, with all of life's hassles behind you. There's no limit to the benefits you and your family can have when you take advantage of the boating way of life.
It's not uncommon to have many people backing away from owning a boat, because of how expensive they think it is. However, owning one can be one of the cheapest ways to make the most out of life and enjoy it. To finance a boat, you can make payments in instalments. You can look up boats sale companies for a payment plan that is convenient for you. Once you have a boat, you won't be spending a lot of money long-term.
Once you own a boat, you, family and friends, can travel anywhere as long as it's on the water. Also, if the boat is big enough to have a bathroom and cabin, it becomes easier to go off on a weekend trip at your own time and pace. All you have to do is have ample food on board. With that cabin, your supplies and virtually all you need, you won't have to worry about the hassles that come with staying in a hotel room or villa