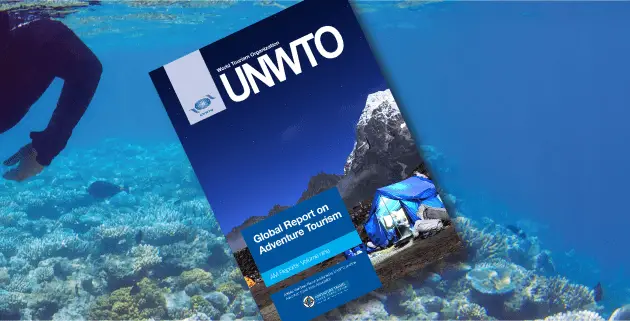 The latest edition of UNWTO's 'Global Report on Adventure Tourism' cites Visa Facilitation as one of the most important areas to adventure tourism growth for destinations.
In the foreword to Volume nine of the UNWTO's 'Global Report on Adventure Tourism', the organisations Secretary General, Taleb Rifai describes adventure travel as a cornerstone of the tourism experience.
"For companies and destinations, adventure travel attracts visitors outside of peak season, highlights the natural and cultural values of a destination, thereby promoting its preservation, helps differentiate destinations against the competition, and creates resilient and committed travellers. These are just some of the reasons why it is fundamental for destinations to understand and work with adventure travel professionals," says Rifai.
The Global Report on Adventure Tourism Report offers a thorough insightful analysis of the current and future adventure travel sector, providing global trends and structural knowledge on a significant, growing market, which is rapidly expanding.
"The Report highlights the importance of public-private sector collaboration initiatives within the adventure tourism sector. In a sector that is not only innovative, it is resilient in reaping the benefits that adventure tourism can bring to an economy, it is necessary to put in place conditions that make the country easy to visit as well as attractive to develop," says Yolanda Perdomo, Director of the UNWTO Affiliate Members Programme.
The 88 page report covers a broad range of subject matter in eight chapters, from an introduction with types of adventure tourism, to trends, structure, and potential benefits to local economies, communities and the environment. Chapters five through to eight deal with creating the right environment for adventure tourism, operational standards and certifications, managing risk, and sector challenges, opportunities and initiatives.
The chapters are interspersed with case studies and sector perspectives, including one on Sustainability and Adventure Travel in Cape Town from affiliate member, Cape Town Tourism and an opinion pice from Karen Kohler, Research Manager at Tourism KwaZulu-Natal.
Of particular relevance to South Africa's current visa debacle, is a section on 'UNWTO and Visa Facilitation', in which it states; "Joint research by the UNWTO and the World Travel & Tourism Council (WTTC), in May 2012 demonstrated that improving visa processes could generate an additional USD 206 billion in tourism receipts and create as many as 5.1 million jobs by 2015 in the G20 economies."
UNWTO has identified five important areas of opportunity for visa facilitation:
1. Delivery of information
The availability and reliability of the information on entry formalities – especially visa requirements and procedures is among the simplest measures to address.
2. Facilitate current visas processes
A major opportunity for improvement is the way visa requests for temporary visitors are processed in general, as well as the requirements linked to this process. Whether these requirements are personal interviews, official documents or certificates, they usually produce at least temporary bottlenecks as well as uncertainty and long wait times. Among the techniques suitable for improving these processes are the better use of modern information technologies by service providers and the consideration of visas on arrival.
3. Differentiate treatment to facilitate tourist travel
The technique of facilitating the visa process for certain types of visitors is widely used among countries, especially for temporary visitors. The form this facilitation takes can range from easing restrictions depending on the means of transportation – for example, cruise passengers can be allowed to disembark from the ship without a tourist visa or to arrive by charter planes – to special treatment for specified geographical areas or ports of entry.
4. Institute eVisa programmes
Currently, a widely discussed opportunity is the use of eVisa. If an entry visa cannot be avoided, eVisa is the option preferred over the traditional, paper visa. It can be more easily obtained and requires neither the physical presence of the applicant nor the presence of the passport.
5. Establish regional agreements
There are already a number of regional agreements in place that allow travellers from a third country to move freely between member countries once admitted by one of the participating countries. The agreements made between the Members States of the South African Development Community to introduce a Univisa, and separately between Uganda, Rwanda and Kenya for a Tripartite Tourism Visa are a good example of this.
The Report can be downloaded here