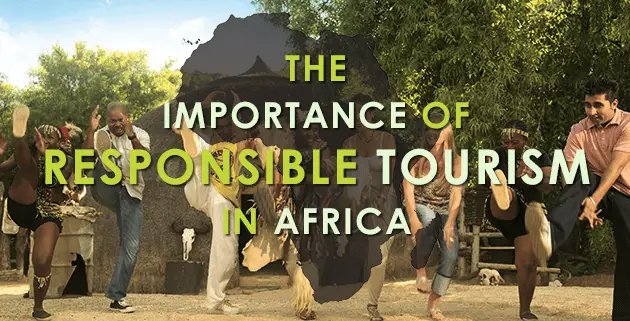 Tourism, wherever it is aimed, brings with it challenges and can have a negative impact on the local area and people. Responsible tourism is a theory and methodology that is committed to ensuring that tourism is carried out in a way that is respectful to the local people and their culture and does not exploit them or the environment. Making sure that all tourism in Africa is responsible is essential to the future of tourism on the continent.
When tourism goes wrong
One of the largest and fastest-growing sectors of African tourism is safari. However, safaris are not always conducted in ways that are beneficial to the incredible and diverse wildlife of the savannah – for example, you can pay thousands for a hunting safari in Kenya's Maasai Mara region and stay in one of the 25 permanent lodges they have there. Thirty years ago, there were half a dozen lodges with space for only 300 hunters – now there are over 3,000 beds.
The soaring visitor numbers have severely damaged roads and grasslands, while not improving the incomes of most of the local inhabitants of the area. Giraffe numbers in 2010 were down 95% compared with 1989, warthogs down 80%, and impala down 67%. This is everything that responsible tourism is not.
How to practise responsible tourism
Thankfully, there are also examples of responsible tourism being practised today. Fair Trade Tourism is an NGO that practises the tenets of the rest of the Fair Trade label – fair wages, working conditions and environmental awareness. It operates in Botswana, Lesotho, Madagascar, Mozambique, Namibia, South Africa, Swaziland and Tanzania.
Conservancies are another way of practising responsible tourism. First pioneered in Namibia, it is a policy that is based on environmental preservation and local benefits. In practice, it means areas of land where the conservation and management are the responsibility of local people so that they can generate the income and receive the income of tourism there.
How to promote responsible tourism
African countries and people have a long history of being misrepresented by the West. African cultural heritage varies wildly across the continent, but an important topic is how to promote the unique virtues of a continent where there are far less historical buildings than in Europe or Asia. Many African cultures place greater focus and value on remembered knowledge, stories, dances and practices. This presents both challenges and opportunities.
For example, the spectacular traditional dance of the Indlamu people of South Africa lends itself very well to video. When promoting tourism in African countries, make sure to take advantage of this visual focus through the use of video equipment and a good video editor. Promoting responsible tourism stems from demonstrating just how positive the impact can be on the local people and the local area and by showcasing how authentic the experience can be when it is conducted by local people.
Conclusion
The more power that local people have over the tourism in their areas, the greater the benefits will be for them and the more responsible the tourism will be. African countries have so much to offer in terms of culture and wildlife, and responsible tourism is the best way to highlight and preserve this.