Politics
Opposition Party Responds to #Sona2019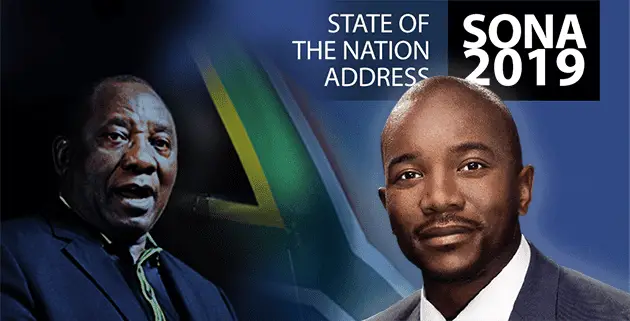 CAPE TOWN, South Africa, 08 February 2019 – Following yesterday's State of the Nation (SONA) address by President Cyril Ramaphosa, the country's official opposition party, the Democratic Alliance (DA), issued several thought-provoking, and highly relevant, press releases today.
Time is running out!
Statement by Mmusi Maimane – DA Leader :
"Yesterday, President Ramaphosa showed that under the ANC, the State of the Nation was rather a State of No Action. Whatever his intentions, the President is constrained by the ANC, and is unable to act, and will not be able to stop his party's intention to expropriate private land, homes and businesses without compensation.
"After the surge of optimism that saw Zuma removed and Ramaphosa installed, more than one year on, it is clear that Ramaphosa presents no 'new dawn', and is sadly just more of the same:
Whilst Ramaphosa promised to review the funding model of SA's failing SOEs last SONA, his government went ahead and guaranteed SOEs another R14.9 billion in bailouts! The DA would sell off failing SOEs.
1 in 2 young people remain jobless. At the last SONA, Ramaphosa promised 1 million internships over 3 years through his Youth Employment Service (YES) but, in reality there have been fewer than 7000 internships, and white youths are not even allowed to apply for the limited opportunities. The DA would offer every matriculant a full year of paid work and skills training, regardless of the colour of their skin.
Despite promising to review the bloated ANC-cabinet, there are still over 70 ministers and deputies wasting tax payers' money. The DA would have a cabinet of just 15 ministries!
"Empty promises will never build One South Africa for All! We need change," concludes Maimane.
Ramaphosa and ANC have no idea how to fight crime
Statement by John Steenhuisen – DA Spokesperson on Crime:
"SONA 2019 has once again glossed over the severity of crime and violence in South Africa.
"Ramaphosa's State of No Action is indeed in full swing. Instead of addressing the ANC government's chronic failure to address crime and violence in the country and presenting the nation with a concrete plan to make our streets and homes safer – Ramaphosa put the onus on communities to combat crime.
"While the DA believes in a multi-stakeholder approach to combatting crime, ultimately the responsibility still lies with the South African Police Services (SAPS).
"Ramaphosa's SONA was symbolic of a governing party that is completely estranged from the lived reality of its citizens. SAPS remain under-resourced and under-capacitated. This has resulted in the national ratio of police officers to population increasing from 1:369 in 2016/17 to 1:375 in 2017/18. The ideal ratio should be 1:220.
"56 people are murdered in South Africa every day and the number of sexual offences against women jumped by 53% from 2015 to 2017 (31 665 to 70 813).
"Now is not the time to celebrate the ANC's crime 'summits'. Now is the time to question where and why there is no strategy in place to protect our communities and homes.
"These statistics are further proof of the need for policing to be decentralised to ensure that provincial governments have real power in protecting communities and fighting crime. The DA will not stand by idly as the ANC continues to allow these numbers to grow, year by year. We want to protect those where we govern, and ideally, we want the opportunity to protect all South Africans," concludes Steenhuisen.
Eskom rejig does not go far enough
Statement by Natasha Mazzone MP – DA Shadow Minister of Public Enterprises:
"The DA) welcomes President Cyril Ramaphosa's announcement during the State of the Nation Address (SONA) to split Eskom up, but he has not gone nearly far enough.
"Eskom will be unbundled into a holding company, with three separate business entities namely: generation, transmission and distribution and will be wholly owned by the holding company.
"This restructuring will entail that each entity has the same holding board. Thus, the intention to stimulate competition in the generation sector of Eskom will be limited by the fact that the entities are not wholly independent entities. Preference and influence will still be possible within the holding board structure.
"It also does not go far enough by preparing the generation unit for privatisation to place it on an equal competitive footing with other independent power producers nor does it allow well-functioning metros to be able to source energy directly by independent energy suppliers. Overall, the plan will not ensure a stable supply of electricity at a reduced cost for consumers into the long-term.
"This means that Eskom's request for tariff increases remains a reality and the ANC will continue to place the burden of their failures on South Africans.
"The DA's 'cheaper electricity bill' or Independent Systems Market Operator (ISMO) bill would allow all of the above to be implemented. We have been proposing this bill since last year.
"Ramaphosa also announced yesterday that the government will take steps to reduce municipal non-payment yet no details are revealed. It is once again more talk from the ANC with little action or delivery.
"On Eskom's finances, the President stated that the government will support Eskom's balance sheet. Whether this will entail a government bailout or a debt swap, remains to be seen and poses a massive risk to the country's sovereign credit rating.
"The ANC's plan to address Eskom falls short of the mark to tackle rising electricity costs, increasing municipal non-payments, the financial crunch and instability in the energy supply. It leaves us with more questions.
"The DA will continue to fight for a cleaner and cheaper electricity sector for all South Africans," concludes Mazzone.
DA ready for 8 May 2019 Election
Statement by Solly Malatsi – DA National Spokesperson:
"The Democratic Alliance has long been ready for the General Elections, regardless of the date. We now have 8 May 2019 as the day when the people of South Africa will entrust us with bringing positive change and rejecting the failing ANC, which has taken South Africa in the wrong direction and created hopelessness and despair.
"On 22 September 2018, we launched our election campaign premised on 'Change that Builds One South Africa for All' and the core campaign group, Team One South Africa that are taking off to all corners of SA. We have further announced nine highly capable Premier Candidates. With this team,  led by Mmusi Maimane, we have already covered every corner of the country, where the people are ready to vote for the DA.
"In just under three months there will be an opportunity for South Africans to vote for whether they want a different driver of the same unroadworthy ANC bus, or the DA, which has a plan and vision for building One South Africa for All.
"The failing ANC is the single greatest risk to South Africa's prosperity. Only the DA is capable of bringing change that will open fair access to real, long-term jobs, stop corruption, secure our borders, speed up the delivery of quality services, and create an honest and professional police service.
"The DA difference is evident in our track record in government. By any measure, life is better where the DA governs in 34 jurisdictions and for 15 million people across the country.
"The power to bring change rests in the hands of the people," concludes Malatsi.