Reviews
Hooked on Butcher Block Sibaya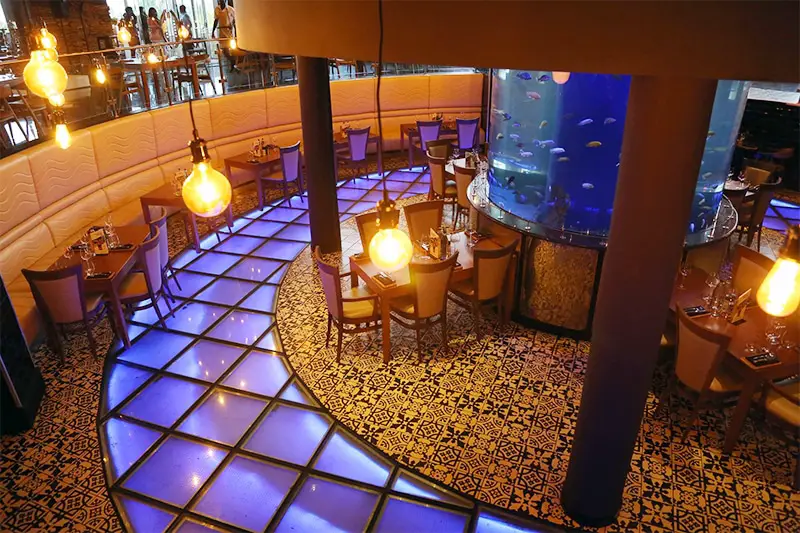 Ever since its founding by entrepreneur, Manuel Savic in 2003, The Butcher Block Group of steakhouse franchises have become renown for being "A Cut Above the Rest" among carnivorous diners in KwaZulu-Natal, South Africa. So when I heard that a new Butcher Block had opened at Sibaya Casino and Entertainment Kingdom, I had to try it out. Review by Des Langkilde.
South Africans, by and large, are passionate meat-eaters. A day's nourishment would not be complete without a traditional shisa nyama or braaivleis, heaped with thick-cut beef steaks, boerewors, and lamb chops – served sizzling hot off the coals and accompanied with pap and gravy, and, perhaps, a side-salad of green-stuff (for the ladies, mostly).
So, when locals go out to wine and dine, they are fussy. They want to know that the quality of meat served by restaurants, and the cooking preparation thereof, meets (if not exceeds) what they do at home.
Over the years I've been fortunate to have dined at all four Butcher Block steakhouse franchises; in Ballito, Umhlanga, Durban, and Hillcrest. They have all been consistent in terms of quality, service, and decor.
The new Butcher Block near Umloti, however, is an exception to the rule. Not in terms of quality meat – Butcher Block is well-known for taking pride in their commitment to quality, sourcing only Triple AAA Grade steaks from one of the top meat producers in South Africa, their trusted supplier, Chalmar Beef.
The two aspects that set Butcher Block Sibaya apart are the venue and the incredibly diverse menu.
Firstly, on the venue side, the newly renovated triple story restaurant space within the Sibaya casino is the same site previously occupied by the Aqua Seafood Restaurant. The impressive cylindrical fish tank has been retained, along with the blueish lighting, which makes eating steak in an ocean-inspired ambience a rather guilt-free experience.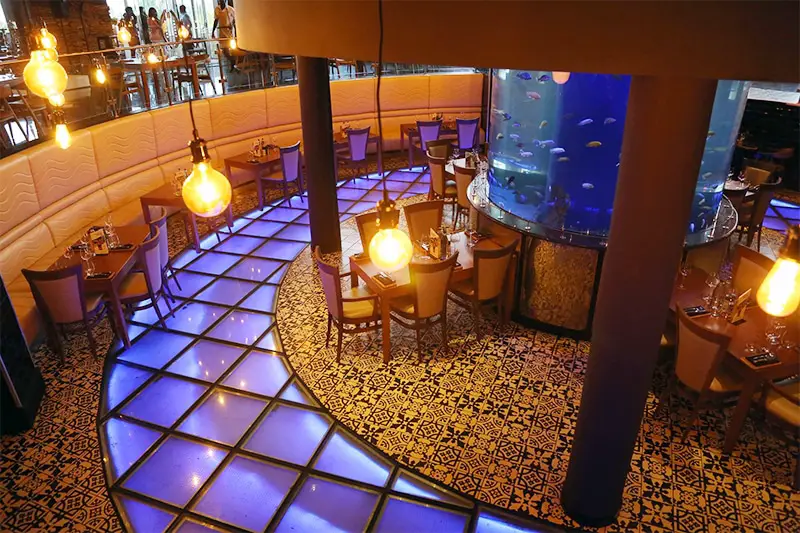 Secondly, and probably inspired by its venue location, Butcher Block Sibaya launched a 'Hooked on the Block' seafood menu when it officially opened on Thursday, 24 October 2019. The new menu offers a huge variety of tasty seafood, from teppanyaki and sushi to Alaskan king crab and fresh Knysna oysters. This, in unison with the prevailing ala-carte menu of meat dishes, provides customers with a vast selection of appetising meals to suit their particular preferences.
When my daughter Kay and I arrived for our reserved 7 pm booking on a mid-November Thursday evening, the Butcher Block Sibaya was reasonably well patronised, although it's hard to tell when diners are spread out across three levels. After an enthusiastic and friendly greeting from the General Manager, Dominic Kostyrski, a gorgeous maître d' guided us to our table, which I requested to be reallocated beside the aquarium.
After having promptly arrived and returned with our drinks order (my favourite, a Durbanville Hills Merlot), our efficient waiter, Robert, took our starters and mains food order. Under the watchful gaze of our marine neighbours, I opted for beef while Kay prefered the poultry menu options.
The oven-roasted beef marrow bone starter, served with slices of warm sour-dough bread, was delicious, although I found the red wine and herb sauce accompaniment to be overly sweet. Marrow, in my opinion, is best savoured spread over bread with a sprinkle of coarse ground salt.
Kay skipped starters, and, craving vegetables, opted for the Chicken Schnitzel with cheese sauce and generous portions of starch and veg. For my main, I ordered a 300g fillet, requesting that it be prepared with a crushed peppercorn coating and cooked rare.
While we're waiting for the chef to conjure our mains, here's some useless information that you may not have known about fillet (tenderloin) meat-cuts; in the U.S. this beef cut is referred to by the French name 'filet mignon', which actually means pork tenderloin.
The correct French term for beef fillet is filet de bœuf, which is cut from the smaller forward-end of the tenderloin. However, seeing as an average steer only has about 500 grams of filet mignon, most restaurants sell fillet steaks cut from the wider end of the tenderloin (the centre round-cuts are known as tournedos), as it is both cheaper and much more presentable.
Getting back to the mains, the chef (almost) prepared my filet de bœuf to perfection; not quite bleu, but not medium-done either. The crusted pepper-corn request didn't work out, but then, it probably got seared off as peppered steak is best cooked in a hot pan (in the French au poivre style) rather than over a grill flame. Next time, I'll order it black and bleu!
Anyway, the peppercorns did their job, adding a pungent but complementary counterpoint to the rich flavour of this perfectly cooked high-quality beef. However, the sauce or gravy accompaniment, like the marrow bone starter sauce, I found to be overly sweet. Kay's Schnitzel chicken breasts, she said, were tender and moist. Overall, a tasty and highly enjoyable meal.
Now, onto my favourite dining course; the dessert. I've always had a sweet tooth (my dentist must have missed that one when he extracted most of them years ago). Kay opted for the Mississippi Mud Pie – a rich chocolate brownie base blended with tree nuts, buried under a layer of decadent hazelnut and chocolate mousse (or was it Gooey Chocolate Brownies?).
My dessert, a duo of ice cream crêpes with a shot-glass of Kahlúa liqueur, was decadently delicious. The drizzling of hot Bar One sauce topped with roasted almond flakes and combined with the Kahlúa adds coffee-flavour to the dish with a lingering vanilla-rum aftertaste. Absolutely divine!
In conclusion, I'm hooked on Butcher Block Sibaya. And so will you be, but be sure to book a table as it fast becoming a trendy hot-spot even for those, like me, who aren't into casino gambling.
To reserve a table, call +27 (0)31 648 0040 or visit butcherblock.co.za.
I almost forgot to mention; this opulent three-level restaurant is a perfect venue for private parties, corporate events, wedding receptions and other occasions.