Reviews
Wine and Dine with Cape Town Icons
Take a leisurely 20-minute drive from Cape Town's city centre towards the northern suburbs of Tygerberg and you'll find Durbanville Hills Winery – the perfect location to experience the Mother City's iconic attractions, namely wine, food, and panoramic views.
Unlike many private label wine estates in the Western Cape, Durbanville Hills is a cooperative. A collaboration of wine varietal growers in the region who pool their crops to create some of the finest wines to be found in South Africa.
To connect the 'Mother City' and Winelands, Durbanville Hills launched The Collectors Reserve in 2018 – a wine range designed as a collector's item for both wine and art lovers alike. Each label in the range of seven varietals features a prominent Cape Town landmark designed by Capetonian artist – Theo Vorster – to impart his vision of these landmarks onto each bottle.
Collectors Reserve Tasting Experience
The Collectors Reserve tasting experience includes a private cellar tour with a wine specialist, a unique interactive tasting experience, as well as a wine-food pairing educational.
On arrival, you'll be escorted to a private tasting room adjacent to the restaurant. Depending on the season, you may be joined by other couples for the Collectors Reserve tasting but generally it's very much a private affair as your host guides you through the seven Collectors Reserve varietal wines, describes the subtle character nuances of each, and how these pair with flavours from the cheese board selection set before you.
Included in the Tasting Experience is an interesting guided tour, which is an experience in itself.
Depending on the season, you'll witness the grapes arriving on tractor trailers from surrounding farms and being decanted into the processing conveyor. Your guide will provide a wealth of information during the tour as you follow the grapes' transformation process all the way through the enormous fermentation tanks to oak barrel ageing in the cellar and final bottling of the wine.
The Tasting Experience is convened from Mondays to Fridays between 12:00 and 15:00. On departure, you'll also receive a bottle of you favourite Collectors Reserve wine to take home. Note that this experience requires booking 48-hours in advance of your arrival.
Dining Experience
The Durbanville Hills Restaurant is located on the second floor with panoramic views of Table Mountain, Table Bay, the rolling Tygerberg hills and, of course, the vineyards.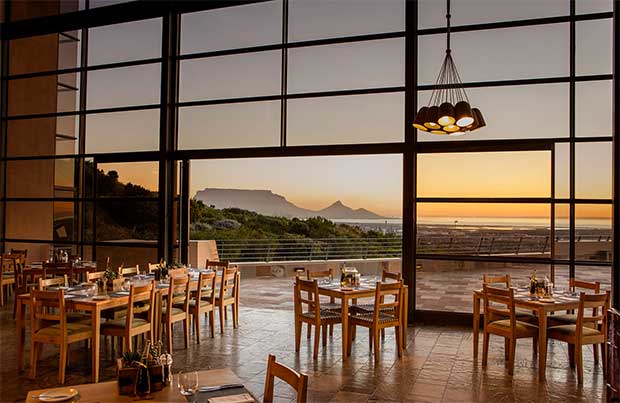 The restaurant itself is a light, contemporary, space with a double volume ceiling, wood finishes, earthy tones and typical South African décor.
Leading off the restaurant is an expansive wooden deck – perfect for sipping on a glass of crisp Sauvignon Blanc while taking in the views and perhaps a selfie or two against the backdrop of Cape Town's stunning sunsets.
As for the food, the menu prepared by head chef Louisa Greeff is simple, unpretentious, and yet sophisticated.
Adding to the enjoyable cuisine and wine pairing experience is the attentive, and yet an unimposing presence, of Dirk Steyn – the restaurants' maître d'hôtel – along with your well-trained allocated waiter.
The restaurant is open breakfast, lunch and dinner on selected evenings.
Opening Times
Breakfast: Tuesday – Sunday 08h30 – 11h00
Lunch: Tuesday – Sunday 12h00 – 15h00
Dinner: Wednesday – Saturday 18h00 – 22h00
Public Holidays – Open for Breakfast and Lunch.
For more information visit www.durbanvillehills.co.za
Read more on this topic: