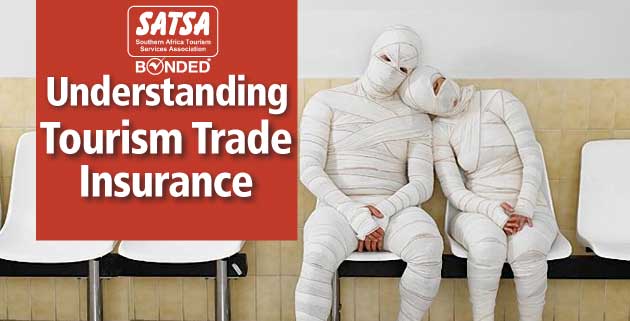 Summary: Part 1 in this series covers an introduction to insurance, an outline on the EC Directive, the basics of risk management, and financial guarantees. Part 2, Part 3, and Part 4 look at liability insurance.
Part 5 continues the subject of liability.
TYPES OF INSURANCE
The five kinds of insurance that apply to the tourism industry are:
Financial Guarantee (Insurance Bond) – Read Part 1 HERE.
Liability Insurance:
Passenger Liability – Read Part 3 HERE.
Road Accident Fund Amendment Bill – Read Part 4 HERE.
Personal Accident insurance
Professional Indemnity insurance
Vehicle / Property Insurance
Travel Insurance / Medical Rescue
Other Business Insurance (Buy & Sell, Key Person, Provident Fund)
Personal Accident Insurance
To provide some form of reassurance to overseas travel agents and their clients, the Southern Africa Tourism Services Association (SATSA) recommends that tour operators secure personal accident insurance in addition to their existing passenger liability insurance.
Personal accident insurance is a very simple form of cover with a capital benefit or sum insured, which is paid in full in the event of accidental death, and paid on a sliding scale basis depending on the severity of injury in the case of permanent disablement. There is also medical costs insurance cover that is included to be used to cover such costs resulting from the accident.
One of the main differences between a personal accident insurance policy and a liability policy is the fact that the personal accident policy is on a no-fault basis, which means that it will make payment to an injured person regardless of fault.
A liability product will only make payment to an injured person where there is proven legally liability as a result of negligence on the part of the insured operator that resulted in injuries to said person. So logically the personal accident policy will be more costly as it will pay regardless of fault on behalf of the operator.
A classic example of this difference would be a situation where an insured operator with six guests in their vehicle is hit by a third party vehicle and three of the passengers are killed. The cause of the accident had nothing to do with the insured operator's actions as the third party vehicle was solely at fault. With a liability product, nothing would be paid as there was no fault on behalf of the insured, likewise, any legal action against the operator would not have been successful for the same reason. In this same situation, a personal accident policy would pay out.
Professional Indemnity Insurance
This is another form of liability insurance, which is aimed at professionals who offer advice or provide detailed brochures or itineraries to tourists, such as Travel Agents or Tour Brokers. It provides you with protection in respect of your legal liability arising out of the practice of your profession. This normally arises as the result of negligent acts, errors or omissions.
The world in which professional tourism service providers operate is one of ever-increasing pressure, with demands for quick answers and cost-effective solutions. This pressure can lead to errors and omissions, which can and do give rise to claims.
Circumstances that give rise to professional liability claims are seldom clear-cut – they often give rise to disputes as to the nature and extent of the responsibility. In cases where you are blameless, you may nevertheless be drawn into lengthy disputes, which can be both financially and emotionally draining. Professional Indemnity insurance provides both you and your client with peace of mind and financial protection.
Directors and Officers Liability Insurance
Directors and Officers Liability insurance covers damages that may be awarded to a plaintiff in a lawsuit as well as legal defence costs.  The policy may be extended to cover criminal and regulatory investigations and trials.
Claims may arise from shareholders, customers, industry regulators or competitors (e.g. unfair business practices). Directors and officers may also be held liable if they breach their duties or contracts to the company, mix personal and business assets or fail to disclose conflicts of interests.
3. VEHICLE / PROPERTY INSURANCE
This is more the kind of insurance that we as individuals are familiar with. Whether a business or an individual the following risks are a reality that has to be accounted for.
VEHICLE INSURANCE
Motor Insurance

A comprehensive Motor Policy covers a road vehicle for all scenarios relating to any form of accident, as well as in the event of the vehicle being burnt out in a fire and of course, the greatest risk of all, theft. Should an accident be your fault and a third party is affected, this would also be covered under such a policy. In terms of Motor Policies, the onus lies with you, as the transport operator, to ensure that you comply with and adhere to, statutory requirements laid down by law (ignorance of the law is no excuse when it comes to litigation). These are:
The vehicle must be roadworthy, of a suitable size (Tare) for carrying the number of passengers and be equipped with basic safety features (seat belts).
The driver must have a Professional Driving Permit (PRDP), which requires that he/she is 21 years of age or older.
In addition, it is also important that operators obtain the correct insurance cover for the vehicle itself: namely, that the vehicle is insured for 'business' or commercial use rather than under a 'domestic' motor policy due to the lower premium costs. This practice can prove to be a false economy in the event of a claim against the motor or third party section as the insurer would repudiate the claim on the basis that the vehicle was being used to carry 'fare-paying' passengers, and would, therefore, be construed as being 'business use'.
TIP:  Most policies insure on retail and not replacement value – be sure to check this on your policy. Be sure to also check whose responsibility it is to advise the insurance company of the vehicle's annual depreciation – it could be yours or the brokers.
Motor Policies may be broken up and it is possible that only sections of the complete cover can be purchased.
Motor Accident cover
Your vehicle is involved in a road accident, either with another vehicle or with a stationary object or maybe just due to a loss of control. Providing that you are sufficiently covered, as per the value of your vehicle, the damages sustained to your vehicle would be paid for, subject to the deduction of an excess or first amount payable, as per your policy directive.
If your vehicle has to be towed this too would be covered under this section of the policy. You would also be covered in the event that the driver was not yourself but another legal authorised party.
Motor Third Party cover
If, after the accident, it is ascertained that the accident was your fault and you have caused damage to another vehicle and a garden wall, for instance, these further damages would also be covered under your policy.
Often the blame of an accident is subject to dispute and the insurance companies of each party have to fight it out, and in extreme cases, this can go to court. Conversely, where the accident was not your fault at all, you or your insurance company would claim from the guilty party's third party cover in order to cover your expenses.
Where complications arise is when the guilty party is not insured at all and that is when either you or your insurance party may have to resort to claiming the money from him or her in a court of law.
Motor Fire cover
This relates mostly in the event that your vehicle being burnt out. Your car could obviously be burnt out as a result of an accident. This will also cover you in the event that your car is parked in somebody else's garage which burned down, although the first recourse here would be that person's home owner's insurance, but if that did not cover you then your own fire policy would.
Motor Theft cover
As the scourge of our region, this cover is very relevant. This cover is in the event of your vehicle being stolen. However, great caution needs to be taken here as each insurance company has different requirements. The value of the vehicle, the nature of your alarm system and where the vehicle was stolen, would all be taken into account. Remember that it is important that you declare the value of your vehicle correctly or else you will only be paid up to the value that you are covered for and not maybe what your vehicle is worth. In many instances Insurers require an anti-theft or tracking device be fitted in order to obtain cover.
Marine insurance
Marine insurance policies offer comprehensive insurance on vessels' hulls, motors, furnishings and fittings and all associated equipment on any marine vessel. Passenger liability clauses held under Marine policies are normally specific to this class of insurance. In other words, your passenger liability policy held under a Motor policy will not cover passenger risks for your boat as well.
Aviation insurance
As with Marine policies, Aviation policies provide cover for an aircrafts fuselage, motors, furnishings and fittings and all associated equipment. Passenger liability clauses held under Aviation policies are specific to this class of insurance.
Read more in this series: