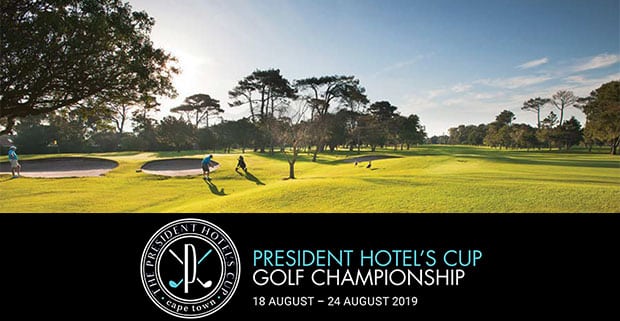 CAPE TOWN, 11 June 2019 – In a spectacular coastal setting in the Mother City, avid golfers, including locals, nationals and internationals, are invited to Cape Town and all of its breathtaking sights, world-class golf courses and once-in-a-lifetime experiences by taking part in the third annual President Hotel's Cup Golf Championship, with all proceeds benefiting Sally Little's Little Golf Trust non-profit.
From 19 – 23 August 2019, the Championship will be played at four world-class golf clubs around the city and rolling hills of Stellenbosch with over R 240 000 worth of prizes to be won as well as serve to uplift and empower the previously disadvantaged, using golf as a medium to teach the life skills golf demands.
Teams of two, which can be men, women, father and son, mother and daughter, friends or family, will compete in an international field of 120 players. The Championship will commence on 19 August at the De Zalze Golf Estate, nestled in the Stellenbosch Winelands, followed by King David Mowbray Golf Club on 20 August, one of the Western Cape's leading golf clubs.
For day three of the tournament, participants will be spoiled with a chance to experience and explore the wonders of Cape Town with a full-day sightseeing tour. Thereafter, on 22 August players will head to Westlake Golf Club, set against the amethyst slopes of the Silvermine Mountains, with the final day of the tournament taking place on 23 August where players will be given the chance to enjoy the charm of South Africa's oldest golf course, Royal Cape Golf Course, to end a wonderful playing experience.
To receive the full tournament experience, the President Hotel is offering various golf packages to suit your needs.
The championship golf package includes six night's luxury accommodation, bed and breakfast, in the pristine sanctuary of Bantry Bay from 18 – 24 August, to attend the opening cocktail party and dinner, four rounds of golf on premium Cape Town courses, all airport and golf course transfers, daily prize giving and wine tasting at each golf course, the Cape Town full day sightseeing experience on day three, and the championship prize giving and gala dinner at the President, as well as golf championship merchandise. The unique championship offers all golfers a fun week with a variety of Fed-Ex Cup and President's Cup formats on offer.
For further information on the tournament visit www.thepresidentscup.co.za, contact Reg Ferreira at reg@thepresidentscup.co.za or +27 (0)82 921 4673 or for sponsorships, contact joanne@presidenthotel.co.za. To make a booking email booking@thepresidentscup.co.za or call +27 (0)21 434 8111.
About the President Hotel: Located in Bantry Bay between the vibrant city and the Atlantic Ocean, the President Hotel is a destination where luxury and personal service come standard, while local style, authentic artwork and innovative design set it apart as the most-loved destination hotel in the Mother City. Guests can relax in spacious rooms and apartments, spend sun-kissed days without a breath of wind beside the infinity pool, and savour delicious locally inspired cuisine, gourmet pizzas and more at the hotel restaurant, café and bars. Participants can explore the golf courses, beaches, mountain, shopping and outdoor adventures, all just moments away.
About Sally Little's Little Golf Trust: The Little Golf Trust is a registered non-profit organisation IT000758/2015(C), Public Benefit Organisation No. 930051388 and has been endorsed by the Honourable National Sports Minister Tokozile Xasa, the Parliamentary Sport and Recreational Council and the City of Cape Town.