News
Corporates for 4th Mandela Day Charity Soccer Tournament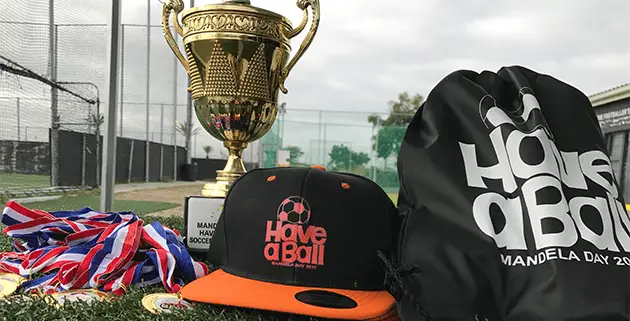 Corporates line up for the 4th Mandela Day Have a Ball Charity Soccer Tournament, hosted by Adverb.
The 4th edition of Adverb's Mandela Day Have a Ball Charity Soccer Tournament took place at Fives Futbol, Century City on Mandela Day, Tuesday, 18 July 2017, in support of the children from My Dunoon.
Forty children from the project teamed up with members of the participating corporate teams in a 5-a-side round-robin soccer tournament. This day of giving was topped off with a handout of takkies, soccer balls, snapbacks and bags to each child – purchased with the funds donated by the corporate sponsors and suppliers:
Adverb, Ankerdata, BON Hotels, Concept Lounge, Comtel, Diesel Digital, Fives Futbol, Hobbs Sinclair, Innovation Projects, IOL, Orlichem, Pyrad International, Sir Fruit, Spur, The Gemini Solution, Two Oceans Aquarium
Participants and spectators enjoyed a fun day of football, food, refreshments, laughter and happiness, and most especially a surprise visit from the Cape City United football team! All the players received a medal and prizes were awarded for best save, biggest smile, team spirit, sportsmanship and ball skills.
Everyone did indeed, HAVE A BALL!