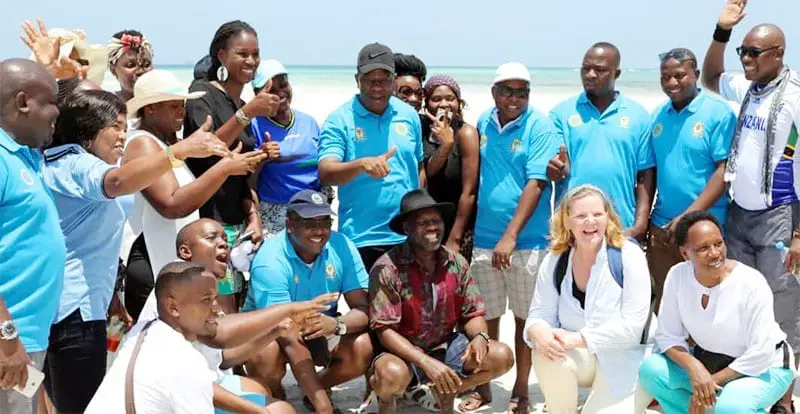 Dar es Salaam, 15 September 2020 – Beach and marine resource tourism along Africa's East Coast and the continents Indian Ocean islands need development and exposure to international tourists. This observation was made by the African Tourism Board (ATB) Chairman, Cuthbert Nkube, during a six-day working tour in Tanzania.
The ATB is looking to cooperate with African coastal countries to develop beach and marine tourism, and sports tourism; niche tourism sectors that Ncube believes are in need of local and international marketing and promotional strategies.
"Let us expose our islands in this continent to local, regional and international tourists," said Ncube after discussions were held with Tanzanian Deputy Ministers for Natural Resources and Tourism, Constantine Kanyasu, Foreign Affairs and East African Cooperation, Damas Ndumbaro, and Livestock and Fisheries, Abdallah Ulega.
"Marine Parks in Tanzania are not well marketed to attract international-class tourists," said Ulega. Tanzania has seven protected Marine Parks, best for beach tourism, mostly swimming, scuba diving, underwater sports and marine life excursions.
Ncube advised the Tanzanian government and other stakeholders to establish initiatives that would help to develop, and then market and promote, marine tourism through a joint partnership with ATB. He said that Africa needs diversified tourism with a focus to marine or beach resources, sports and cultural tourism, all of which are intact and untouched.
Speaking as the Guest of Honor at the domestic exhibition conference in Tanzania last week, Ncube said that Africa needs to build a strong tourism base in areas of culture, wildlife and other heritages available in this continent.
Both Ncube and the ATB CEO, Doris Wörfel, were in East Africa for an official working tour during which they interacted with participants and stakeholders at the UWANDAE Expo 2020 domestic tourism exhibition in Tanzania's commercial capital Dar es Salaam.  Wörfel later visited Kenya to partner with African Tourism Board. 
About the African Tourism Board: ATB is a Pan-African tourism development and marketing institution that aims to promote economic development, increase employment and reduce poverty in Africa. ATB has a perpetual existence within all African Union (AU) Member States with its headquarters based in Pretoria, South Africa, where it is registered as a Non-Profit Company. ATB strives to work with the AU, the UNWTO, governments, private sector, communities and other stakeholders in promoting and facilitating tourism growth and tourism development across the African Continent. For more information visit africantourismboard.com.
Editor's note: As an African Tourism Board 'Friend of the Media', Tourism Tattler's sustainable tourism initiative, Walk4Africa, will certainly aid the ATB's mission in promoting and raising awareness of beach and marine resource tourism in Africa's coastal countries. For more information, or to join Walk4Africa as a founding member, email info@walk4africa.org or join the W4A Facebook page.