Trade News
Double Platinum and Gold for Boschendal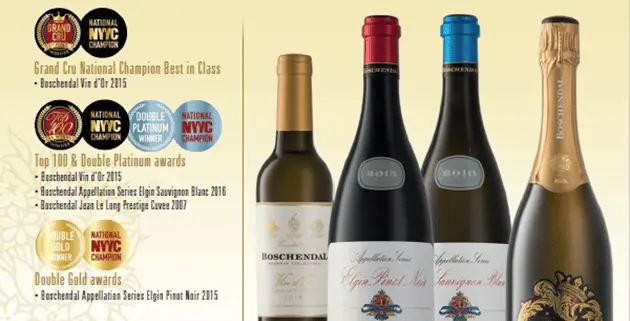 Getting the 2017 awards season off to a phenomenal start, Boschendal won Top 100 & Double Platinum awards for its Boschendal Vin d'Or 2015, Jean le Long Prestige Cuvee 2007 and Boschendal Appellation Series Elgin Sauvignon Blanc 2016, and a Grand Cru National Champion Best in Class title for its Boschendal Vin d'Or 2015 in the National Wine Challenge/ Top 100.
The competition, which recently named the top 100 South African wines for 2017, also awarded the Boschendal Appellation Series Elgin Pinot Noir 2015 a Double Gold Award, and the Boschendal Chardonnay Pinot Noir 2016 and Boschendal Appellation Series Elgin Chardonnay 2015 Double Silver awards.
Additionally, Boschendal Wines has garnered multiple awards for its wines at the prestigious Mundus Vini Spring Tasting 2017, Chardonnay du Monde, and Vivino 2017 Wine Style Awards. With a dynamic approach that fuses more than 300-years of wine making tradition with contemporary innovation, Boschendal has developed a reputation for its vintages' sophistication, and intensity of flavour.
At the 20th Grand International Wine Award Mundus Vini, Boschendal won Gold for its 1685 Shiraz/Cab 2015, and Silver for its Elgin Pinot Noir 2015, Elgin Chardonnay 2015, 1685 S&M 2015 and Rachelsfontein Chenin Blanc 2016. Additionally, the 1685 Chardonnay 2015 won Silver at the 24th annual Chardonnay du Monde competition.
What makes this particularly prestigious is that the 2017 Mundus Vini Awards, held in February 2017 in Germany, were the result of over 6000 wines tasted from 40 different wine producing countries.
The 1685 Chardonnay 2015 was a stand-out at the Chardonnay du Monde, which took place at the Pasteur Institute at Saint Lager's Château des Ravatys estate in France's Burgundy wine region. Here an international judging panel assessed 706 wines from 38 countries. The 1685 Chardonnay 2015 was noted for its lemon-cinnamon zest on the nose, and complex buttery tropical fruit flavours on the palate. Natural fermentation followed by 10-month French oak barrel fermentation and monthly bâtonnage secured the wine's well-rounded mouth feel and beautifully balanced flavour.
In the esteemed Vivino 2017 Wine Style Awards, the world's best wines across 147 categories were determined by Vivino's community of 21 million users, via the ratings they submitted over the past year. Out of the ten top South African wines, Boschendal came in sixth place with its Boschendal The Pavillion Chenin Blanc 2015, and eighth place with the Boschendal Chenin Blanc 2015.
According to Boschendal's Marketing Manager, Shirley van Wyk, "We are really pleased with this start to the 2017 awards season. It's always a wonderful feeling to see constant dynamism and dedication rewarded, and we relish the opportunity to share our wines with the rest of the world. These types of prestigious International awards highlight the work and effort put in by our Boschendal winemakers and their respective teams – the elegance, lively complexity, and fruit purity of the wines is a testament to their leadership and commitment."