Trade News
Exclusive Art Tours in Port Elizabeth, South Africa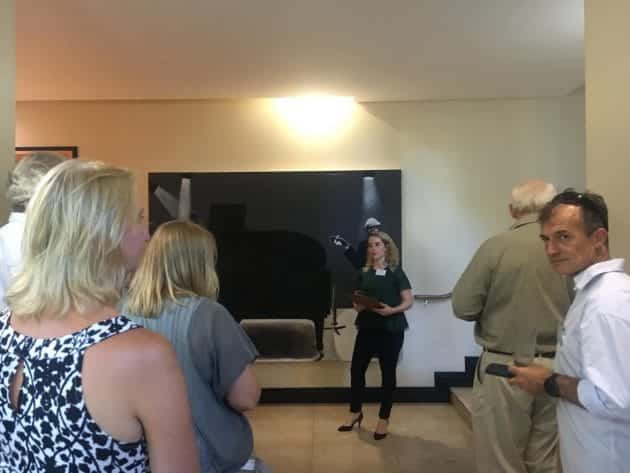 On Tuesday, 5th February, Mantis launched Exclusive Art Tours at No.5 by Mantis. Attended by the media and prominent figures in tourism, the art tour launch featured a presentation by local artist, Duncan Stewart who is the only artist featured in the 2010 Villa which is an annexe to this prominent boutique hotel on Brighton Drive, Summerstrand.
Duncan Stewart's opening address highlighted the "critical importance of nurturing creativity in our lives, especially as we move into an increasingly volatile, uncertain future". Duncan also said that he agrees with a growing number of thinkers that creativity is becoming one of the most sought-after commodities. Creativity is fundamental to our humanity – when we stop wondering, we start dying. He expressed that he hopes that the No.5 art tours inspire everyone who visits to use their own creativity in ways that add value.
Duncan Stewart also treated guests to a tour of his collection at 2010 Villa which is an expression of the hope that the 2010 World Cup brought to the impoverished communities of Nelson Mandela Bay.
The art at No.5 is a private collection belonging to Mantis. Adrian Gardiner, Chairman of the Mantis Group, said: "We began collecting art over 30 years ago and the early days of our art collection were relative to the history of Africa, and we have one of the biggest collections of art portraying Nelson Mandela Bay. The art at No.5 by Mantis includes these artworks as well as contemporary artists; especially those South African artists who did not receive recognition in the apartheid era. We showcase all categories of art which depict South African history and the art deco theme of No.5 by Mantis which is especially visible in the furnishing which we consider to be part of the art experience. Many pieces of art at No.5 came from a single gallery in Cape Town. We love art at Mantis; it is an integral part of living in our magnificent hotels."
With over 200 works of art comprising of paintings, photography, sculptures, and installations; It is no wonder No.5 by Mantis is described by so many as a living art gallery. "Our guests often comment on how beautiful the art is, and we often see guests transfixed in our hallways, restaurant, cinema and whiskey bar; admiring the latest masterpiece to catch their eye. It is for this reason that we decided to share this exclusive experience more widely with art lovers in and around Port Elizabeth" said General Manager, Tracy Lancaster.
Tracy Dergoumois of Outside the Box Marketing concetualised the art tours at No.5, and together with the team at Mantis, have packaged the ideal experience for those looking for a unique lifestyle offering. The Exclusive Art Tours at No.5 by Mantis are available to the public and include lunch and a glass of wine at R350 per person.
Mantis is a Pioneer that searches for and uncovers new possibilities, and new destinations so that people can have access to more fulfilling lives. In a world of diminishing rarity, we partner with curious explorers who seek to discover truly rare destinations and life-affirming experiences.
ABOUT NO.5 BY MANTIS
No.5 by Mantis is an immaculately restored Art Deco building in Port Elizabeth, South Africa. Located less than 10 minutes from Port Elizabeth Airport, No.5 is nestled in the affluent Summerstrand suburb, away from the hustle and bustle, yet an easy stroll to the ocean which is less than 100 metres away. No.5 by Mantis is filled with creative treasures—an art collection and world-class facilities all hand selected for the enjoyment of both business and leisure travellers.
Setting a precedent in Port Elizabeth for luxury accommodation and service, No.5 is a showcase of authentic South African art and a masterpiece of comfort and opulence.
The hotel has 10 suites and lifestyle offerings including a fine dining restaurant, dining cellar, whiskey and cigar lounge, boardroom, private cinema, Camelot Spa, gym and pool.
Port Elizabeth, also referred to as PE or the Friendly City, is located in Nelson Mandela Bay in the Eastern Cape. It is known as a 10-minute city, for its blue flag beaches and as the gateway to the Garden Route. Port Elizabeth is the ideal stopover before or after visiting any of the Big 5 Game reserves, which are only 1 hour away