Trade News
Experience Cape Town with the President Hotel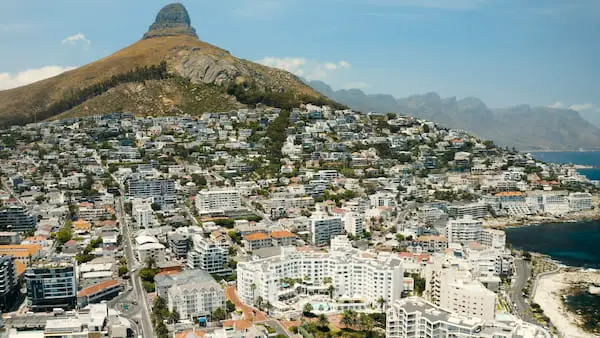 Cape Town is globally renowned on the business and tourist map for its beauty, its kaleidoscope of cultural events and its efficient modernity that contrasts so strikingly with the weight of its historic heritage. So it's vital that your choice of accommodation in exploring all it has to offer enriches your experience and puts a glow on your memories.
You need to be where the buzz is, yet ensconced in a refuge of comfort and peace. You must have access to all the business facilities and amenities without the stress and pressure of ensuring that the nitty-gritty and nagging details are covered. You need to know where the action is, without the sweat and frustration of tracking down people, transport and events.
That is why you should look no further than the President Hotel.
"People call it 'iconic'" says Nikki Vardan, Sales and Marketing manager of the President Hotel, "And it is, in the sense that it represents the best, most gracious, most beautiful and most fulfilling of what Cape Town lays out for the visitor – but it is an icon not to be admired at a distance, as something remote and impersonal. It is a haven to be experienced, embraced and appreciated first-hand – a venue of peace and calm in the vortex of vibrant city life, where professionals are on hand to meet every need and deal with every enquiry."
Beautifully designed for maximum light and a sense of space and tranquillity, the President Hotel offers an enticing selection of restaurants, bars, lounges and gardens to suit your changing moods and desires.
"Few hotels have so expertly combined the often contrasting requirements of business and tourism," comments Jeremy Clayton, General Manager. "Conference, event and banqueting facilities lend themselves to an almost inexhaustible range of adaptations to suit varying requisites, and the in-house events team is on hand to smooth organisation and preparation. Business people can also benefit from the in-house hair and nail bar, spa and curio shop, because we know that time is of the essence, and seeking a suitable service in the city is not often an option."
And all of this convenience and sophistication is situated in a spectacular setting, where guests enjoy breathtaking views of endless ocean horizons, enjoy the sea aromas and within minutes can slip down to the Sea Point promenade to stroll along the edge of the Atlantic ocean.
The most recent delight the President Hotel is now providing is the newly renovated deli. The Botany Cafe is a burst of freshness and innovation in the deli scene, and is becoming increasingly popular not only with guests, but with growing numbers of Capetonians who are quickly discovering its culinary pleasures.
The focus is on all things fresh out the garden and farm: organic, artisanal, seasonal and bursting with flavour. The menu is a delight to explore, brimming with enticing options that range from light and healthy to hearty and filling. There is a fantasy of mouth-watering wraps, constantly varied salads that rock with the season and juices that positively sparkle with newly-squeezed flavour. And the coffee lover will think he has arrived in the preliminary stages of Paradise! The warm roasted aroma fills the atmosphere with that sense of well-being and satisfaction that only select blends of coffee can provide.
"Of course," adds Vardan "If you are adventurous, you can concoct your own salad or wrap from the smorgasbord of ingredients temptingly displayed!"
Armed with a choice of these tantalising dishes, guests can stroll out to the terrace overlooking the eternity pool and the limitless reaches of the Atlantic Ocean, or relax inside and savour the experience.
"The Botany Cafe is not the only menu from which guests can make their selections," Vardan points out. "There is also a new terrace menu, a revamped a la carte menu and of course, the upgraded room service menu. We have also changed the buffet menus to add spice and variety to the dishes. However, while we have focussed on the healthier options, we have definitely not banished those sinful treats that lead us all astray – we all need to indulge from time to time! So you can still sneak an ice cream or cream cake – and then make up for your guilty conscience with some raw juice or smoothie!
"The inspiration behind this culinary effervescence is Craig Paterson, our highly renowned new chef, who comes to us with a weight and depth of expertise that adds incredible value to our brand," explains Clayton.
Paterson has made an indelible imprint in the industry, starting his career at the prestigious Haute Cabriere estate in Franschhoek and garnering further dimensions of knowledge and expertise at such prominent establishments as Cape Grace, where he was executive chef, Beluga Restaurant where he was operating partner, and Londolozi private game reserve where he was executive chef. He also operated as executive chef for the Newmark Hotels.
His ongoing love affair with food, as he describes it, is "taking a raw ingredient and transforming it into something spectacular. You have to understand how food works," he points out, "Then you can see the end product and the result you want to achieve. But you must keep things simplistic and fresh. Food is a lot like fashion – so it's important to stay with the trends."
With 2016 now rolling along, the President Hotel has all gears engaged to offer visitors a series of special packages to coincide with Cape Town's famous tourist events.
"Just to provide a small taste of the benefits for our valued guests, I will mention a few," says Vardan.
"To start with, we are laying on an accommodation package during the Argus Cycle Race that includes transfer to the stadium, plus a post-race in-room massage for those weary muscles. As always, we are ensuring that an Easter special is available because it is such a popular time for visitors. St Patrick's Day is another favourite celebration so of course, there will be a Guinness Draft special. Then to round it off, we have designed a unique accommodation package for the Jazz Festival, which includes a return transfer to the Cape Town International Conference Centre."
How can those offers possibly be resisted?
There are also several other packages to choose from, not only available for local events but to cater for those never-to-be-forgotten occasions, such as honeymoons. You can browse the website or enquire from the friendly staff at the President Hotel.
So don't miss out on the opportunities before you – you won't easily find this combination of pleasure, convenience, professionalism, comfort, luxury, peace yet excitement and fulfilment anywhere else.
"And the next time you come, you will be even further impressed" concludes Clayton. "We move, we adjust, we change, we are constantly improving and each visit must be memorable and unique!"
For more information visit www.presidenthotel.co.za