Trade News
How To Keep Luxury Incentive Travel Local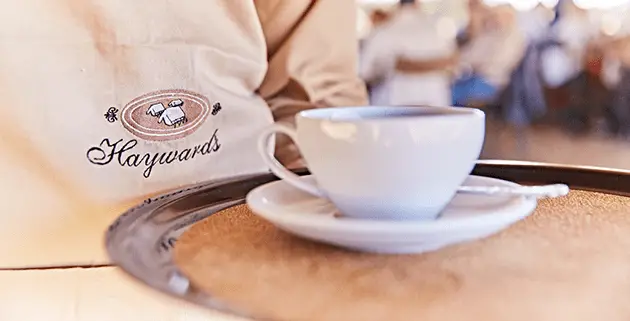 Is it possible to retain local corporate incentive spend within South Africa's borders rather than lose out on incentive event budgets paid to outbound destinations?
To find out, we asked Mobile Safari Outfitter Peter Hayward to give his opinion on making the most out the MICE (meetings, incentive, conference and exhibition) offerings currently available in South Africa.
Can South Africans differentiate between camping, glamping and a luxury mobile safari?
"When CEOs and Event Professionals look for the ultimate getaway for their top performers, they look for something the guests themselves cannot access in their private capacity – what's the point of taking them on an experience every 'common run of the mill tourist' can buy anyway?

"Haywards Safaris is a mobile tented Safari Lodge with a 5-star rating for exclusive private groups of between 40 and 200 people. It is luxury, opulence and indulgence in some of the most beautiful wildlife scenery in the world.
"We set up camp in remote wilderness areas such as iSimangaliso World Heritage Site, the Cradle of Mankind, the Okavango Delta, in the Namib Desert; and we are the only safari outfitter with access to the Kruger National Park for private safari camps where you will never see another tourist in sight when you are in the park.

"In 2017, we went up against five other international contestants in the World Travel Awards and won our place on the African map at The World's Best Glamping Operator.

"We have hosted Dire Straits on stage in the middle of the desert for a 60th birthday celebration. We have hosted safari dinners with the King and Queen of Holland and taken some of Hollywood's biggest performers and international talk show hosts on a big-5 safari at our headquarters in Dinokeng, Gauteng.

"If you want Grey Goose vodka and cigars from Cuba, we fly them in. Our safari spa is set up on the edge of a canyon with 360-degree views. Your butler is on hand to turn down your Egyptian cotton bed linen at night and wake you with coffee at dawn as elephants wander through the camp to investigate the aromas. You won't see another person while on safari, except our small, personal team here to look after you."
Many incentive planners look at Mauritius and Thailand as their incentive destinations, so why should they keep the event local?
"Countries like Thailand, Mauritius, Dubai, and regions such as Eastern Europe are providing very competitive pricing. But they are not offering an exclusive bespoke event and frankly most South Africans already holiday there or visit for family events.
"What are you really saying to your incentive winners when you take them to an overcrowded foreign resort where other tourists and tour groups are in sight? There is very little 'bespoke' about these types of incentives."
How does one value exclusivity? Can one put a price tag on it? Is it measurable?
"I'll answer that with a question: Should a group incentive for VIP's, top-end performers or visiting celebrities be held at a venue that offers total privacy to your group only;  or is it okay to block off a small corner of a venue and hope for 'exclusive' service?
"I believe that this is the very difference between a mediocre travel incentive and a never to be forgotten incentive experience.
"Just think about it for a moment. Why on earth would a top performer want to go to an overcrowded place, where he or she has to fight the buffet queue or take a swim with other holidaymakers, a place where anyone can be… it's a contradiction in terms.
"Surely when searching for a venue or experience for the world's top performers, one should look for a place or experience that they themselves cannot access – maybe cannot even afford, but certainly a place that is not open to them as an individual, but rather a place they can only access via the special and rare safari event you have set forth and created for them.
"On an exclusive and private Sustainable Safari event we did for a group of 250 celebrities out of the USA, I was constantly being asked (in an obvious American twang), 'Are we the only people here?' – by celebrity after celebrity. It took me a while to realise that they were totally enthralled to be on safari in the middle of the African bushveld… all by themselves.
"They were so in awe and appreciative of this simple action – the ownership of their own space. No press, no paparazzi, no autograph screamers, no security …and no other public. Just them, the timeless space of Africa …and us, in the simple presentation of canvass and classic safari ambience.
"It took me a while to realise that true exclusivity at the level we cater to, is priceless. It felt good to know that we have been doing this since the very first grand safari camp we composed over 20 years ago."
What can South Africa offer as opposed to over border countries for South African groups?
"I would urge planners to look to exclusive local offerings that retain the celebration of the group. South Africa still represents great value for money in the world of incentive travel and group fares.
"As a team leader it is vital your team members know that not only are they part of a winning team, but out there, are some of the most amazing teams performing at world-class levels too – going for gold, every single day. It's good to know there are internationally recognised contenders amongst us.
"From time to time we hear about safari, game lodge or tour operators that have let down their clients, dropped the ball so to speak, and, of course, this is not great for the travel and tourism industry or any other industry for that matter. It can take years to regain such clients and rebuild their faith in our country and its products. We are on constant alert to avoid such results at all costs.
"The best formula is to ensure that you associate your products with well-recognised industry leaders. In this way, there is built-in quality assurance. Surround yourself and your team with the best suppliers – those with the best well-proven track records and which come highly recommended from end users themselves."
For more information visit haywardsafaris.com