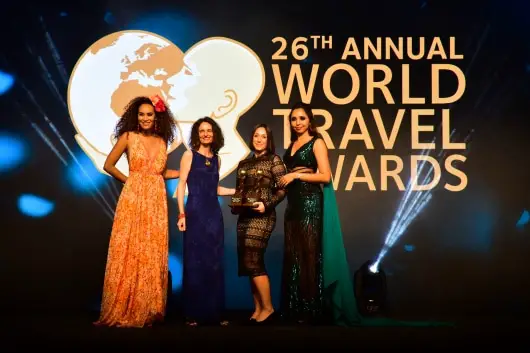 The 26th annual World Travel Awards is globally recognized as the most prestigious honours programme in global travel and tourism, and Mantis is very excited about the accolades that their group and individual Mantis properties have received.  
World Travel Awards is voted for by travel and tourism professionals and consumers worldwide, and this honour recognises Mantis' commitment to excellence and the development of Africa's tourism industry.
The World Travel Awards Africa & Indian Ocean Gala Ceremony 2019 took place last night, 1st June, in Mauritius. This is the regions' most prestigious travel and tourism event of the year, and it brought together the leading industry figureheads and VIPs from across Africa and the Indian Ocean for an unrivalled networking experience.
It was during this auspicious occasion that Mantis was presented with the award for Africa's Leading Boutique Hotel Brand 2019 and Africa's Leading Conservation Company 2019. Two flagship hospitality offerings under the Mantis Collection also received top accolades as Africa's Leading River Cruise Company 2019:
Zambezi Queen Collection
Nigeria's Leading City Hotel 2019: The Envoy by Mantis.
Africa's Leading Boutique Hotel Brand 2019, this is why:
Mantis was born in Africa and embodies the tenacious spirit that Africans are renowned for. The first property developed by the Group was in the Eastern Cape of South Africa where the founder of Mantis, Adrian Gardiner, turned a few degraded farms into a conservation success story that placed eco-tourism in the Eastern Cape on international itineraries and publications worldwide. This was back in the early 1990s, and today, Mantis has grown its footprint in Africa to include 25 properties comprising of 532 rooms in boutique hotels, luxury houseboats, and private villas, while simultaneously growing a global operation.
2018-2019 has been a stellar year for the group, and there are a few more African boutique experiences that Mantis will open in 2020 in Ethiopia and Zambia. With a robust plan in place to develop a unique tourism circuit in Rwanda; Mantis will be opening Akagera Game Lodge, Kivu Queen, and Cleo Lake Kivu in the course of the year.
Adding to the successful Envoy Hotel in Abuja and L'eola Hotel in Lagos will be the Providence and Art Hotel in Nigeria. Phase 2 of the Pearl Valley Hotel by Mantis is already underway in the Western Cape and the Group will also open a 75-key hotel in Kwazulu Natal and a 47-key wellness experience in Gauteng during 2010; bringing the total to over 970 Mantis rooms on the African continent.
Africa's Leading Conservation Company 2019
Mantis is deep-seated in conservation and ecotourism. Their vast and complex collection of boutique hotels and eco-escapes are all bound by a unifying objective to raise sensitivity to host destinations' political, environmental and social climates.
In the year leading up to this honourable accolade, Mantis has together with its partner, Accor co-founded the Community Conservation Fund Africa (CCFA) – a registered NPO which seeks to develop poor communities around game reserves and cities so they can become stakeholders in conservation efforts on the ground. Tusk Trust, Wilderness Foundation Africa and African Parks are the founding beneficiaries of CCFA and 97% of all of the CCFA's income is donated to these organisations as this NPO's overhead are kept down to administrative costs only.
One of the newest additions to the collection, Lion Camp in South Luangwa Zambia, also achieved a 100% Carbon Neutral status. They have just celebrated the opening of the second luxury lodge on uMfolozi Big Five Reserve in KwaZulu Natal; a project that Mantis is immensely proud of as it has single-handedly added over 6-000 hectares of land to the Hluhluwe Umfolozi Park giving wildlife more space to roam freely. The project is also operating on tribal land owned by the local chiefs and their communities who are receiving sustainable benefits from this tourism operation being on their doorstep.
Mantis strives to achieve more as a responsible tourism operator. Their goal is to always minimise human impact on the environment; build environmental and cultural awareness and respect; provide positive experiences for visitors and host communities; ensure direct financial benefits for conservation and empowerment of local people; and raise sensitivity towards the host destinations' political, environmental, and social climates.
"Mantis would not be where it is today without the dedicated team that gives so much of its time to ensure that the ethic we have created will make a difference to the world we live in.  Whilst it is Our Planet, Our Gift – it is our Responsibility. M A N T I S : Man And Nature Together Is Sustainable," says Executive Chairman of Mantis, Adrian Gardiner.
ABOUT MANTIS: Mantis is a diverse collection of extraordinary destinations spanning every continent on Earth. Rooted in conservation, Mantis pursues sustainable business practices and develops tourism products that are respectful of the environment and communities in which they operate. For more information contact Mantis Central Reservations on +27 (0)41 404930 or follow on Twitter/ Facebook/ IG: @MantisGroup