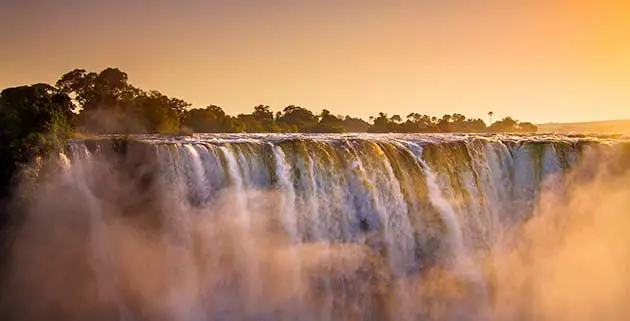 The management of Africa Albida Tourism (AAT) has confirmed that Victoria Falls remains calm, safe and stable despite civil unrest experienced in parts of Harare and Bulawayo over the past week.
The civil unrest started when Zimbabwean President Emmerson Mnangagwa announced a steep increase in the fuel price earlier this month. The price increase was meant to tackle fuel shortages but resulted in Zimbabwe becoming the most expensive country for fuel in the world.
The fuel price resulted in sharp increases in the price of basic commodities, such as rice and sugar, which virtually doubled overnight. Worn down by years of economic hardship, Zimbabweans suddenly found that they cannot even afford the bus fare to work.
This situation led to angry protests in the capital, Harare, and the south-western city of Bulawayo. According to the Zimbabwe Human Rights NGO Forum, local people have been assaulted.
President Mnangagwa had announced the fuel price increase on the eve of his overseas trip to muster foreign investment, leaving hardline former military commander and Vice President Constantino Chiwenga as Acting President.
According to the video below, posted by Zekey Media, business deals have been signed between Zimbabwe and Russia, which include treaty agreements relating to extradition, intellectual property & military cooperation, extraction of minerals, banking, and finance deals.
As part of his overseas trip, the President had hoped to attend the 2019 World Economic Forum which kicked of yesterday (Tuesday the 22nd January) in the Swiss city of Davos.
Instead, the Finance Minister will lead the Zimbabwe delegation. Writing on his Twitter page, Mnangagwa wrote: "In light of the economic situation, I will be returning home after a highly productive week of bilateral trade and investment meetings. We will be ably represented in Davos by the minister of finance, Mthuli Ncube. The first priority is to get Zimbabwe calm, stable and working again."
More bad news for Zimbabwe's financial crisis emerged earlier this week when South Africa declined Zimbabwe's request to borrow $1.2bn USD (about 16bn ZAR). This is according to Bloomberg News reporting via fin24.
Speaking at the launch of a 'Tour Africa New Horizon Project' event at Meikles Hotel in Harare on Monday 21st January, the supporting Minister of Media, Information and Broadcasting Services, Monica Mutsvangwa, remarked on the need for peace in the country to enable tourism to maximise its potential. The event hosted a group of 33 Chinese tour operators and media brought in by Touch Road International Holdings Group – a leading Chinese investment company promoting packages to destination Zimbabwe.
Commenting on the current Zimbabwe situation from a travel and tourism perspective, Des Langkilde, Executive Editor at TourismTattler.com said: "Now, more than ever, Zimbabwe needs support from tourists and the travel trade. Travel advisories issued by state departments in the USA and UK, invariably result in booking cancellations. Local tour operators and travel industry associations in Zimbabwe understand the situation better than anyone, so they should be contacted first."
Links to Zimbabwe tourism associations and authorities can be found here.