food
Trending
10 Traditional South African Dishes you cannot resist
When it comes to excellent cooking and dishes, Africa is amongst the most diverse. For instance, the South African cuisine is greatly influenced by the French, Dutch, Malaysian and native cultures. This diversity of probably because of the country's colonization, history of settlement, and its location on the coast. This article will expose you to 10 traditional South African dishes that portray its diverse culture and palate.
Biltong
This snack is arguably the most-loved by South Africans. It is a dried and well-spiced meat. Although it is not as sweet, Biltong shares few similarities with American beef. Beef biltong is the favorite of many, while venison biltong is not far off. The chicken biltong is an unconventional version that many natives also love. Biltong is served as a snack at almost every social gathering.
Boerewors
Boerewors, also known as farmer's sausage, is a type of sausage cooked from beef mince. To qualify as boerewors, it must have at least 90% meat. The mince mixture, which has a distinct taste, comprises spices like cloves, coriander, and nutmeg. Many locals have their own way of preparing boerewors, and it's often served at a braai.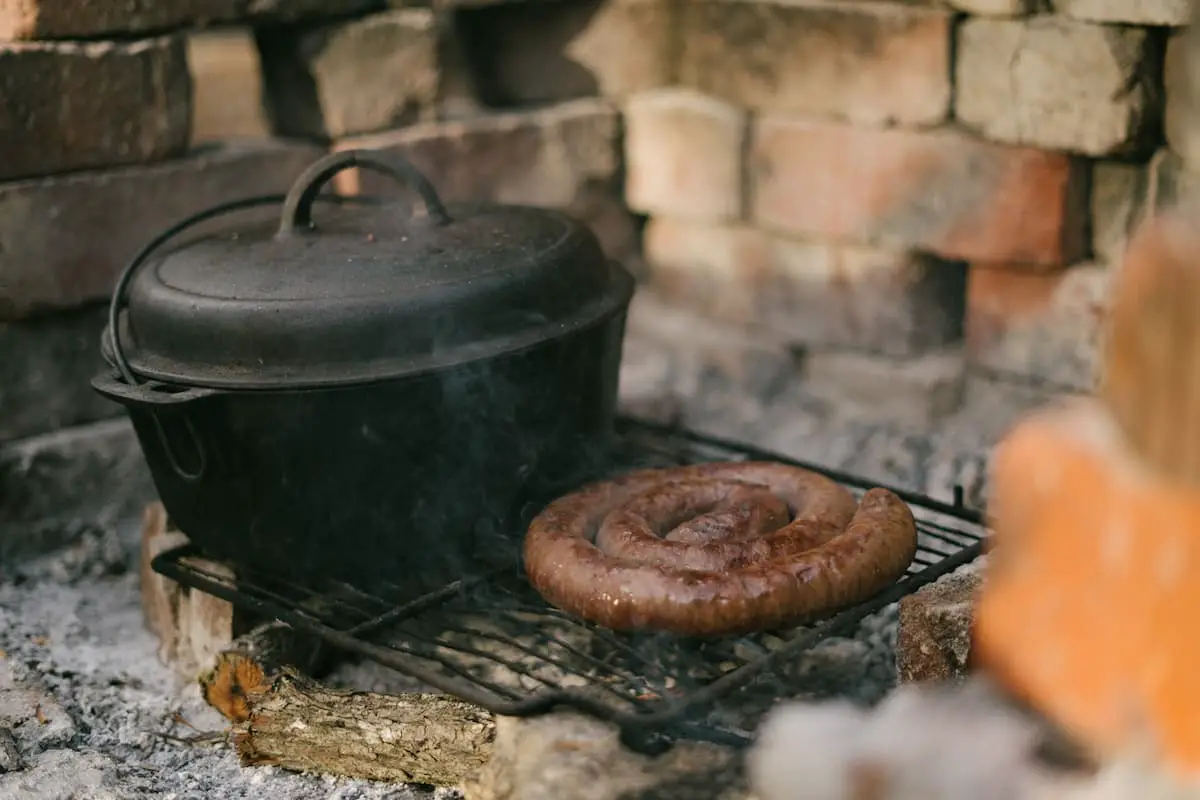 Bokkoms
Bokkoms originated from the Western Coasts of South African; however, the recipe is not loved by everyone. It is made by drying a small mullet fish in the sun and wind and salting afterward. Many who eat bokkoms often call it fish biltong. It is used to cook soup, pasta and so on.
Bobotie
Bobotie is often served at night. It comprises a mixture of spiced mince, traditional raisins or sultanas, and an egg-based topping. This recipe is delicious, and it includes ingredients like turmeric, curry, and sometimes almonds.
Koeksisters
This delicious tea-time treat is made by frying pleated dough pieces. It is sweeter when a sugary syrup is added to it. Koeksisters have a soft doughnut center, a golden crunchy crust, and are super sticky. Unlike the more common sweet version, the Cape Malay version is rolled in desiccated coconut and is slightly spicy.
Malva Pudding
Malva Pudding, which originated for Cape Dutch, is saucy and comprises apricot jam. It is spongy and tastes like caramel. After bringing the pudding out of the oven, the baker often adds a cream-bases sauce to it, producing a sticky, soft but cake-like dessert. It is the favorite of many South Africans and is usually served with vanilla ice cream or hot custard.
Milk Tart
You'll hardly find a South African who doesn't like this traditional dish. Milktart, pronounced "melktert" by Afrikaans, is a pie-like dessert made of sweet pastry crust and a creamy mixture of flour, milk, eggs, and sugar. You can buy it at most supermarkets. However, virtually all natives have their secret method of preparing this dish.
Potjiekos
Potjiekos, also called Pot food, is prepared by South Africans in a round cast-iron over a hot flame. It is cooked traditionally with vegetables and meat; however, the modern variations have become more popular. Potjiekos is easy to prepare, especially for a large group of people.
Vetkoek
This dish,  which is basically a fried dough bread, is popular in Afrikaner cooking. Vetkoek means "fat cake" and is similar to the Dutch cuisine "oliebollen." It is sometimes garnished with sweet toppings like chutney and minced curry.
Chakalaka
Chakalaka is made by combining vegetables like onions, peppers, tomatoes, and carrots into a usually spicy relish. It is usually served at braais alongside dishes like pap (similar to polenta but smoother) and can be eaten with boerewors.