Conservation
5 Unique Reasons to Visit Inverdoorn Game Reserve
Besides the fact that Inverdoorn is conveniently positioned a mere 2.5 hours drive from Cape Town International Airport (and 40 minutes from Aquila Game Reserve), there are many reasons why you should visit this Private Game Reserve. Some of these reasons are unique to the Klein Karoo's Breede Valley district, and to Inverdoorn in particular, as Tourism Tattler discovered after having visited the reserve in mid-September 2019. Story by Des Langkilde.
Reason #1: The Tranquility
Quite! Peace and quiet are the most prominently unique reasons to visit Inverdoorn. Coming from the hustle and bustle of Cape Town's urban lifestyle, with the constant background noise emitted by traffic, incessantly barking dogs, and squabbling neighbours, the sound of silence takes some getting used to.
Relaxing on the shaded porch of one of Inverdoorn's five-star Ambassador chalets, the silence is palpable. With some 407 bird species, of which 294 are typical of the Klein Karoo region, one would think that the chatter of Larks (the predominant species) would be heard. Yet, the bunting, black-eared sparrow hawk, and Karoo scrub robin that I spotted seemed subdued, as if empathising with the solitude of the surrounding landscape. The occasional plaintive cry of a bat-eared fox as the afternoon waned into evening, and time for a game drive approached, only served to highlight the sense of tranquillity.
Reason #2:  The Big 5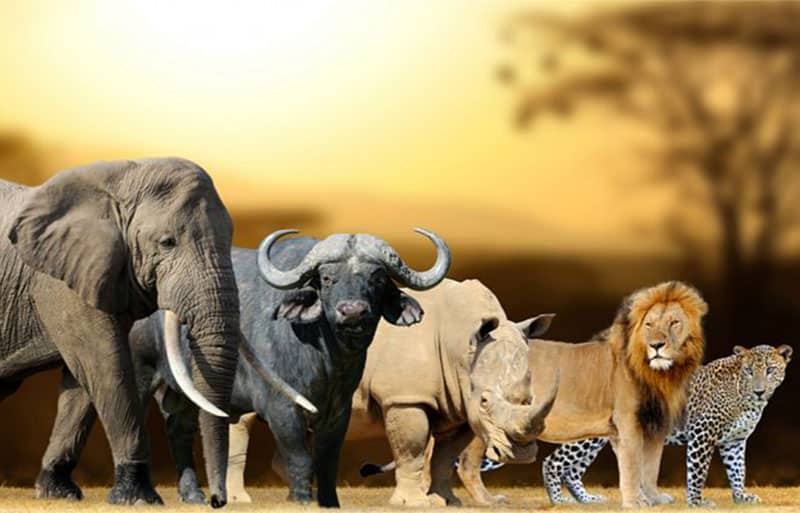 OK, so the Big 5 (elephant, buffalo, rhino, lion, and leopard) are not unique to Inverdoorn game reserve. What is unique, however, is the fact that each of these wildlife species (bar the buffalo and leopard) have been rescued by the conservation team at Inverdoorn. It's a sad fact that the Klein Karoo, once abundantly populated by big five and other wildlife, was virtually wiped out due to settlement and agricultural development. Inverdoorn has played a significant ecological role by re-introducing endemic species to the region. 
Reason #3:  The Shy 5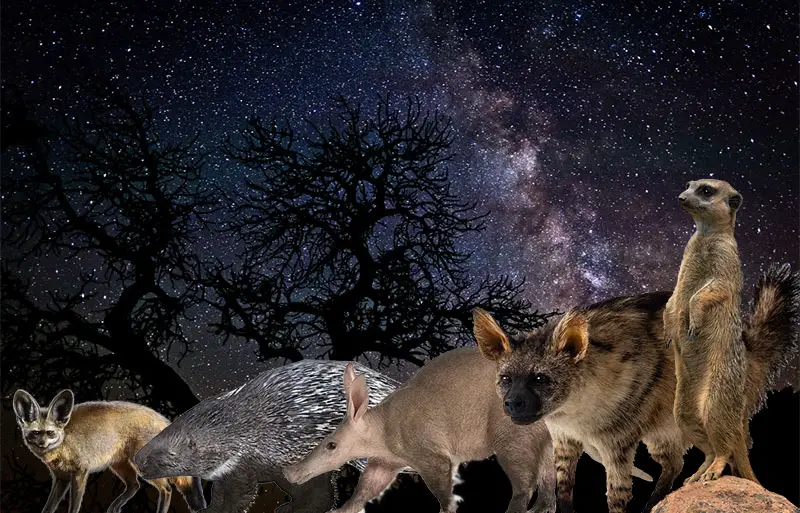 Although rarely seen due to their nocturnal habit of hunting/foraging by moonlight, the Shy 5 consist of bat-eared fox, porcupine, aardvark, aardwolf, and meerkat (not nocturnal, but certainly shy). All of these species are to be found within the 10 000 hectare boundaries of the reserve. And according to Inverdoorn's General Manager, Anna van Wyk, night safaris will soon become a unique attraction when their vehicles are equipped with spotlights to offer guests night-drive excursions (bookmark this page for the soon to be announced details).
Reason #4: The Fauna
Besides the aforementioned Big 5 and Shy 5 species, Inverdoorn boasts a proliferation of zebra, giraffe, wildebeest and springbok. Not to mention several ostriches, one of which displays rather unique antics. This particular male ostrich, rescued from an owner who had hand-reared him from chick to adulthood, seems to suffer from human separation anxiety. As guests enter his territory during game drives, he rushes up to each vehicle and puts on an elaborate mating dance.
Then, there's the frequently visited hippo family, as rangers take pride in showing off their newly born hippo calf during game drives. As for the unique aspect, the cheetah rescue and rehabilitation centre is the lodge's main attraction.
Watching a cheetah reach speeds of up to 120km/h is certainly a unique experience. These daily exercise routines, when the young cheetah work for their evening meal by chasing after a carcass pulled at high speed, are conducted during sunset game drives. 
Cape Cheetah, the rescue and rehabilitation centre founded at Inverdoorn in 2001 by Western Cape Cheetah Conservation (WCCC) has pioneered the way for cheetah survival. At the Cheetah Educationals, guests meet and learn more about cheetahs at the reserve. For guest booked in at the five-star accommodation options, the educational is automatically included.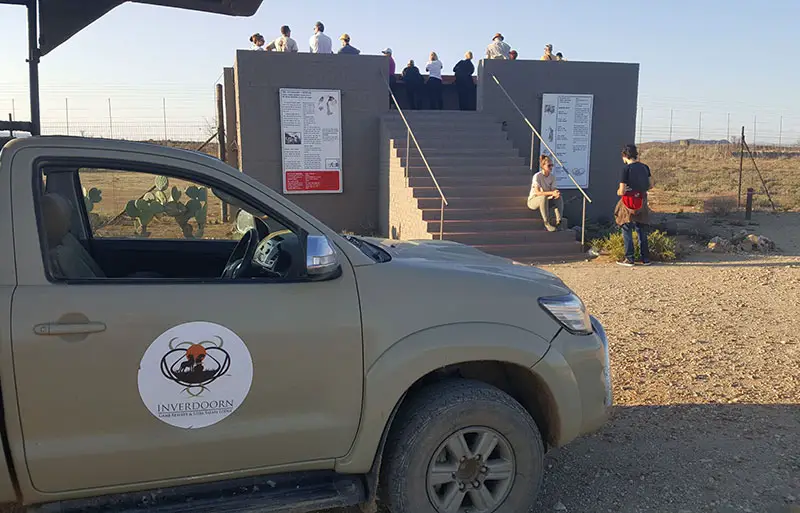 According to Bertus Venter, the "Cheetah Guy" who conducts the private educational tours, four of the two-year-old cheetah are being prepared for release early next year. Two of these cheetahs will be released to freely roam and hunt within a demarcated zone within Inverdoorn, while a suitable home range is currently being sourced for the other two. It is hoped that Tourism Tattler's suggestion for Inverdoorn to partner with South Africa's Cheetah Metapopulation Project – an initiative of the EWT (Endangered Wildlife Trust), who assist by identifying suitable game reserves for wilding cheetah and provide invaluable advice where needed.
Reason #5:  The Flora
Tucked within the Klein Karoo's Breede Valley district, Inverdoorn straddles the Karoo Succulent Biome – an area that covers 116 900 square kilometres, and a biodiversity hotspot with over 6 000 plants, 40% of which are endemic and found nowhere else on earth.
And Inverdoorn has its fair share of endemic flowering succulents, many of which are artfully displayed throughout the landscaped gardens surrounding the lodge's reception, guest suites and chalets.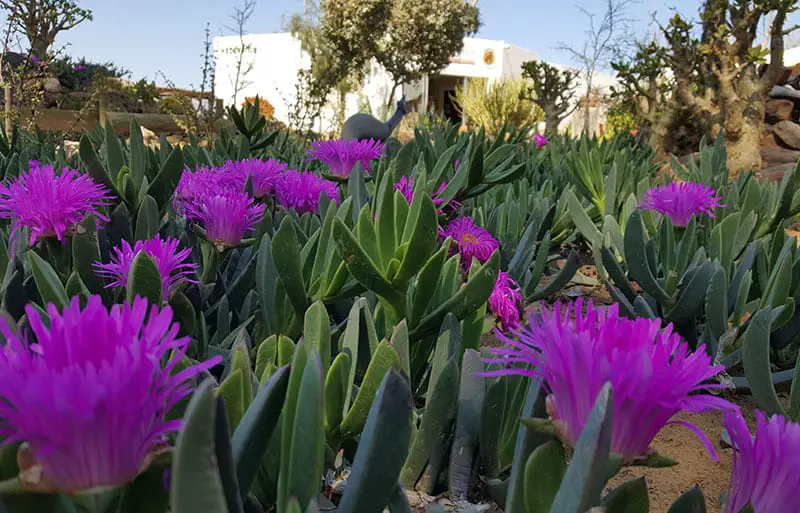 Within the 10 000 hectare boundaries of the reserve, some of the minutest species of endemic succulents lie hidden, with colloquial names like 'bababoutjies' (Afrikaans for baby bottoms), 'gansmis' (goose droppings) and 'volstruistone' (ostrich toes).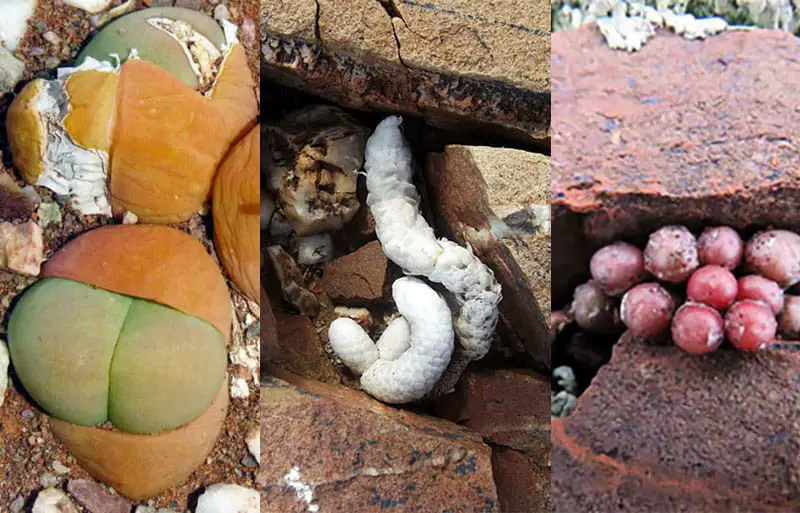 So, there you have it. However, our five reasons to visit Inverdoorn merely scratch the surface of this unique game reserve. Now go and find your own reasons and discover the sound of silence for yourself – it truly is a unique experience.
PS. There is a 6th unique reason. And that's the Magical Tranquility that Inverdoorns' Kuganha Tented Camp offers the fortunate few who are able to get a booking here.
For more information, or to book your stay visit www.inverdoorn.com