Accolades
Africa's Leading Luxury Train Award Winner
The iconic Blue Jewel of South Africa, The Blue Train, walked away with Africa's Leading Luxury Train accolade at the World Travel Awards Africa & Indian Ocean Gala Ceremony 2018 held at the Durban International Convention Centre in Durban, South Africa, on Saturday, October 6th, 2018. This is the 10th year The Blue Train has won this award, since 2009.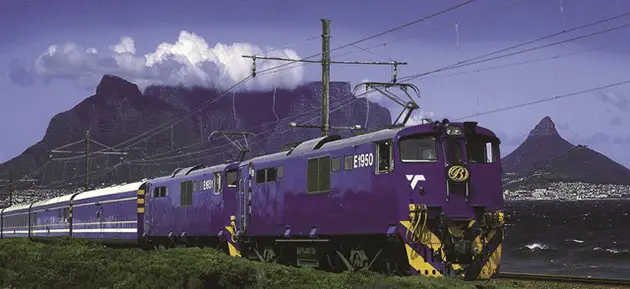 "This is a fantastic nod for The Blue Train, a recognition that affirms our place in Africa's luxury travel landscape. That it comes from the leaders who make this industry, with an appreciation of what goes into providing the five-star service on the train, is a much-appreciated validation," said Vincent Monyake, Executive Manager at The Blue Train.
The prestigious World Travel Awards (WTA) is an annual global travel and tourism award established in 1993, achieved by way of votes from travel and tourism professionals and consumers worldwide. A WTA accolade is the ultimate hallmark of quality worldwide and celebrates an establishment's commitment to excellence.
"The Blue Train is as much a journey as it is a destination, and the experience has been finessed over decades and we continue to improve our offering. From the legendary 24-hour butler service, the silver service gourmet five-course meals freshly prepared on-board, to the finest cognacs and handmade Cuban cigars, The Blue Train continues to surpass the standard for luxury travel experiences," concluded Monyake.

The WTA Africa & Indian Ocean 2018 was the silver jubilee of the awards' Grand Tour celebrating 25 years of honouring excellence in the international hospitality industry. The event brought together leaders in travel and tourism from across Africa and the Indian Ocean islands.
About The Blue Train:  As a business unit of Transnet Freight Rail, a division of Transnet SOC Limited, The Blue Train has been in existence since 1946. It offers an unmatched, luxurious way of experiencing some of Southern Africa's magnificent landscapes and landmarks. On this train, luxury assumes a new dimension, and guests are taken on a journey into a timeless world of grace, elegance and romance where spectacular scenery will stir the imagination and luxurious comfort will soothe your mind, body and soul. For further information visit www.bluetrain.co.za
 About The World Travel Awards:  The WTA was established in 1993 to acknowledge, reward and celebrate excellence across all sectors of the tourism industry. Today, the WTA brand is recognised globally as the ultimate hallmark of quality, with winners setting the benchmark to which all others aspire. Each year, WTA covers the globe with a series of regional gala ceremonies staged to recognise and celebrate individual and collective success within each key geographical region. WTA gala ceremonies are widely regarded as the best networking opportunities in the travel industry, attended by government and industry leaders, luminaries and international print and broadcast media.