Reviews
Property Review: Aquila Private Game Reserve
Visitors to Cape Town are spoilt for choice when it comes to tourism experiences. There is so much to see and do. And yet, it's a private game reserve located 2-hours from the Mother City that seems to be luring more tourists than most other attractions in the fairest Cape. By Des Langkilde.
Seeing as I was test driving the new Peugeot 3008 SUV, I took a scenic drive into the Cape Winelands and the snow-clad peaks of the Cedarberg Mountain Range to discover Aquila Private Game Reserve's secret to success.
To begin this journey of discovery, let's start with some background.
Aquila's story began in 1999 when its owner, Searl Derman, purchased 10 000 hectares of land in the Touws River valley, nestled between the Langeberg and Outeniqua Mountains in the Karoo. Here he planned to re-introduce the Big-5 to the Western Cape.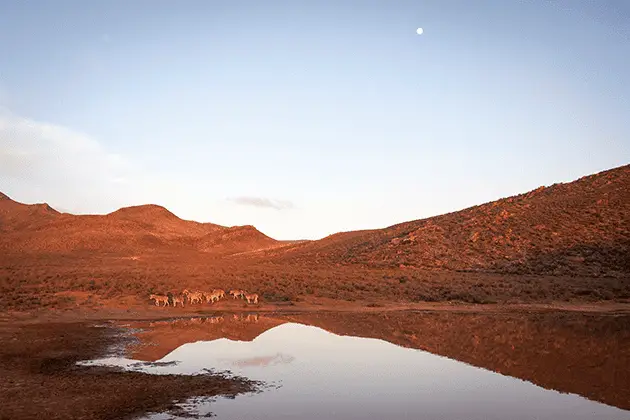 Starting with just a few species of antelope, the conservancy evolved to become the adopted home to a pair of rescued male elephant, a pride of lion, a crash of rhino, and several leopard – as well as a pod of hippo, herds of buffalo, and significant numbers of other wild game – including black wildebeest and a tower of giraffe, which roam freely on the reserve. (Note: When it comes to collective nouns for groups of animals, I still love "a murder of crows" – but I didn't see any at Aquila).
But Searl's passion wasn't limited to preserving Africa's increasingly threatened wildlife. Today, Aquila also embraces social-upliftment programmes such as job creation, skills development and various sustainable and responsible tourism initiatives, all of which have been acknowledged through a coup of local and international awards.
More recently, Searl purchased the 10 000 hectare Inverdoorn Private Game Reserve, which includes the 5-star rated Kuganha luxury tented camp and a coalition of cheetahs. Situated 38 minutes from Aquila, Inverdoorns' conservation efforts will experience a change in policy to benefit from Aquila's award-winning accomplishments.
Pre-armed with this history, my son Chase and I arrived at Aquila's reception on a warmish Sunday at midday amid a flurry of tour groups to be greeted with a welcome goblet of sparkling wine while waiting our turn to check-in. After the necessary procedures had been speedily concluded, we were directed to the expansive dining hall for lunch.
Buffet Banquet
The cavernous thatch-roofed restaurant with its floor to ceiling windows affords guests views over the swimming pool and sunken boma area towards the Karoo Mountains. The extensive buffet-style cuisine includes fresh home-grown salads and vegetables, an array of meat and poultry dishes, and a delectable assortment of desserts, pastries, and cheeses – all with an emphasis on traditional South African cuisine.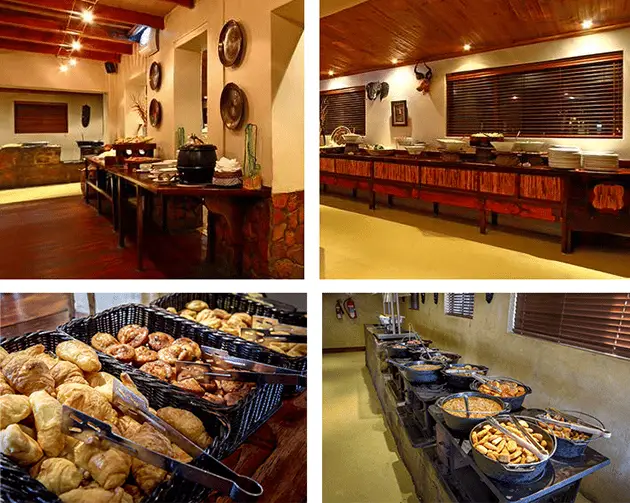 Well satiated, and with time to kill before the afternoon game drive, we booked a back, neck & head massage, which takes about 30 minutes.
Aquila Safari Spa Treatments
The Tranquila Spa is a place of peace and serenity and as such access is subject to availability. Entry into the Tranquila Spa is free for guests booked into the Premier Cottages and guests who are staying for longer than 2 nights.
The spa uses natural products that harness the medicinal powers of indigenous plants, flowers and herbs which are all organic i.e free from petrochemicals, synthetic ingredients, colourants and preservatives. Featuring two large heated indoor pools, a steam room, sauna, nail bar, 10 treatment rooms, a couples or group treatment room and an outdoor pool, the spa is expansive, and yet, intimate too.
Rooms with a view
Feeling totally relaxed and drowsy after our respective massages, Chase and I headed for our room to find that our luggage had already been dropped off by the hotel porter.
Or room at the lodge was, well, "roomy" is the best way to describe it. The comfortable lounge area with a sofa and coffee table is flanked by the bathroom on one side – with a full-wall-sliding glass door; the balcony, also with sliding doors, on the opposite side of the bathroom – with majestic views over the hotel swimming pool and distant mountain range; and two single beds facing the lounge area. A stocked mini-bar fridge, tea/coffee station, TV with full M-Net channel bouquet, and electronic safe complete the room with amenities that are sure to meet even the most demanding of travellers needs.
Activities
Unfortunately, we were only booked in for one night, so trying to fit all of the activities that Aquila has to offer in such a short time-span was a challenge.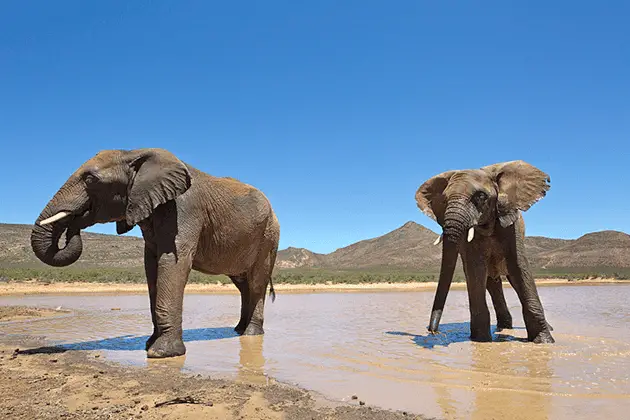 Game Drive: Unlike most other private game reserves in South Africa, seeing the Big-5 while on a single game drive is pretty much guaranteed at Aquila. The reason for this differentiator is that the elephant, rhino, and lion, are fed – a necessity that is due to the lack of natural vegetation, and prey, in the reserves' biome to sustain their diet. The hippo pod are likewise fed at times that coincide with the game drives in the early mornings and late evenings. Buffalo and leopard, on the other hand, are self-sustaining and roam in predictable areas of the reserve where sightings are frequent. As with any evening game drive, sundowners enjoyed from an elevated vantage point are always a highlight. Finding an impala midden of droppings at the sundowner sight for a round of "bok-drolletjie–spoog" (buck shit spitting) is an added bonus.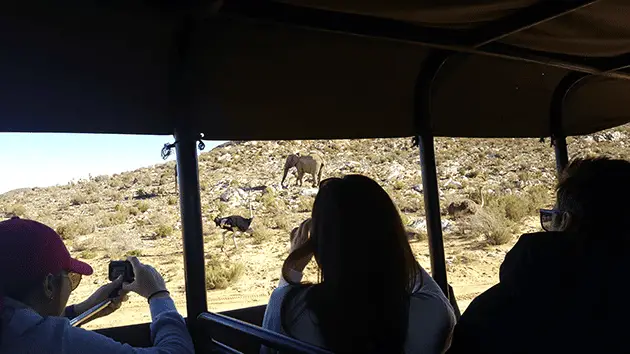 Quad Biking: One would assume that viewing game from the seat of a noisy quad bike would be impossible, but at Aquila, the game has become habituated to the sound and don't flee in panic. Whilst the experience putters along at a sedate pace for most of the 2-hour trip, guests are afforded an opportunity to burn off excess adrenalin at a purpose built dirt track, complete with berms, bumps and dips. My son certainly enjoyed this part of the excursion.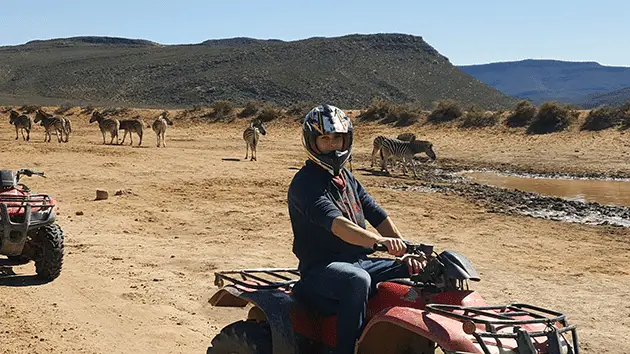 Horse Riding: For guests who prefer a quieter, and more natural game viewing experience, stalking game on horseback is certainly the answer. Note that there is a minimum age requirement is 16 years to participate in this activity.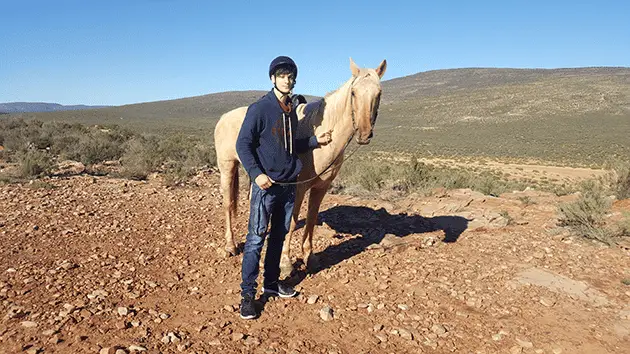 Star Gazing: Each evening after dinner guests are invited to assemble at the Boma, and the adjacent star-gazing arena to view the infinite milky-way stretching across the Karoo night sky. Besides seeing the Southern Star through a telescope and learning about black holes, toasting marshmallows on a stick over the bonfire is certainly a great way to end an evening.
Sustainable tourism
At the Aquila Rescue Centre (ARC), guests are able to tour the worm farm, biogas plant, vegetable and herb gardens and an aquaponics system which sustains both the lodge and the surrounding community. Aquila prides itself on social development, upliftment and responsible tourism and has selected candidates from the local community of Touws River (which has a 97% unemployment rate in a town of approximately 12 000 people) to uplift and train candidates in relation to wildlife, conservation and sustainable farming and development. In addition, Aquila sponsors a full-time teacher at the local school, soccer and rugby teams, and host school children on complimentary day-trips to the reserve.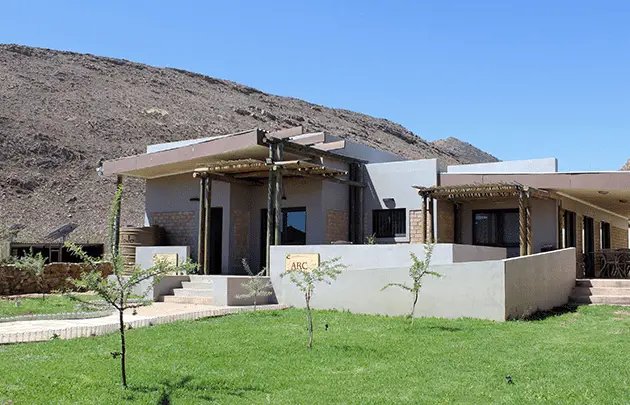 A winter "food for litter" campaign is also undertaken each year, whereby locals are encouraged to collect litter, which is traded for recycling in return for meals. In Touws River, temperatures can drop to below 7 degrees celsius and Aquila has donated over 12,000 blankets during these harsh winter months.
Renewable solar energy is another aspect that Aquila prides itself on. A three billion Rand deal with a world leading international renewable energy company resulted in a concentrator photovoltaic solar plant (CPV) being built on Aquila's land, which contributes power to the Western Cape grid. A second 120KW CPV solar plant was built at ARC and consists of 12 large CPV panels that produce on-site renewable energy used by Aquila and ARC, thereby reducing their carbon footprint.
Conferencing in the wild
The impressive conference centre has a dance floor, buffet area, and seating for up to 92 delegates. There are two breakaway rooms and an option for strategy sessions in the adjacent Boma restaurant.
Facilities
Additional facilities at Aquila include a cigar lounge, public lounge, wet bar, curio shop, and Children's indoor and outdoor entertainment areas where daily activities include a Junior Ranger programme.
Well, that pretty much wraps up our brief review visit. If you've read this far, I think you can see why Aquila attracts more tourists than most other attractions in the fairest Cape.
Of course, ongoing advertising keeps the brand top-of-mind but it's word-of-mouth from past visitors (and reviews, such as this one) that keep tourists flocking to Aquila Private Game Reserve.