Trade News
More Asia Miles and Better Rewards on Cathay Pacific
Enhancing customer experiences through changes to the Asia Miles rewards programme.
Cathay Pacific Group customers will earn more Asia Miles on the vast majority of their flights and have more access to redemption bookings following changes to Asia Miles, the airlines' rewards programme.
Cathay Pacific Country Manager for South Africa, Ashish Kapur, said the changes demonstrate the airlines' commitment to recognising and rewarding loyal members.
"We have been listening to our customers and have been looking at ways to show how much we value their ardent loyalty to Cathay Pacific and Cathay Dragon," he said. "As Asia Miles' airline partners, we want to ensure these changes enable our customers to redeem flight awards more easily. When our customers fly with us, we hope their travel experiences are enjoyable, rewarding and memorable."
The following programme enhancements, which are in response to members' feedback, will come into effect from 22 June 2018.
Earn more miles when flying
Customers will now earn more Asia Miles on a vast majority (80%) of the airlines' tickets, including those to popular destinations such as Shanghai, Osaka and London. Customers will earn Asia Miles based on a combination of cabin class, fare class and distance zone.
For tickets issued before 22 June 2018 for travel on or after this date, members will be credited with the higher number of Asia Miles, irrespective of the changes.
As an example, customers travelling from Hong Kong to South Africa in Economy Class will earn over twice as many Asia Miles as they did previously, while customers flying to London in First Class (F, A) will see their miles earned increased by nearly 30%.
Greater redemption seat access and experiences
We are increasing the number of seats available for customers to redeem by 20% or more. Customers will also enjoy greater flexibility in how they redeem flights, with options to suit individual travel needs and priorities.
Customers will be able to redeem all Economy Class tickets with fewer or the same miles. For instance, a round-trip redemption booking to Singapore will require a third fewer Asia Miles than it did before the change.
Some premium class flight awards, especially on longer routes, will require more miles to redeem. However, this should be looked at in tandem with customers' increased Asia Miles earning potential. For example, with customers travelling to and from London in First Class (FA) earning nearly 30% more miles (additional 5,330 miles per round trip), it will require almost three fewer trips to earn the number of miles for an award return ticket on the same route in the same class.
All flight awards will be set as one-way to allow even more flexibility so that customers can fly to and from a destination in different cabin classes.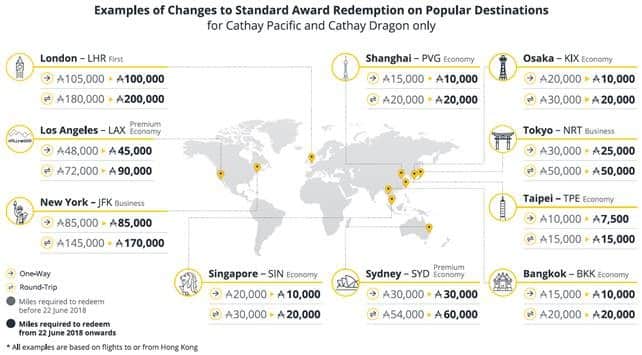 Moreover, customers will at the same time benefit from a more straightforward and seamless booking experience with a new and streamlined online flight award booking system.
These changes to Asia Miles are in addition to recent Marco Polo Club programme enhancements, which have seen members earn more club points on Cathay Pacific and Cathay Dragon flights across all distance zones in selected fare classes, as well as the threshold to maintain Green membership reduced.
For further information on the changes visit www.cathaypacific.com.