Johannesburg, 4 June 2014: Comair Limited, operator of British Airways in southern Africa and kulula.com, today welcomed a further two new candidates to its Cadet Pilot Training Programme for 2014, at a ceremony held at the Comair Training Centre (CTC) in Johannesburg.
As part of Comair's commitment to transformation and skills development in the aviation industry, its Cadet Pilot Training Programme sponsors individuals from previously disadvantaged backgrounds to study for their commercial pilot's licence.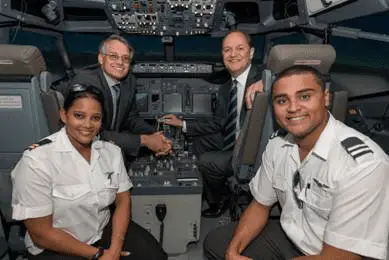 The two new cadets, Lance Temmers from the Western Cape and Tammy Smit from Gauteng, went through a rigorous selection process and had to complete various examinations, evaluations and aviation projects in order to be selected for the 15-month programme. These candidates will complete their training at the Loutzavia Flight School at Wonderboom Airport in Pretoria. Both candidates currently have their private pilot's licence and have accumulated approximately 90 flying hours.
Once the cadets graduate from the intensive training programme, Comair will place the cadets with selected commercial operators for a minimum of two years to gain experience and accumulate 1 500 flying hours in order to reach the level of experience and standards required by commercial airlines.
"Self-funding for pilot training is very expensive and remains a barrier to entry for most aspiring pilots from disadvantaged backgrounds. This makes it challenging for airlines to employ a pilot pool that is representative of South Africa's race and gender demographics. Through our Cadet Pilot Training Programme we hope to help alleviate this industry issue and produce pilots of a very high standard who will be of service to South Africa's domestic airlines in general," says Erik Venter, CEO of Comair.
Since the initiation of the programme in 2000, 11 cadets have obtained their commercial pilot licences. Six of these cadets are currently employed by Comair as commercial pilots and one as an operations controller, while some of the others are employed by smaller airlines to obtain sufficient flying experience to qualify for employment as a commercial pilot with the company.
The cost per cadet is R400 000. The total investment from Comair will be R800 000 and Boeing Commercial Airplanes has offered a $10,000 contribution in support of Comair's Cadet Pilot Training Programme 2014.
Van Rex Gallard, vice president of sales, Africa, Latin America and the Caribbean, Boeing Commercial Airplanes said, "The high calibre of candidates who graduate from the Comair Cadet Pilot Training Programme are proof that the training standards in South Africa are exceptionally good. We are proud of our long relationship with Comair, an all-Boeing operator, and are fully committed to supporting its programme in ensuring that it is possible for aspiring pilots from previously disadvantaged backgrounds to realise their dreams."
Comair is an integral part of the political, social and economic community of South Africa, and is involved in a number of skills development initiatives. In partnership with Carpe Diem Kaleidoscope (CDK), Comair provides students from Ekurhuleni with the opportunity to gain six months' on-the-job experience in passenger handling at O.R. Tambo International Airport whilst earning a stipend, with the ultimate aim to offer full time employment. It has been eight years since the launch of the learnership programme in 2007; and a total of 139 learners have been trained and 96% of these learners have been offered full-time employment at Comair.
Comair is also involved in school career days and more recently the Wonders of Aviation day, inspiring scholars to study towards careers in aviation. The company is committed to sustainable transformation as part of its business strategy and will continue to identify transformational opportunities.