Your client wants a seven-night authentic bush camp safari in Namibia for a party of four, and to experience the culture of San Bushmen. The safari request is no problem but where the heck do you find someone who specialises in San Bushmen cultural tours? By Des Langkilde.
The above scenario is a challenge that many tour operators and travel agents are faced with on a daily basis. Sure, you can search Google and wade through 508,000 results – or you can simply access BookNamibia.com and find a travel partner quickly and easily.
For those agents who may be technologically challenged, there's also a printed hard-copy titled 'The Namibia Tourism Trade Directory'. And best of all, the print directory is free of charge, although postage fees may apply depending on which country you operate your business from.
Compiled by entrepreneur Tim Gross of Brochures Namibia, the directory is now preparing for it's next edition, having been launched in 2013 at the Adventure Travel World Summit (ATWS), and continues to grow in both content listings and website visitors.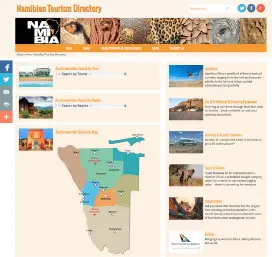 What makes this travel trade directory stand out from others of its ilk, is the fact that while the directory promotes listed companies to travel trade buyers (primarily tour operators and travel agents), the website promotes the listed companies to consumers (the actual traveller).
Research into consumer travel trends has shown that tourists conduct their own research into where they want to holiday and the attractions and activities that they want to experience, but still use a travel agent to do the actual bookings, although this trend is changing with more travellers booking direct.
The website at BookNamibia.com has a clearly denoted category page navigation menu, with drop-down options for Accommodation, Activities, Car & 4×4 & Camping Equipment, Shuttles & Airport Transfers, Tours & Safaris, and Conservation. Each category page displays thumbnail overviews denoting the number of listings available in each of the eight geographical regions of Namibia.
Selecting, for example, the Northern Region displays a page showing thumbnails of regional attractions, such as 'Outjo & Surrounds' with six listings. A route map is also displayed in the page side margin to orientate visitor and pin-mark each listings location.
Each listing then displays an overview of the listed company, with address details, contact numbers (excluding email), images, activity/attraction icons, and a booking/enquiry form that is submitted directly to the listed company for fulfilment.
To receive a FREE version of the Namibia Tourism Trade Directory in an A5 sized printed format, visit BookNamibia.com, then click on 'tour operators & travel agents' and place your order online or contact Tim Gross on Tel: 021 7910207 or email [email protected].