Trade News
India Tourism Minister Supports OTM 2018
India's Minister of State for Tourism, the Honourable K.J Alphons has issued an official message to the organiser of the event, Fairfest Media, in support of OTM 2018, which is to take place this month in Mumbai from 18 to 20 January.
Click on the image below to read the message (opens in a new browser window).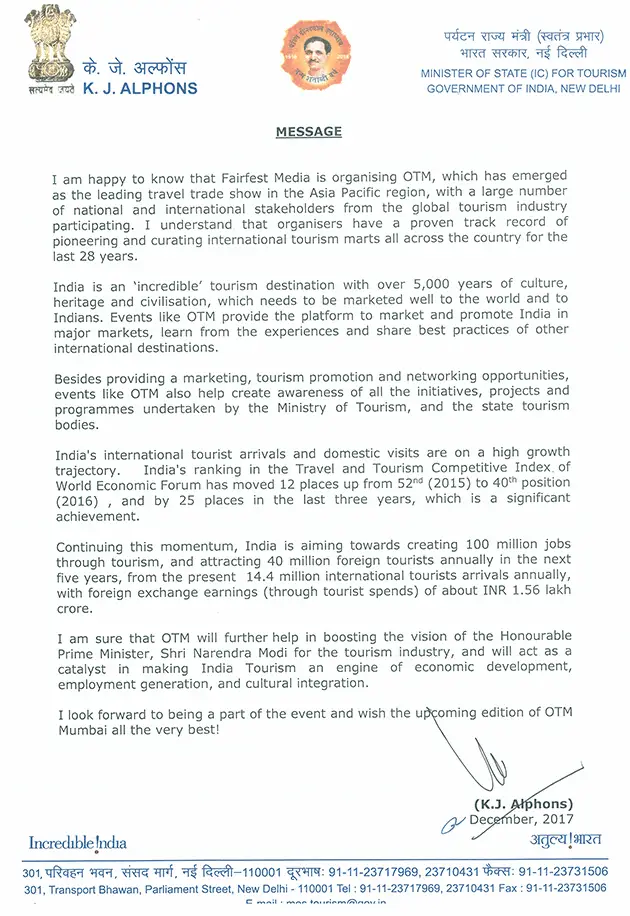 As the preferred port of exit for the West and South Indian markets, Mumbai is India's largest travel source market as it feeds 60% of India's outbound travellers. Mumbai also headquarters the majority of outbound tour operators, as well as the Bollywood and the Corporate world of India.
OTM opens doors to India's 22 million outbound travellers who spent 
US$ 19 billion in 2017, and a domestic market of 1.6 billion trips – 10% of them raring to go international.
India is ranked among one of the fastest emerging travel destinations in the world as Indians continue to take more than a billion domestic and 20 million international visits annually. Fuelling this growth, Mumbai serves as a gateway city to 60% of India's outbound market, making it the largest hub of inbound and outbound, business, luxury, and MICE travel in India. This is the main reason behind the emergence of OTM as the largest travel trade show in the region.
Annual travel trade shows are an important opportunity for both the travel trade buyer and exhibitor as they can have direct meetings and participate in networking sessions. Traditionally, visitors at these fairs walk the show and meet the sellers of their interest, however, the advent of online technologies has enabled the travel sector to further utilise its potential. Keeping in mind the business prospects, an easy-to-use online meeting diary to fix appointment between buyers and sellers has been scheduled this year.
About Fairfest Media Ltd: OTM is organised by Fairfest Media Ltd, also the organisers of TTF and BLTM branded travel shows. It is India's oldest and the largest travel trade show network for over 25 years, spanning 9 cities. Fairfest Media is also the Publisher of the most widely distributed print and web editions of the B2B journal – Travel News Digest (TND). It also organises Municipalika, one of its kind annual event focused on urban solutions.
For more information visit www.otm.co.in