Aviation
Most punctual airline in the world revealed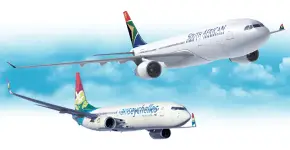 South African Airways is the most punctual airline in the world, according to a new report. And with a new CEO at the helm plus a codeshare agreement with Air Seychelles, SAA is set to soar. By Marjorie Dean.
FlightStats, Inc., an independent provider of global flight and airport information services, revealed that South African Airways took the top spot in its airline survey with 92.26% of flights arriving on time during March.
SAA was one of the only two major international carriers that delivered over 90% of their flights on time (or within 15 minutes of the scheduled time) in the month, only narrowly beating Gulf Air which delivered 92.11% of its flights on time. Major international airlines on average delivered 78.76% of their flights to the arrival gate within 15 minutes of schedule in March, up slightly from February's 77.64%.
Following on this incredible result it is good to know that SAA has received authorisation to use new safety-enhancing and fuel-saving instrument departure and approach procedures. The approval, which is the first in Africa, paves the way for further developments that could enhance safety and increase operational efficiency throughout SAA's route network.
The benefits of the new procedures, which put SAA on a select list of premier airlines with cutting-edge technology and operational capability, include improvement in safety, decreased operational costs, increased scheduling integrity with direct impact on on-time performance, increased revenue, and reduced environmental impact. The use of the new technology can further decrease travelling time on trips to and from Cape Town, for instance, by 5-10 minutes.
Following an approval by the South African Civil Aviation Authority, SAA is now using the new flight procedures in all weather conditions on flights into and out of Cape Town International Airport. The new procedures are known as Required Navigational Performance – Authorisation Required (RNP-AR) and utilise advanced on-board navigation technology and space-based GPS signals to achieve the enhancements in safety and efficiency.
The new RNP-AR procedures will provide shorter flight paths allowing a reduction in flight time and fuel burn on each approach and departure track. This will provide an opportunity for immediate benefit with SAA aircraft potentially saving over 600 000kg of fuel per year.
So at least the new CEO is going to get a good news start in his undoubtedly difficult job.For almost all airline passenger surveys reveal that punctuality is one of the most important things travellers look for.
Well done to all at SAA- and keep it up!
New CEO to navigate SAA
SAA announced  the appointment of Monwabisi Kalawe as the new CEO for the airline. Kalawe's appointment follows the exit of the airline's acting CEO, Vuyisile Kona, in February after he was placed on precautionary suspension.
Kalawe is currently CEO of Compass Group SA, a company that provides food and a range of selected support services. Previously, he was General Manager of Cape Town International Airport from 1998 to 2004.
Acting SAA Chairperson, Dudu Myeni, said Kalawe would, based on performance, serve a five-year contract.  The airline said the appointment was the first step in its new 20-year turnaround strategy.
"The immediate priority for the airline was to appoint a CEO and start the process of the delivery of the long-term turnaround strategy," said Gigaba.
Air Seychelles signs codeshare agreement with SAA
The first phase of the agreement will see South African Airways place its "SA" code on Air Seychelles' non-stop flights between Johannesburg and Seychelles. South African Airways will also place its code on flights between the two largest islands of Seychelles, Mahé and Praslin, subject to approvals.
Subsequent to the launch of the partnership between Air Seychelles and SAA, the airlines will look into expanding the agreement to include Air Seychelles placing its 'HM' code on South African Airways' non-stop flights between Johannesburg and destinations across South Africa.
Ticket sales are set to open on April 29, for travel from April 30.
The deal follows a strategic move by Air Seychelles to increase its connectivity throughout South Africa and continental Africa.
In March 2013, Air Seychelles introduced an enhanced schedule and additional weekly service on its Johannesburg route, bringing the flights to three return services per week with daytime departures and arrivals. The new schedule greatly enhances leisure and business travelers' ability to connect seamlessly on both airlines across Africa and South Africa, particularly to Cape Town and Durban.
Cramer Ball, Air Seychelles Chief Executive Officer, said: "Our flights to Johannesburg have been incredibly successful, reflecting an increasing number of travellers coming out of South Africa to the Seychelles for leisure, business and sport. Traffic from South Africa has grown at a steady pace of 11 per cent each year for the past decade. In the first quarter of this year alone, traffic is up 13 per cent.
"With this code share agreement, guests will be able to purchase flights from SAA destinations onwards to the Seychelles on one ticket, making for a simpler and seamless journey.