Col'Cacchio, the popular Italian-inspired franchise known for its gourmet thin-base wood-fired pizzas, has introduced a delicious new summer menu. From flavourful salads to healthy pizzas and a tangy new dessert, you're going to want to give it a try this December.
The delicious new additions to the menu are everything you want in a summer meal: fresh, light, and packed with flavour:
Giardino Salad – lettuce, spinach, rocket, zucchetti, broccoli, avocado, egg, sesame seeds and truffle yuzu dressing
Sorrento Salad – lettuce, roasted butternut, roasted red pepper, grilled baby marrow, pumpkin seeds, basil, spicy seed brittle, sweet potato strings, ranch dressing
Zucca Pizza- vegan cheese, butternut and tomato base, roasted butternut, roasted beetroot, rocket, avo, sesame seeds, pumpkin seeds and sunflower seeds
Citrus Pancake Dessert – pancakes with fresh orange segments, orange sauce, vanilla ice cream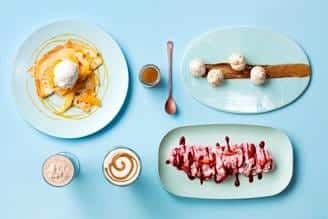 Sounds divine, doesn't it? Founded in 1992, Col'Cacchio has a legacy of crafting artisanal meals out of the freshest sourced ingredients. Pair that with the quality and innovation that's always been at the heart of Col'Cacchio's dynamic offering, and it's no wonder they're a guaranteed slick choice for any summer meal.
Col'Cacchio has always been at the forefront of dietary trends, being one of the first in the market to introduce carb-conscious options for pizza, salad and pasta. Their offering now includes gluten-free and vegan alternatives, as well as the low-calorie Foro range of pizzas.
In celebration of the brand's 25th anniversary, Col'Cacchio has undergone a complete rebrand, bringing fresh life to their evolving brand. With a number of stores already sporting the sophisticated new look, the revamp process will roll out to all stores across the country. With plush interiors, a new logo and delicious new summer menu, Col'Cacchio is definitely the place to be this summer.
For more info visit www.colcacchio.co.za