Trade News
Pennyroyal Launches Best of Zanzibar Eco Initiative
Times are changing and so is the face of global tourism. Gone are the days of heady excess and reckless abandon. Now, a new generation of mostly millennial socially and environmentally conscious travellers not only want to see the world but make a difference while doing so.
A recent Phocuswright poll[1] of over 2500 Americans found that travellers want to make an impact. 86% of travellers donated money while travelling, with 72% saying that giving back to the community is important, very important or extremely important.
As travellers' demand "holidays with a heart", tourist destinations, property developers and even hotels are under increasing pressure to be socially responsible.
In East Africa, Pennyroyal Ltd. is setting new standards in socially responsible travel by pioneering community outreach, sustainable development and ecotourism in Zanzibar.
The British developers of Blue Amber Resort – set to be Africa's largest mixed-use development upon completion – are implementing a series of social initiatives to uplift local communities and conserve the natural beauty of the idyllic Tanzanian archipelago.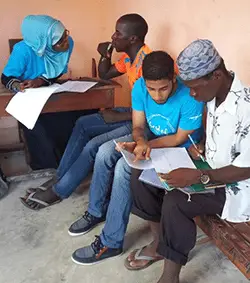 The development has established Best of Zanzibar, a corporate social responsibility initiative, through which it aims to use education and skills development initiatives to empower and foster sustainable local communities.
"The Best of Zanzibar approach to Corporate Social Responsibility is founded on the idea that being accountable [to] its communities, culture and environment defines Pennyroyal's role in society," said Saleh Said, Managing Director of Pennyroyal Ltd.
Best of Zanzibar is to develop in tandem with the resort, with its series of wide-ranging initiatives extending beyond the local community as the developers aim to make a positive impact throughout Zanzibar.
"We at Pennyroyal are focused on improving the living standards of the local Matemwe community. Furthermore, we are striving to eradicate poverty in Zanzibar through Best of Zanzibar. A huge project we're confident in executing with the utmost support from the local Government," Said added.
The Best of Zanzibar approach focuses on bringing sustainable change through education while taking the environment, economy and social practices into consideration.
To date, it has launched an annual mobile clinic to cater to the health needs of the communities in Mbyu Tende and Kijini, as well as facilitating an After-School Tutoring programme and feeding scheme for primary school children. Young people are also being taught entrepreneurship and soft skills – including CV writing and interview skills – to improve employability and end a poverty cycle experienced in some communities. It has also launched an eight-month tailoring programme, which will allow participants to cater to the resort community.
The resort has committed to employing more than 1000 locals, all of whom will undergo fully-sponsored vocational training, during its construction phase and expects to employ others in operational roles upon completion.
The employment opportunities, which come with a development such as Blue Amber Zanzibar – which spans 411 hectares on a small island – are expected to reduce unemployment and have a significant positive impact on economic growth, said Said. Latest data from the Zanzibar Employment Services shows an unemployment rate of 14.3% on the archipelago while a 2017 Africa Report by Knight Frank found Tanzania to be one of a small group of African nations to have maintained GDP growth in excess of 5% in 2016.
[1]  Socially conscious hotels give back to the community, Washington Post, November 2017.