A Piece of Greece on South Africa's West Coast
Club Mykonos is a popular holiday destination for both domestic and international tourists alike. This unique "Little piece of Greece", with its flat topped Kalivas and brightly painted ballastrades, doors and shutters of blue, yellow, green and red, is dotted along the Langebaan Lagoon water's edge and on the hillside above the waterfront. The location, architecture and ambiance make quite a statement, writes Tourism Tattler correspondent Jeannie Burns.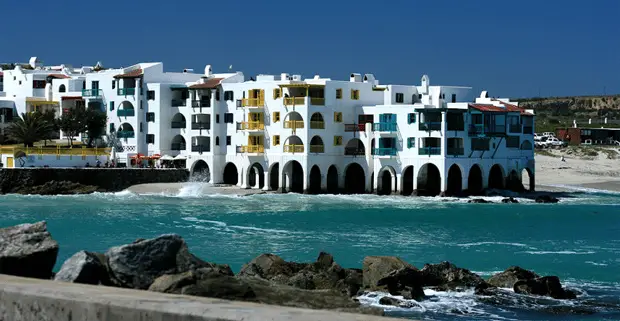 A drive up the West Coast, about one and a half hours from Cape Town, will take one to the town of Langebaan, situated on the shores of the Langebaan Lagoon. This is one of the most popular holiday destinations on the West Coast.
Langebaan Lagoon is a large sheltered stretch of water. Saldanha Bay lies to its' North, this is a natural harbour but due to the lack of fresh water, it was originally never developed into a major port. Only recently has it been developed into a modern harbour. The West Coast National Park, a protected conservation area, wraps around most of the lagoon. This stretch of water is not as cold as the Atlantic Ocean, hence the calm, clear, blue waters give this area an added attraction.
Historical facts of Interest (skeletons of the sea!)
A number of significant ships were wrecked off this coast and some sank near or in Langebaan lagoon. Since the 1600's, records can be found of these shipwrecks. Bruydegom, a vessel used for carrying provisions, struck a rock, drifted and sank near Kraal Bay. The Merestein, a Dutch vessel built in Amsterdam, carrying a large cargo of coins, ended her days here and the wreck lies within the harbour area of Saldanha Bay. Divers can get permits from the port captain, if they wish to dive this wreck.
Accommodation at Club Mykonos

There is a section for timeshare owners or Kalivas of varying size and sleeping capacity, to suit your group size and can be rented on a self-catering basis. The units are spacious and well equipped. The open plan living area with comfortable seating, TV, kitchenette and balconies including an outdoor braai facility make for easy living. The bedrooms all have their own private bathroom. The décor in the various units is done in shades of blue and white, which gives out a fresh and welcoming feeling!
Facilities
Club Mykonos boasts a well stocked and staffed guest information office, where all ones queries can be answered. Shops include the Marina Supermarket, Sport & Beach needs, Sweets from Heaven, Cafes and Coffee bars. Laguna laundry is self-service, and coin operated. There is a Conference Centre, Wellness Centre (Cellu-Beauty) with Jacuzzi, Steam room and Plunge pool.
Restaurants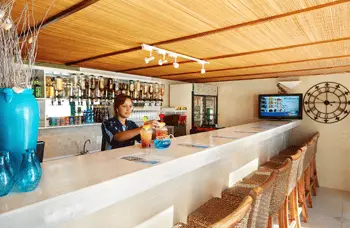 The Bouzouki, situated on the Waterfront Marina with Beautiful views, is open all day serving buffet-style breakfasts, amazing pizzas and the option of an a la carte menu! The Greek Evening on Thursday nights, authentic and traditional is a must – let the party go on and "Break a Plate or two!" Lekka By Die See is a restaurant with a warm, friendly atmosphere situated on the beach. The menu offers a wide variety of seafoods. The ambience created with subtle lighting, the log fires burning, casual comfortable seating and a platter of tasty prawns or calamari – no better place to enjoy an evening. Boesmanland Plaaskombuis (Afrikaans: Farm Kitchen), serves traditional South African dishes, while Little Venice, offers cuisine with an Italian touch.
Activities
Club Mykonos offers activities to keep all ages busy, and include: Archery; Mini Golf; Gym; Games Room; Quad Bikes; Wet Bikes; Paintball; Squash Courts; Soccer/Cricket Astro Turf; Tennis; Cycling; Indoor & Outdoor Pools; Casino; Kiddies Club; Saunas; Fishing Charters.
Attractions
Club Mykonos is an ideal base from which to explore the surrounding attractions, which are certainly plentiful.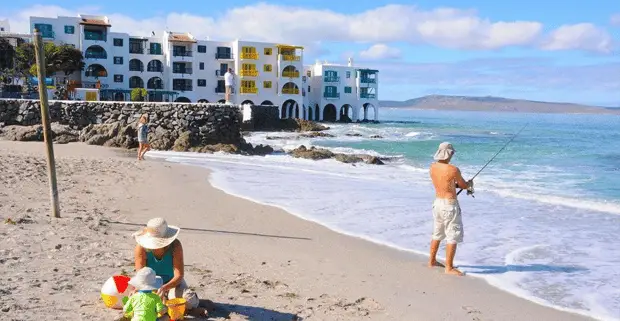 The Lagoon itself offers a wide variety of water sports all year round, so this is a haven for the enthusiasts. Kayaks, canoes, yachts (of varying sizes ), small fishing craft, in fact anything that floats will give one enjoyment in this beautiful expanse of water.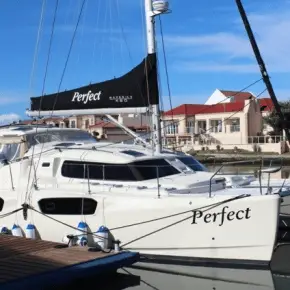 Boat Cruises do trips twice daily, weather permitting. "The Perfect", a luxury Catamaran embarks from the Marina Jetty and takes passengers on a sail in the Lagoon. This is a wonderful way to see the coast line, the birds that live near the water and learn and observe the wonder of the sea creatures. An interesting observation was the presence of several groups of seals huddled together upside-down with their tails out of the water. The reason for this is that the tails transmit the warmth from the atmosphere down their tails to heat their bodies under the water. A leisurely sail by a professional friendly crew is therapy for the mind, body and soul!
Bird Watching in this region has become a popular attraction because of the great variety of species that can be sighted. Flamingoes, the Black Oyster Catchers, Cormorants and Sea gulls are frequently seen on the shores of the Lagoon. Each year the Curlow Sandpiper, Sanderling and Knot migrate here, making a journey of 15,000km from Russia to this Lagoon. The white sand dunes, the rare fynbos (natural vegetation) and large wetlands of the West Coast National Park contribute to this being a special "Bird Haven".
Digging for Fossils, at the West Coast Fossil Park, is another fascinating experience. Visitors are able to watch slide shows, go on guided tours and even dig to find fossils. The remains of many mammals, birds, reptiles and amphibians were buried and preserved in the sediments of the floodplain which was thought to be the estuary of the ancient Berg River. Discoveries have shown evidence of the remains of the ancient Big Five!
The Flower Season draws a huge number of visitors to the West Coast and Namakwa. The Wild Flowers are world renowned. From July to October people flock here to behold this magical transformation to the countryside.
From the road sides down to the dry arid plains up to the slopes of the sandstone-mountains the flowers are a colourful mass. The multi-coloured Vygies, tiny yellow Button Daisies, pink Nemesias, Blue Flax and the white Rain Daisies are some of the dominant species of the Wild Flowers. When the White Arum lilies can be seen in patches in the fields and along the road-side, then we know that Spring has arrived!
Environmental Considerations
Club Mykonos ensures that its environmental impact is minimised. From encouraging guests to use resources wisely, to a hands on approach on promoting biodiversity in its Fynbos-rich surrounds, Club Mykonos aims to operate in the most sustainable manner possible.
There are three key initiatives that Club Mykonos are currently focusing on;
The first being the sustainable use of resources. Limiting the impact that our resort has on the environment has become an ongoing element of the resort, by being an essential part of our planning and future success. To save water, all shower heads have been replaced with new eco-friendly ones; timers were put on sprinklers ensuring that there is no water wastage; and notices were put up encouraging guests to hang up their towels if they require them to be cleaned. To save on electricity, all light bulbs have been replaced with energy saving bulbs, indoor swimming pools are heated through solar power, a geyser monitoring system is used to switch off geysers that are not in use, and there are also notices up encouraging guests to save electricity by switching off electrical appliances that are not in use. Recycling is also encouraged at the resort, as there are recycling bins placed all across the grounds.
The second initiative that Club Mykonos are involved with is protecting the Fynbos reserves, with a key part of their social responsibility strategy being to manage the surrounding Fynbos-enriched environment in a sustainable manner.
The gardens are 99% indigenous which means low maintenance and water-use, and it includes a number of rare and endangered species. Where development is due to take place, plants are rescued and transplanted in open undisturbed places on the resort. A veld herbarium with over 180 examples were collected, pressed, mounted and labelled by the resorts horticulturist – this is used to help guests identify the vegetation especially during flowering season.
The third initiative involves the implementation of a number of initiatives, aimed at rehabilitating the immediate surrounds that are affected by the resort. Namely the Fynbos rehabilitation where any Fynbos removed in building work is rehabilitated elsewhere on the resort, and dune rehabilitation which hasn't as yet been implemented. By the summer time when nesting begins, a fence will be put up around Hobie Beach dunes to protect nests of the African Black Oystercatcher birds.
In addition to these initiatives, Club Mykonos also look after feral cats on the resort using a controlled feeding programme. The cats are caught, sterilised and returned to the resort to aid in the control of rats, mice and snakes.
With these initiatives, Club Mykonos has become a resort that is not only aware of the environment, but one who also appreciates it by getting involved with the necessary practices.
[box type="info" align="alignleft" width="6″ ]What makes Club Mykonos a popular holiday destination? COMPETITION ANSWER: 1. Prime location with its' natural beauty, 2. Comfortable and affordable accommodation, 3. Good variety of facilities, 4. Large selection of activities, 5. Genuinely caring personnel.[/box]
These are certainly good reasons to make Club Mykonos and the West Coast region a travel destination of choice.
For more information, visit www.clubmykonos.co.za