A Legend(ary) Cultural Conglomeration
Tourism Tattler correspondent, Renate de Villiers visited Entabeni Safari Conservancy in South Africa's Limpopo province to discover what developments have taken place under the portfolio management of Legend Lodges, Hotels and Resorts.
All over the world different cultures have different names, different accents and different sentiments, which means they attach different meanings to certain things. Despite the differences, there are still things that appear to spur the same emotions and Entabeni is one of them. Entabeni stimulates the sensation of tranquillity amid the bushveld prairie, the awareness of a bush-country breeze whispering secrets to the trees and the understanding of a unique custom – that of the Legend culture.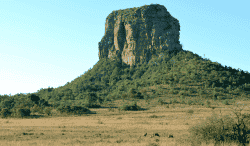 Entabeni Safari Conservancy and Legend Golf & Safari Resort have taken on the Legend culture in many ways. Entabeni, which means
'Place of the Mountain'
, is an unusual rock block situated on a 22 000 hectare piece of land near Naboomspruit. Its golden grass and umbrella trees are a similitude of a true bush empire. The Conservancy started off at the foot of Entabeni Mountain where one of the six lodges, Ravineside, is situated today. From there it developed into a conglomeration of lodges carefully positioned all over this fabulously located property, including the Wildside Safari Camp, Hanglip Mountain Lodge, Ravineside Lodge, Kingfisher Lodge, Lakeside Lodge and Southern Sky Camp. In addition to this, the Legend Golf & Safari Resort was also developed, with two unique golf courses and numerous venues ideal for group excursions and events.
With a niche market that almost has no borders in terms of culture and lifestyle, the Legend Golf & Safari Resort and Entabeni Lodges cater for top global golfers, international and domestic tourists, timeshare holders, corporate groups and families. A drive of less than three hours from Pretoria welcomes you into a world of open air, forthcoming staff and enjoyable activities. Between two game drives per day, inimitable 10-hole Tribute Course, the 18-Hole Signature Course and the one of a kind Extreme 19th Hole (which is independent of both courses and can be played on it's own), a newly developed putt-putt course, an array of arranged water activities, helicopter flights, numerous party and function venues, the Signature Clubhouse (currently under construction) and various restaurant and spa options, there are not enough hours in a day.
Accommodation (The Big 6)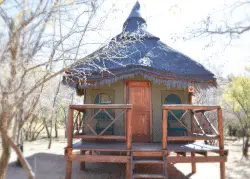 Six lodges form part of the Entabeni Safari Conservancy, and each offers different experiences that are unique to its specific location. From the Wildside Safari Camp, and Southern Sky Safari Camp, to Ravineside Lodge's log cabins overlooking the gorge, Hanglip Mountain Lodge's carefully prepared deluxe rooms (looking out onto a swimming pool often enjoyed by hippos), Kingfisher Lodge's perfect location, Lakeside Lodge's WiFi, and Southern Sky Camp, which is being refurbished and will open in October 2014.
Ruby coloured throws and cushions create an interesting contrast to the bushveld's bland winter tints in the spacious room at Legend Golf & Safari Resort. In some instances more modern and better equipped than the deluxe Kingfisher Lodge, the attention to detail (and guest preference) is evident. This includes a hand shower in the bath, a safe in the cupboard and a flat screen television.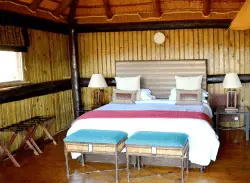 Kingfisher Lodge, situated on a lake on the upper escarpment, has a rustic, yet romantic feel to it. Wintertime here is not your typical thaw-your-back-in-the-winter-sun climate. Still, in spite of the cold, the view, the in-room fireplace and electric blankets make up for frozen knees and knuckles. The not so modern, yet practical furniture fits in well with the room's rural character. Meals with a view over the lake are a definite selling point – whether it is indoors or outside; morning, noon or night. The a la carte dinner and colourful breakfasts are full of freshness and flavour, and hearing hippos as you head to bed is a remarkable experience.
New Clubhouse
The new Signature Clubhouse, due to be launched in September, is situated at the resort's exclusive 18-hole golf course, with each of the course's holes designed by a different professional golfer. After its launch this clubhouse will accommodate numerous types of functions and guests will be able to enjoy drinks on the upper deck while indulging in the view of Entabeni.
According to General Manager, Andy Young, there are a couple of new wine lists and restaurant developments in the pipeline which only adds to the wide array of entertainment and dining options. Other venues that resemble shebeens and tree houses allow event organisers to let the creativity flow. Traditional conference venues, some even with all-round projection, are also available, allowing for conferences and formal gala events of up to 400 guests. The tented conference rooms are airconditioned.
On both the lower and upper escarpment, guests can catch a glimpse of the unique Hanglip Mountain peak at various picnic spots and outside venues, creating lasting memories with romantic dinners, picnics and sundowners. These include Waterberry and Yellow Wood picnic spots and two Wild Fig picnic spots – one right next to the resort's landing strip and the other on the upper escarpment. Many groups combine their stay with an informative cultural tour through the on-site Pedi village, an educational botanical walk or a historical tour through the museum and then end it off with a buffet dinner at one of the venues.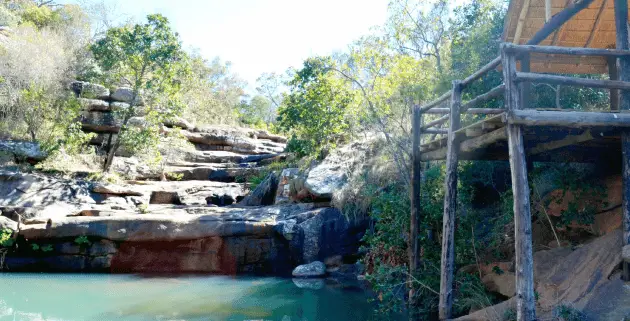 Yellowwood Road
Built by four women and two men over a period of five years – carries shuttles and game vehicles between the lower and the upper escarpments. This bushveld highway was given its name due to the Yellowwood Trees growing on either side of it and rangers' driving and navigation skills need to be outstanding, to say the least, in order to take on this challenging one-way road. Transporting up to 140 people at a time, with qualified rangers and game vehicle shuttles on permanent standby, guests have no need to worry about that extra glass of wine.
In addition to road safety, groups are also assured of their safety with numerous signs for assembly points. A health and safety officer normally informs guests of the procedures to follow in the case of an emergency. The multi- purpose amphitheatre is used as meeting point for these information sessions. Fire extinguishers are not so aesthetically, but strategically placed all around the resort, venues and picnic spots and every lodge has a permanent ranger allocated to its premises.
Responsible Tourism
Being part of the Legend culture means that you share sentiments and experiences with others as well. It's also about contributing to the local community and the immediate environment. Legend Golf and Safari Resort and Entabeni Lodges' support to a local school, which was founded by the Legend group, doesn't go unnoticed. With Marimba concerts, choir performances and gumboot dances these kids have an opportunity to share their talents with the world and add an exciting experience to the cultural aspects of the group's legend. This invests (emotionally and financially) in the children's education and social wellbeing. In addition to this the on-site Rhino Orphanage is also something the group not only founded, but largely contributes to. When it comes to supporting the local economy, suppliers from the area are recruited as far as possible – especially when it comes to agricultural products. According to Young they are also in process of developing a recycling system on the premises.
With the golf resort, which has 235 rooms (excluding its rental pool) and the five Entabeni lodges that add another 90 rooms, it's impossible not to create a unique Legend culture. Over time, similar to a few small villages, they have developed a distinctive way of living on this multi-hectare land. It is evident in the way its rangers communicate, the way guests are welcomed and the manner in which strangers become friends.
Getting to know this Legend(ary) culture is a privilege and to an outsider a memorable cultural experience.
The Legend group did not only succeed in creating its own culture, but also its own language…
Did you know?
• Due to the odd shape of its horns, the Rooi Hartebees is known as the Harley Davidson of the Bushveld.
• The Blesbuck is also referred to as a Dombok in Afrikaans, which can be translated as a silly buck.
• The Impala, with the "M" on its buttock, is also known here as the M-buck or McDonalds Buck.
• The Turtle Dove's call can be translated as: "Work-har-der, work-har-der".
• The Loerie is now also known as a "Go-away bird".
• ALT is an acronym for Animal Looking Thing and is usually used when you spot a rock and think it's an animal.
• Traffic in the bushveld happens when the elephants block the road.
• Elephants are also referred to as Ndovu by Legend's rangers – the typical name for these big footed mammals in Northern Africa.
Tips for your stay:
• Rooms have plugged in hair dryers, so you can leave yours at home.
• Pack a two point plug.
• Pack loads of warm clothes for the game drives, as well as a buff or a scarf if you want to avoid the dust.
• The only venue with WiFi is Lakeside, situated at the furthest end on the upper escarpment, so you might want to consider bringing along some alternatives.
• Confirm your dietary requirements on arrival as there is the possibility of confusion.
• Confirm if your room has a safe if you plan on taking valuables along. Better safe than sorry. (No pun intended).
• Spend some money at the curio shops (almost each lodge has one) – it goes toward the Rhino Orphanage Fund.
For more information visit: www.legend-lodges.co.za
About the Author: Tourism Tattler correspondent Renate de Villiers is a young entrepreneur who recently started her own company, Travelling Mystery Guest, assisting travel destinations to walk the talk. Offering customer journey evaluations, workshops and social media marketing training, Renate is sure to become part of many travel destination families in South Africa. www.travellingmystery.co.za