There are not that many holiday resorts in South Africa that are both family-friendly and pet-friendly, so discovering that Cape St. Francis Resort is both was a pleasant surprise. By Des Langkilde.
A surprise to me that is, but not to the hundreds of leisure and corporate guests who have stayed, played, romanced, and strategised at Cape St Francis Resort and its conference facilities over many years – a fact that their review rankings on TripAdvisor and Bookings.com bears ample testimony to.
Getting to the Eastern Cape's headland at Cape St. Francis from Port Elizabeth Airport is a reasonably short 90-minute drive past the surfing paradise of Jeffrey's Bay and the giant wind turbines that stand sentinel along the N2 freeway, which is just as well seeing that I had 3 adults, two dogs and tons of luggage crammed into a Suzuki Ignis vehicle that I had collected in PE to review (read this review here).
Cape St. Francis Resort's reception is conveniently positioned in a separate building off Da Gama road, next to the resort's main access gate, and doubles as a convenience grocery, clothing and trinket store. It also doubles as the village's (unofficial) tourist information bureau and guests can book activities and excursions from the friendly, professional staff. St Francis Tourism is the official tourist information bureau for the Kouga region and is located in the adjacent village of St Francis Bay.
There's certainly a lot to see and do in Cape St Francis, from kite surfing lessons, trail walks, and bicycle hire to bungee jumping and sky diving. The main attraction though is the resort's Social Responsibility Initiative; Betty's Tour. Named after the resort's employee and tour leader, Betty Anoster guides guests on a tour of the Cape St Francis SANCCOB marine rehabilitation centre and its penguin colony, followed by a township tour at Sea Vista to meet some very special kids at the Talhado Children's Haven, and finally a visit at Nomvula (a Xhosa word meaning "she who brings the rain"), which is a knitting group started by Frances Becker in 2008 and now employs 15 full-time knitters.
But I digress. After check-in procedures had been completed, and after a quick tour of the onsite Joe Fish Restaurant and Bar, I was given a site map indicating the location of my 'Falcon' unit within the resort.
There are actually 3 kinds of accommodation options in the resort; the Family Beach Cottages are three and four bedroom self-catering units, the Beach Villas are 5-star graded houses with five en-suite bedrooms and plunge pool, and Club Break, which consists of 3-star graded one and two bedroom apartments located near the resort entrance and close to the pool and restaurant. All of these accommodation options can be booked on a self-catering or a bed and breakfast basis.
They are also all ideally positioned for easy access to the resort's main attraction – the beach. And what a beach it is! A pilot Blue Flag beach, the golden sand slopes gently to the Indian Ocean waves and stretch for kilometres along the curve of land between the estuary and Granny's Pool. This is also where the world famous surfing spot, Bruce's Beauties lies.
Further along the beach, to the right of the resort beach access, is the Cape Seal Lighthouse, which was built in 1875. The lighthouse apparently has a museum and used to be open for guided tours to the top of the tower but closed for repairs to the stairwell, which, although completed some time ago, never re-opened. A comment from a local implied that the lighthouse and its buildings are currently being used (and abused) by Portnet officials and their friends as a private venue for fishing and partying.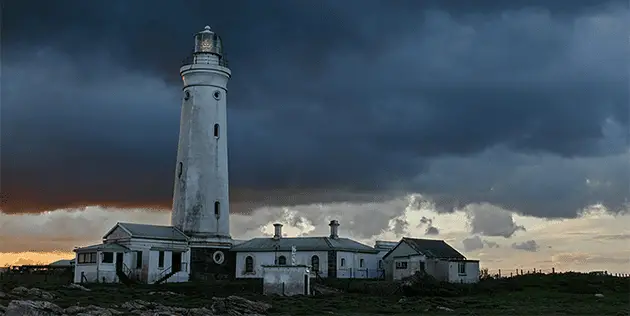 Cape St. Francis Resort also has a health and beauty studio located within the estate. But what impressed me most is the resort's conference centre. The centre has four conference and meeting venues; the aptly named 'The Space' can accommodate up to 300 delegates in theatre style, the 'Chapel & Theatre' up to 160 delegates, the 'Francolin Room' up to 35 delegates, and the 'Beach Break' for smaller meetings of up to 15 delegates.
Of course, all of these conference venues have state-of-the-art equipment, with breakaway rooms, secretarial services, and catering options. The resort's conferencing section has also been providing team building programmes for small, medium and large corporate companies, government institutions, universities and schools over the past 15 years. Add to this the accomplishment of having hosted the 2017 edition of the Expedition Africa World Series Adventure Race in May, and it becomes clear why Cape St. Francis Resort remains busy even during the leisure tourism low season.
Unfortunately, I simply did not have enough time to experience all that the Eastern Cape's Kouga region, and Cape St. Francis Resort, in particular, has to offer. But, to quote the words of a famous time-traveller; "I'll be back!"
For more information, contact Cape St. Francis Resort at:
Tel: +27 (0) 42 298 0054 | Email: [email protected] | Website: Capestfrancis.co.za