Trade News
Sandton Convention Centre proudly hosts the 59th Commonwealth Parliamentary Conference
Sandton Convention Centre provided the platform last week for the coming together of 175 Commonwealth Parliaments and Legislators for the 59th Commonwealth Parliamentary Conference, held between the 28 August and 6 September in South Africa.
Hosted by South African Parliament and held with the purpose of identifying effective solutions to developmental challenges facing the Commonwealth countries, the event is the Commonwealth Parliamentary Association's biggest annual gathering and saw 600 Parliamentarians and parliamentary officials from around the world flocking through the doors of Sandton's world-class convention centre.
The CPA is an Association of Commonwealth Parliamentarians who, irrespective of gender, race, religion or culture, are united by community of interest, respect for the rule of law and individual rights and freedoms, and by pursuit of the positive ideals of parliamentary democracy.
President Jacob Zuma officially opened the conference with a speech highlighting the strengthening of democracy, impending deadlines for the Millenium Development Goals and women empowerment. Aspects of these core subjects were given priority during the conference as debate discourse focused on parliamentary democracy, development of the world's smallest states, engendering democracy as well as the new charter of the Commonwealth.
Secretary General of the CPA, Rt Hon Dr William Shija, closed the 59th Commonwealth Parliamentary Conference on a high note, describing the conference as a resounding success.
"The Sandton Convention Centre is proud to have been chosen as the venue that brought together the great minds of the Commonwealth nations," concludes Mati Nyazema, Executive Director of the Sandton Convention Centre.
For more information on Sandton Convention Centre, log on to www.saconvention.co.za, join the Facebook page on http://www.facebook.com/groups/39739504327/ or follow on Twitter at @SandtonEvent.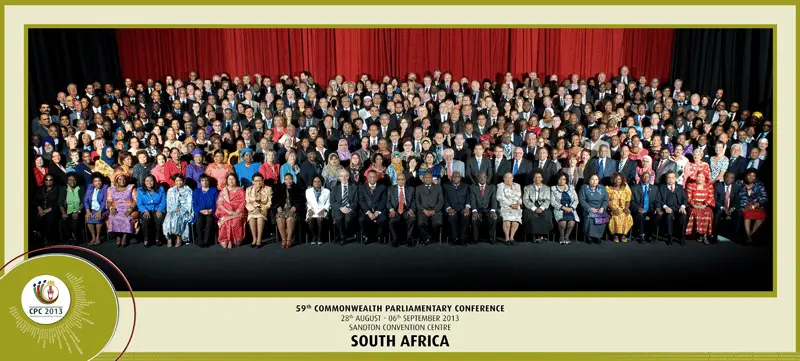 ABOUT SANDTON CONVENTION CENTRE
Sandton Convention Centre is located in the heart of Sandton's hotel, business and entertainment district.  The centre offers easy access to more than 5 000 hotel rooms (ranging from economy to deluxe), is adjacent to some of the country's premium shopping and entertainment complexes (Sandton City and Nelson Mandela Square), and provides 10 600 secure parking bays.
Sandton Convention Centre offers unlimited potential with over 22 000m² of state-of-the-art meeting, exhibition and special event space.  Purpose-built to international standards, the convention centre is able to host meetings, conferences, exhibitions and special events of virtually any size and nature.  It offers some of the most advanced technology available for convention and exhibition centres anywhere in the world.  Multiple events can be staged simultaneously on four main levels, and 10 000 visitors can be accommodated at any one time.  A team of highly-trained staff is on hand to provide support services.
Its central position in Sandton provides easy access to Johannesburg International Airport, Gautrain rapid rail, the Sandton CBD, major hotels and shopping centres.
Sandton Convention Centre was developed and is managed by Tsogo Sun, the leading hotels, gaming and entertainment company in South Africa, providing a vast variety of hospitality and exciting entertainment and leisure experiences. Combining an established heritage with a professional and energised approach, the group proudly encompasses 14 casinos and over 90 hotels in South Africa, Africa, and Seychelles.