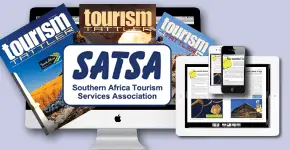 As from this month, ALL SATSA members have access to a FREE mobile website (Mobi Site) solution, for both smartphone and tablet, to assist in marketing their businesses to both travel trade buyers and consumers via the SATSA website. By Des Langkilde.
Finding accommodation, attractions, activities, restaurants, transport and allied services in the southern Africa region, all in one online platform, can be a challenge to both the travel trade and tourists alike. While SATSA has published its Members Directory for the past three years, which is widely distributed to travel buyers and also avaiable as a searchable Desktop Widget, the time and complexity required to maintain the member content has been too costly, resulting in the members information being quickly out of date. And the difficulty of ensuring that this content is found within Google and other search engines has added to the dilemma of attempting to get exposure for members. Until now that is!
SATSA partners with LivePlatform
LivePlatform provides an easy mechanism for every SATSA member business to showcase what they sell on the SATSA website. In just three simple steps, the member can import their website's content to their own Mobi App, add and update their events, attractions, what they sell, the services they offer and even add jobs available. From that point on, every time the member updates an event, an attraction, or any other content on the SATSA website, their Mobi Site will automatically be updated.
Each item that a SATSA member adds, becomes its own rich page with images, photos, descriptions, detail, videos and even TV and print commercials.
Easy to use
Uploading of content is seamless and easy. Content can be changed at will by non-technical personnel. As easy as FaceBook. Businesses can add and update items through the SATSA web interface or via a mobile smartphone. For example, a hotel member can change a room price in a few seconds, or a restaurant member can add a menu item by snapping a picture with their smartphone, describing, pricing and uploading the item directly into their Mobi Site.
Increased awareness and exposure
Google indexes every page within the SATSA member's mobile site, and as the volume of pages is vastly increased due to the pages for all businesses and the events, attractions, products and services they sell through the SATSA website, the ranking and keyword match volumes are increased, ensuring that SATSA's site appears at the top of Google for all tourism related searches.
Rich content management system
Through the LivePlatform administration system on the SATSA website, members are able to manage their own content and to:
Increase their own website traffic, due to cross referencing with the SATSA website, which increases both domains rankings
Update their content through a mobile interface
Receive a free, rich, mobile site with all their content, including videos, galleries and social sharing links
Have the option for a free website, if they don't currently have an online presence or want to replace their current website.
For more information email [email protected]
Not a member?
Not a SATSA member and probably never will be? No problem!
Non-members can still secure their own Mobi Site by advertising in SATSA's travel trade journal, the Tourism Tattler.
Just book an advertisement in any monthly edition and receive access to the same LivePlatform mobile application linked to the Tattler website.
Increase your promotional communications reach and ROI by cross referencing and leveraging search engine ranking.
For more information email [email protected]