There's a little tap dance duo happening in Bot River. Genevieve MCC and Luddite have new wines out and it's all glitter and sparklers. Now, the twain may be boutique and refreshing, but make no mistake: they produce big wines and are even bigger ambassadors for Bot River, their home.
From their respective toil, taking centre stage is a little-bitty baby Shiraz with the DNA of a champ; a brand spanking new Shiraz from the country's finest vintage of late; and, a very special bubbly only made in truly exceptional years.
They are: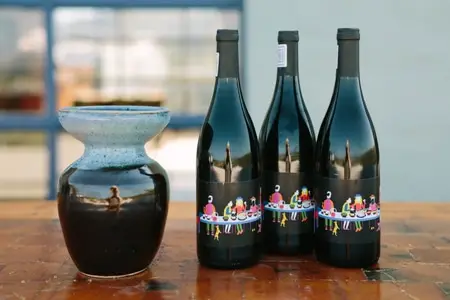 The It's a Shiraz 2017, a wine made by Alice Verburg, daughter of Luddite owners Niels and Penny Verburg. The wine is light purple in colour with tones of violet. On the nose, it has spice, vibrant dark fruit and a hint of sweet cinnamon. The palate is balanced, showing juicy red fruit with more spice and a smooth, long tannic finish.
Niels's own Luddite Shiraz 2015, dark, cherry-coloured wine with a nose of spice and scrubland, cloves and dark cherry fruit. On the palate, it's fresh, dry and spicy with dark fruit and cinnamon sticks. There are hay, leaves and liquorice on the mid-palate with a refreshing, long, dry finish.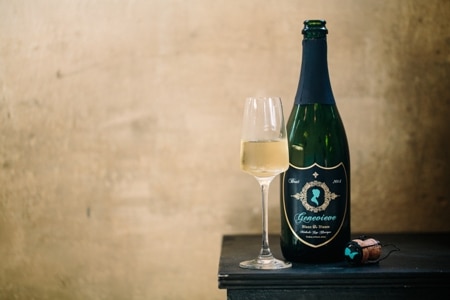 The Genevieve MCC 2015 Zero Dosage, a bubbly with grand finesse and subtle aromas of minerality and white fruit. It has a refreshing linear palate and clean finish.
All three are perfect reflections of the Bot River credo: "real wine made by real people"; spirit as unspoilt, down-to-earth and hospitable; and, attraction to lovers of the road less travelled.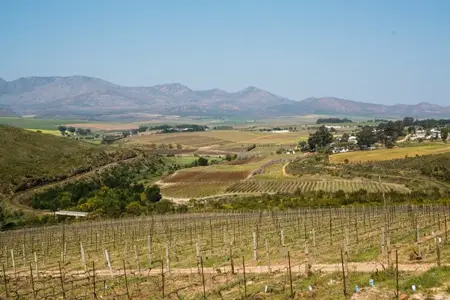 More about Luddite and the wines
Luddite began life in 2000 with the acquisition of a small 17ha farm. "After seeing the potential of Shiraz in the Bot River area, our dream to start something of our own came true," says Niels.
"Penny and I set about transforming the wild slopes into a beautiful farm."
The land was on the slopes of the Houw Hoek mountains and there was plenty of work, but no time to waste. In fact, the release of the first Luddite Shiraz came that year too, from bought-in grapes. Vines were planted the following year. In 2002, a barrel-and-wine storage shed was built.
It was only thereafter that a house was finally erected and the Verburgs moved in. More Shiraz plantings followed, along with Cabernet Sauvignon and Mourvèdre. The first vintage containing the farms own grapes came in 2004.
"2009 was a big year with lots of excitement as our own cellar came to fruition," recalls Niels. "Before we put the tanks in, we held an indoor hockey tournament to christen the cellar properly".
"We also used 100% of our own grapes in that year, a requirement for the Luddite label since."
By then, the wines had a reputation. Luddite was the name given to 19th-century workmen who destroyed labour-saving machinery. By now, Shiraz-lovers understood the name suited Penny and Niels' focus on artisanal passion and excellence rather than wine mechanisation.
It was time to put some away. In 2010, Niels only released 3000 bottles with the balance set aside for release in 2020.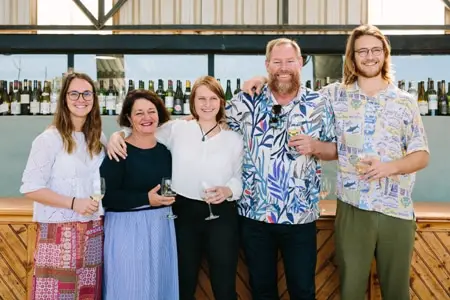 In a short time, Luddite has established itself as a producer of great wines made with integrity and minimal interference – a foundation into which Alice stepped into, to work alongside her father in 2017.
"The wines have benefitted from a feminine touch", he declares.
Alice says It's a Shiraz 2017 was a deliberate attempt to break away from the "seriousness and snobbiness" of wine.
"It's an experimental wine for me. I made the decision to make it on the morning the grapes came in – after all, I'd picked up plenty of ideas just watching my dad."
There were about 400kg of grapes from Gabriëlskloof, "so, one bin to play with," she says.
After vinification, the wine spent a year in barrel and another in bottle prior to release.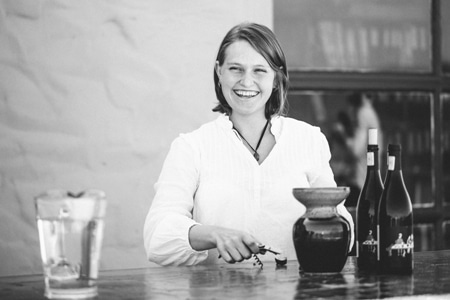 "It's suitable to drink now, but I want to make wines that age," says Alice. "There's ageing potential even though it has low sulphur, the good, natural acidity will look after it."
Her father's latest wine, the Luddite Shiraz 2015 stems from a harvest that signalled the start of a long, dry spell in the Western Cape. "Due to the dryness and heat towards the end of the growing season, the vintage is our smallest to date – 2.3tons/ha.
"We picked both our old block and young block together for the first time and, as depressing as it was to look at, the whole farm fitted into one tank."
A highlight of the actual winemaking was that being a smaller crop, the wine retained "unbelievable fruit intensity", says Niels.  Various wood combinations were part of the process that led to this excellent wine.
Both, Alice's It's a Shiraz 2017 and the Luddite Shiraz 2015, can be enjoyed with slow-roasted lamb, steak and spicy ratatouille.
The tale of Genevieve MCC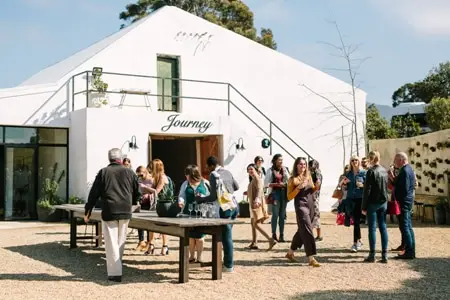 Melissa Nelsen had always had a love for bubbly and when the opportunity arose to make it, she jumped. Genevieve is her second name and the patron saint of Paris, making Genevieve MCC the perfect link between great South African MCC made in the style of French Champagne.
The first Genevieve MCC was released in 2010, a product of the 2008 vintage.
"The initial decision on how much to make on a maiden vintage was decided in a very basic way," says Melissa. "Make more than we can drink ourselves and friends so I'd be forced to go sell the rest!"
The result was 5 000 bottles – "Quite a lot more than we could drink ourselves!"
There are two cornerstones to her wine: that only a healthy vineyard can produce quality; and, that maturation is essential to adding texture.
The latter realisation came in 2011 when production was doubled to 10 000 bottles. "I realized as much as I loved seeing my bubbles in wine shops and top-rated restaurants, I was not presenting the Genevieve MCC at its most favourable release time.
"I made the decision to stop selling my product for eight months. It was financially unwise but created next-level quality," she says.
The result realised export to Europe and the first to export to Canada this year.
In 2017, Genevieve MCC achieved another milestone – the wine found a home. Until then, grapes came from pockets of Chardonnay across the region, albeit always from Bot River. This changed when she discovered a working farm where her dream for a space to give visitors the "MCC experience" became a reality. Today, there are self-catering cottages alongside the vineyards and a renovated barn where visitors can enjoy the Genevieve MCC and take in the Overberg air.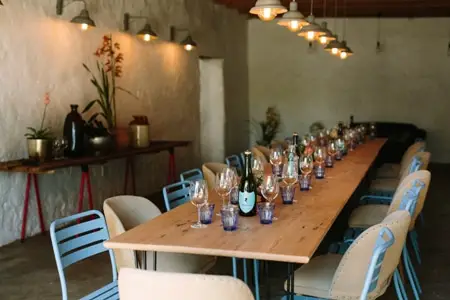 Melissa's latest release is the Genevieve MCC Zero Dosage, which is only produced when the vineyards show exceptional quality. The year 2015 was such a vintage and was selected as only the second release of the Zero Dosage extension.
"Only first-pressed cuvée juice is used and kept for a minimum of four years on the lees, with periodical assessments," she says. "The aim is to show the purest expression of terroir and the cap Classique quality without any added dosage [traditionally, the topping up of wine and addition of sucrose]."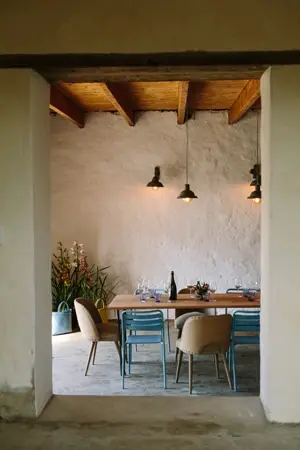 Genevieve MCC Zero Dosage can be enjoyed with dishes such as chilled peach soup, mushroom soufflé, butternut squash ravioli with brown butter sage, and lime and hazelnut macaroons.
The lowdown
The wines are available from the farms and selected outlets. Luddite Wines is open for tastings on weekdays from 09h00 to 16h00 and by appointment on weekends. Contact the farm on 028 284 9308 or send email to [email protected].
Genevieve MCC is open by appointment. Contact Melissa on [email protected].