Trade News
WTTC Releases 2017 City Travel & Tourism Impact Report
For the first time in over 25 years, the World Travel & Tourism Council (WTTC), has produced research that looks at the economic and employment impact of Travel & Tourism in cities.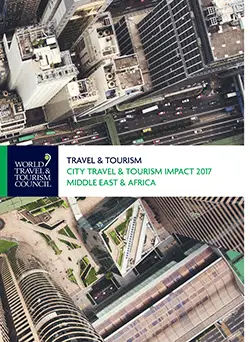 The City Travel & Tourism Impact 2017 – Middle East and Africa report shows that whilst these two regions are enormous geographically, and extremely diverse culturally, they are relatively small in terms of Travel & Tourism GDP.
In 2016, Travel & Tourism for the whole of the 54 countries of Africa, the world's second-largest and second-most-populous continent, contributed US$66.4 billion or 3.1% of GDP to the economy. Trans-continental Middle East, home to 18 nations, provided 3.3% of GDP or $81.4 billion.
Collectively these two regions represent only 6.4% of the global economic contribution of the sector. In 2016, the largest Travel & Tourism economies in these two regions, Egypt, South Africa, and Morocco were ranked 39th, 40th, and 42nd respectively, out of 185 countries in terms of their direct GDP contribution, with Travel & Tourism generating over US$8 billion for each economy.
The majority of the cities included in this study within the Middle East and Africa regions are relatively small in terms of Travel & Tourism market size. However, the sector makes a large contribution to GDP overall and the cities are important centres for the countries.
This report looks within the countries at the ten cities of Abu Dhabi, Cairo, Cape Town, Dubai, Durban, Lagos, Marrakech, Mecca, Riyadh, and Tehran. These ten cities alone directly contribute 21% of Travel & Tourism GDP for these regions, a proportion forecast to grow to 24% over the next decade.
WTTC has been quantifying the economic and employment impact of Travel & Tourism at the country and regional level for over 25 years. This data is a key source of information for decision-makers within governments, investment banks, academia, and multilateral organisations across the world and particularly within the 185 countries for which the WTTC provides detailed reports. It allows these countries to state with confidence the fact that Travel & Tourism is one of the largest sectors in the world, supporting more than 10% of global economic activity and 292 million jobs: 1 in 10 jobs worldwide (Refer: WTTC annual economic impact analysis).
"As the world rapidly urbanises, there is a need to manage growth with effective planning. A successful city is one where business, infrastructure, resources, and environment meet with quality jobs and effective government support. Goal 11.4 of the UN Sustainable Development Goals calls out the need for cities to strengthen efforts to protect and safeguard the world's cultural and natural heritage," says Gloria Guevara Manzo, President & CEO of the WTTC in her prelude to the report. "The role of Travel & Tourism in contributing to this goal in cities cannot be underestimated, both in creating civic pride and jobs and, on a purely financial basis, through the export revenue generated by international visitors."
"Cities are growing increasingly large and influential and are accounting for a greater proportion of global tourism demand. WTTC is proud to provide the evidence base to help public and private bodies make the correct decisions for the future growth of a sustainable Travel & Tourism sector," concludes Manzo.
View or download the full City Travel & Tourism Impact 2017 Middle East and Africa report here.