Trade News
Air support for anti-poaching in the Eastern Cape
The Wilderness Foundation's Forever Wild Rhino Protection Initiative will be able to launch additional aerial support and patrols for anti-poaching activities following the donation of an Aquila Trike on Friday, October 18, 2013 at Shamwari Private Game Reserve.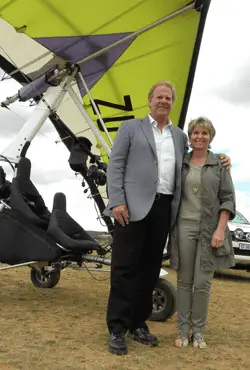 After hearing about the Foundation's successful anti-poaching efforts in the Eastern Cape, Andrew Woollon from DemcoTECH Engineering contacted the Foundation and offered to donate this aircraft towards conservation and anti-poaching efforts.
"We selected the Wilderness Foundation because they serve both private and national parks without any particular bias. We thought that the aircraft would be useful for overhead surveillance and monitoring of large areas," says Woollon.
The Wilderness Foundation launched the Forever Wild Rhino Protection Initiative as part of the Forever Wild Conservation Programme in May, 2011. The initiative aims to gather support from the public and various stakeholders to help fight against rhino poaching in South Africa and save the rhino from extinction in the wild.
From June 2011 to June 2013, the teams supported by the Forever Wild Rhino Protection Initiative were involved in the arrest of over 80 suspected poachers, the confiscation of over 20 firearms, and the recovery of seven rhino horn, as well as hundreds of extended patrols in parks around the country, several rhino notching exercises, the translocation of a number of rhino for safety reasons, and many public awareness events.
"The Aquila aircraft will be an invaluable asset for our patrol teams," says Matthew Norval, director of the Wilderness Foundation Conservation Programme. "Funds have been allocated towards operating costs for the aircraft which will do regular patrols on reserves in the Eastern Cape. It will be activated during and after poaching threats. We have also secured the services of a local pilot, Brad Fike, who has donated his time towards the project."
The Foundation is involved in supporting conservation agencies and organized private game reserves in their efforts to protect their rhino populations through on-the-ground anti-poaching activities and investigations. It is also active in lobbying local and international governments for support in anti-poaching campaigns.
"We are very grateful for this generous donation, and will put it to good use in the fight against poaching in the Eastern Cape," says Norval.