Trade News
Did You Know? – The Cape Town Diamond Museum
The word 'diamond' is derived from the Greek word 'adamas', meaning unconquerable or indestructible. The ancient Greeks thought that diamonds were tears from the Gods, and believed them to be mystical and powerful stones that affected the heavens and the hearts. For 4 000 years, diamonds were thought to hold a special power for Kings, Queens and their subjects.
The Cape Town Diamond Museum invites visitors to explore the history, romance and challenges of DIAMONDS. Exact replicas of the world's most famous and exquisite diamonds can be admired at the museum, which is designed to ensure visitors experience the excitement and mystery surrounding these iconic gems, leaving them enriched with knowledge.
The Cape Town Diamond Museum can be found in the lively heart of the famous Clock Tower precinct at the V&A Waterfront, conveniently close to the gateway of the legendary Robben Island.
The museum is open seven days a week from 9am to 9pm.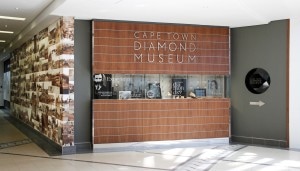 For more information, please visit www.capetowndiamondmuseum.org or call 021 421 2488 for bookings.