Hiking is an outdoor activity that comes with the perks of fresh air, magnificent views, natural surrounds and of course health benefits.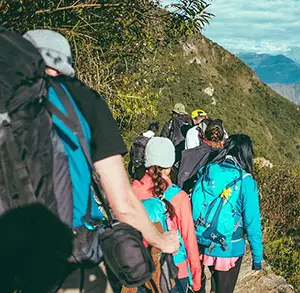 Many medical aids nowadays are committed to motivating its members to get more active with a range of incentives and benefits.  With this in mind, hiking is a great way to hike up your points as your steps are tracked.  Not only does hiking help you participate in physical exercise but also to clear your head. 
However, like any activity, there are some precautions that you need to take before hiking.
Physical Health
Remember that hikes that are longer and more difficult to do will require you to be more physically fit than shorter hikes, so it is important to make sure that you choose a hike that you can finish according to your fitness levels and health.  
You can also build up to the more challenging trails by doing the following:
Stretching:  Stretching warms up the muscles and gets them ready for the adventure.  Stretching will help you to perform your best and reach your hiking goals. 
Cardio: Concentrate on cardio that mainly targets the lower body since the legs are predominately used when you go hiking.  Walking, cycling, jogging and running are good options they will provide a cardiovascular workout and strengthen the muscles that you'll be using on your hike.  If you can't get outdoors or make it to the gym, there are some cardio exercises that you can do at home.  These include jumping-jacks and leg-raises.
Weight Lifting:  Weight lifting will help build your lower and upper body.  This will help if you will be carrying a backpack with food and other essentials on long or overnight hikes.  You can do squats and lunges with weights as these exercises will also help develop endurance.
Chronic Medication 
If you are on any chronic medication, make sure that you take it with you when you go hiking.  It's a long way up those mountains and the last thing you want is to have an asthma attack while you don't have your asthma pump with you.  The reality is that even at a secure site, if you encounter a medical issue while on a hike, it might take a while for rescue to get to you, so it's essential to have your chronic medication on you in case of an emergency. 
First Aid-Kit
One should never embark on a hike without a well packed first-aid kit.  An effective first-aid kit should be packed considering even small medical emergencies with which you may be faced with while hiking.  These include cuts, bruises, muscle cramp, bites and even dizziness.  
Medical-Aid
Make sure that you are covered by your medical aid.  Some end up passing out or fainting due to different health-related issues.  Depending on how far along you are on the trek, it could take hours for help to come your way.
Weight
Weight has a direct impact on hiking, the more you weigh, the harder it gets for you to do long hikes.  Short hikes are the best options if you're overweight and still like being adventurous and you can earn points while monitoring your steps and working your way to a better you.
To start your hiking journey, Rustig is offering guests a 40 % discount on accommodation throughout Winter (June – August).  Remember to mention that you're looking for the Winter special when you book.